Why Ellie Kemper Felt She Was 'Born to Play Becca' in 'Bridesmaids'
Ellie Kemper is known for her role as Erin Hannon on The Office, yet she had a memorable turn in the 2011 hit film Bridesmaids. Joining an all-star cast that included Kristen Wiig, Maya Rudolph, and Melissa McCarthy, the Unbreakable Kimmy Schmidt star experienced how art can imitate life when she took on the part of Becca.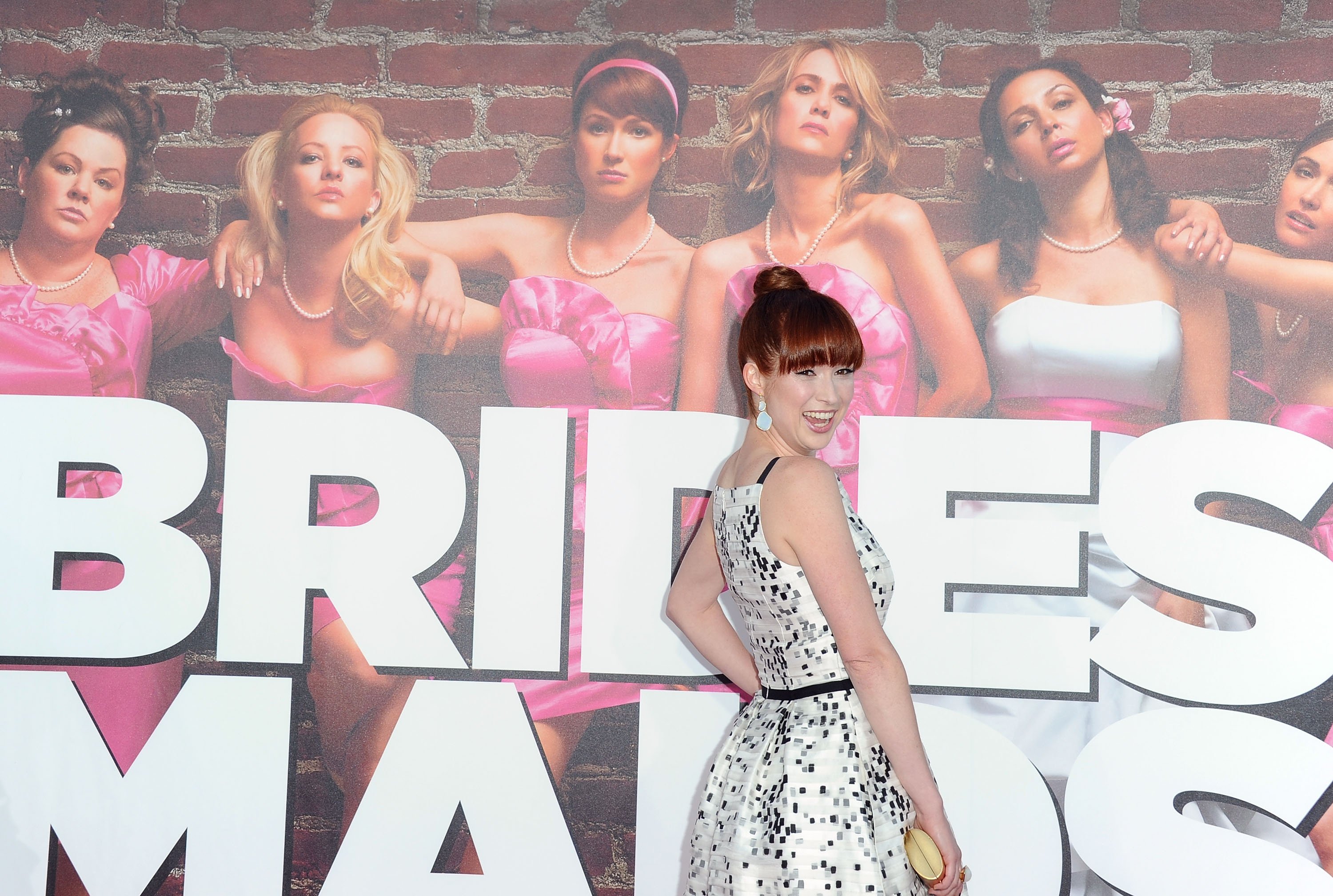 Ellie Kemper had plenty of real-life experience for 'Bridesmaids'
When Kemper was given the news that she landed the part of Becca in the now-iconic comedy flick, she was thrilled but far from shocked that she got the Bridesmaids gig.
"I was not at all surprised to learn that I had won the role," she wrote in her book, My Squirrel Days. "I was born to play Becca — I had already been a bridesmaid in real life nine times, and taking my story to the silver screen seemed, to me, the most natural thing in the world."
Kemper felt that her character on the NBC sitcom The Office further solidified her expertise in portraying Becca since the roles were quite similar in personality type.
"I was just emerging from a second season on The Office playing Erin Hannon, a woman marked by her naiveté, her wide-eyed optimism, and her large face," Kemper explained. "One glance at the lone scene I had been given for our Bridesmaids audition assured me that Becca (I still don't know if she had a last name) was a creature not only in possession of, but positively defined by, her naiveté, her wide-eyed optimism, and her large face."
RELATED: Ellie Kemper Named Her Role Models Which Includes a Co-Star From 'The Office'
Being a bridesmaid is 'hard work', according to Ellie Kemper
Kemper noted that the responsibilities of a bridesmaid can add up to a long list, where you run the risk of losing that festive "wedding" spirit.
"Here is the thing about being a bridesmaid," The Office star shared. "It is hard. It is work. And even though the bride is obviously one of your closest friends, you can't help but start feeling a li'l cranky."
As a seasoned bridesmaid, Kemper knew what idiosyncrasies and nuances to bring when playing Becca in the film.
"I needed the plight of the Bridesmaid to come through in Bridesmaids," she remarked. "And I needed to do it with as little effort as possible since I hate doing any work after dinner."
'The Office' alum listed several of her previous bridesmaid's tasks
Kemper recalled some of the many expenses that came along with her standing in various bridal parties. Never wanting to disappoint a friend, she always went along with any ideas the bride wanted to execute.
"As a bridesmaid in real life, I have been asked to do some pretty crazy things," the actor revealed. "I have been asked to buy plane tickets to fly to Las Vegas and Bermuda. I have been asked to purchase ugly dresses in colors that groan against my skin tone (which has been described as 'alabaster' or 'bright white')."
RELATED: 'The Office' Alum Ellie Kemper Graduated From This Ivy League College
The Unbreakable Kimmy Schmidt actor was also required to embark on several tasks over the years as a bridal attendant, noting that being game for anything — and smiling about it — is a requirement in the bridesmaid's job description.
"I have been told to hike to peaks of hills in 100-degree weather, to smile in photos where I'm not happy, and I have been commanded to bustle a gown soon to be locked up in a closet for 75 years," Kemper commented. "And as a bridesmaid in real life, I have smiled graciously, I have bowed before my brides, and I have written back, 'yayayayayayyyy!!' to things about which I feel anything but yayayayayayyyy."
She added, "Because this, Reader — this is the Plight of the Bridesmaid."