Why 'Family Feud' Had to Move Locations When Steve Harvey Took Over as Host
Family Feud, which has been on television for several decades, has gone through various iterations and a number of different hosts.
Family Feud is one of the most popular reality television shows of all time and by far one of the most entertaining. The show, which has been on television for several decades, has gone through various iterations and a number of different hosts.
Currently, Family Feud is hosted by the popular talk show host Steve Harvey, and it is under Harvey that the show has really blossomed. Showrunners had to make a number of concessions when Harvey accepted the job — but as anyone would agree, adjusting to his demands has been well worth it. 
When did 'Family Feud' debut on television?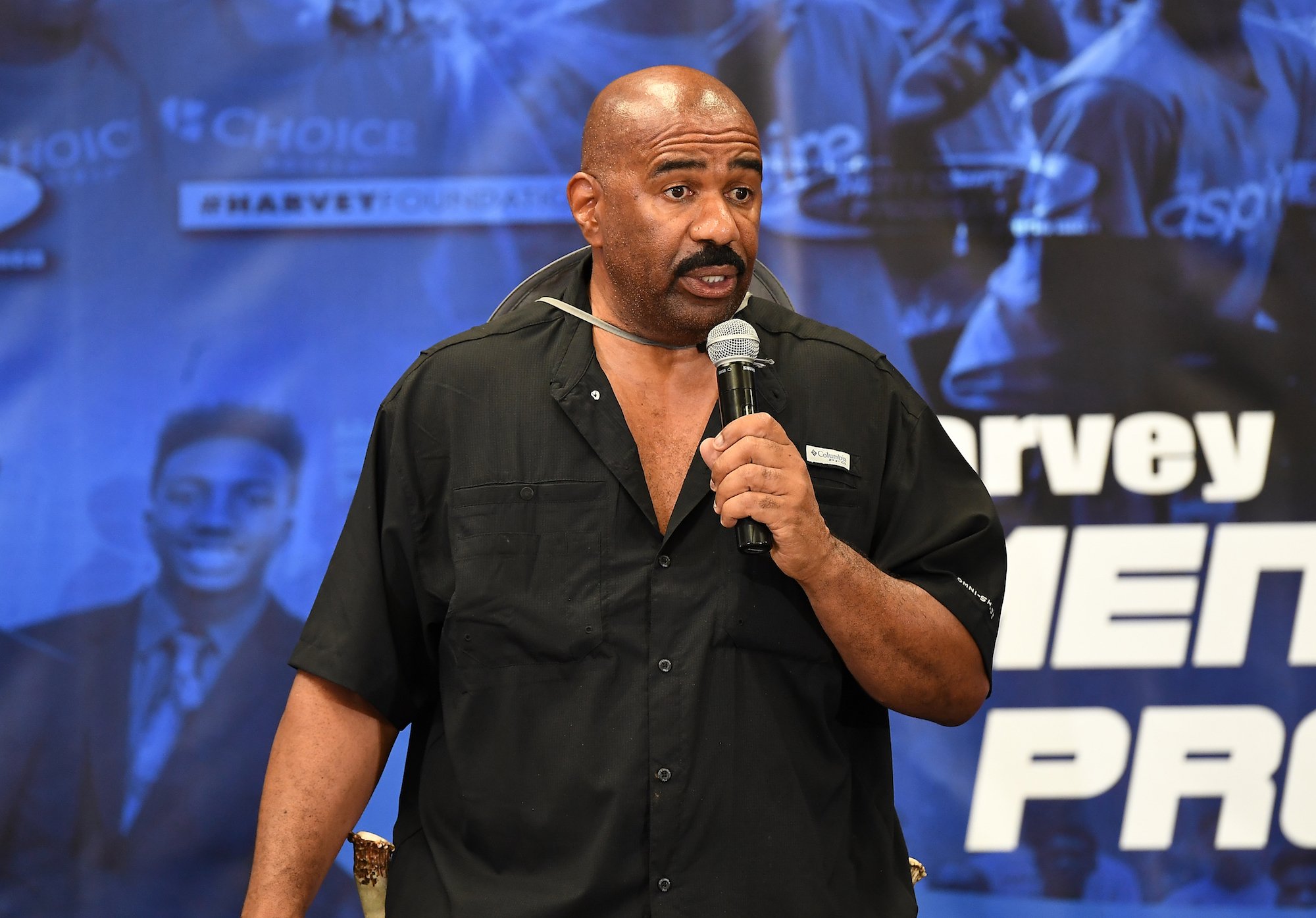 The landscape of reality television changed forever in 1976 when Family Feud debuted on television. While the show was an instant hit, pitting two families against each other to answer survey questions, all for the chance to win prizes and cash, it did undergo a number of format changes over the years.
The original run of Family Feud ended in 1985 and was brought back for a revival in 1988. It ran until 1995 before the show was once again revived in 1999.
The third revival of the series stuck, and it has remained consistent in formatting to this day — albeit with a number of different hosts taking the reins over the years.
A few of the famous faces that have hosted Family Feud include Richard Karn, Louie Anderson, and Richard Dawson. However, by far the most popular host for the show is the one who continues to act as the frontman for the game show, keeping viewers entertained with his comic stylings. 
Steve Harvey is the current host of 'Family Feud'
Steve Harvey was born in 1957 and is the very definition of a modern-day Renaissance man. Harvey began his career as a stand-up comedian, after working a series of odd jobs in order to pay the rent.
It took years before Harvey started to gain recognition for his comedy skills, but once he broke into the big time, he didn't slow down and quickly ascended to the top. He quickly secured gigs with several TV shows and comedy troupes, and in 2000, he landed a deal for his very own television show, The Steve Harvey Morning Show.
Harvey has acted in a few feature films and is an accomplished writer as well. All in all, by the year 2010, Harvey was one of the biggest stars on television and an unparalleled entertainer.
Therefore, it made sense that showrunners for Family Feud began pursuing Harvey to be the next host of the popular game show. 
'Family Feud' had to switch locations at Steve Harvey's request
Although Steve Harvey was interested in hosting the show, he was a very busy man and had already committed to multiple other projects — and the production for Family Feud had to accommodate accordingly.
Reportedly, according to Fame10, once Harvey accepted the role, the entire production for the game show had to move from Sunset Bronson Studios in Los Angeles to Universal Studios in Orlando, Florida, to make it easier for Harvey who was living in Atlanta and was filming his popular morning show there.
That wasn't the only time that the show had to shift around to accommodate Harvey's schedule. In 2011, the show's production team had to pick up and relocate to Atlanta, reportedly at Harvey's request. Still, moving the production proved to be worthwhile — with Steve Harvey as the host, Family Feud became more popular than ever before, with thousands of viewers tuning in regularly to catch new episodes.