Why Guy Fieri's Simple Chicken Salad Recipe is Actually a Fan-Favorite
On Guy Fieri's current hit show, Diners, Drive-ins, and Dives, he mostly tries other people's food. Fieri travels around the country trying food at some seriously underrated restaurants.
He's shown viewers some great meals, but he got the gig because he's an expert chef himself. Fieri's career has gotten to the point where he mostly judges other people's cooking, but he's still got some solid recipes out there that fans love.
Recently, fans listed their Fieri faves in a reddit thread, one of the most popular may be surprising. 
Guy Fieri's Waldorf chicken salad is easy to make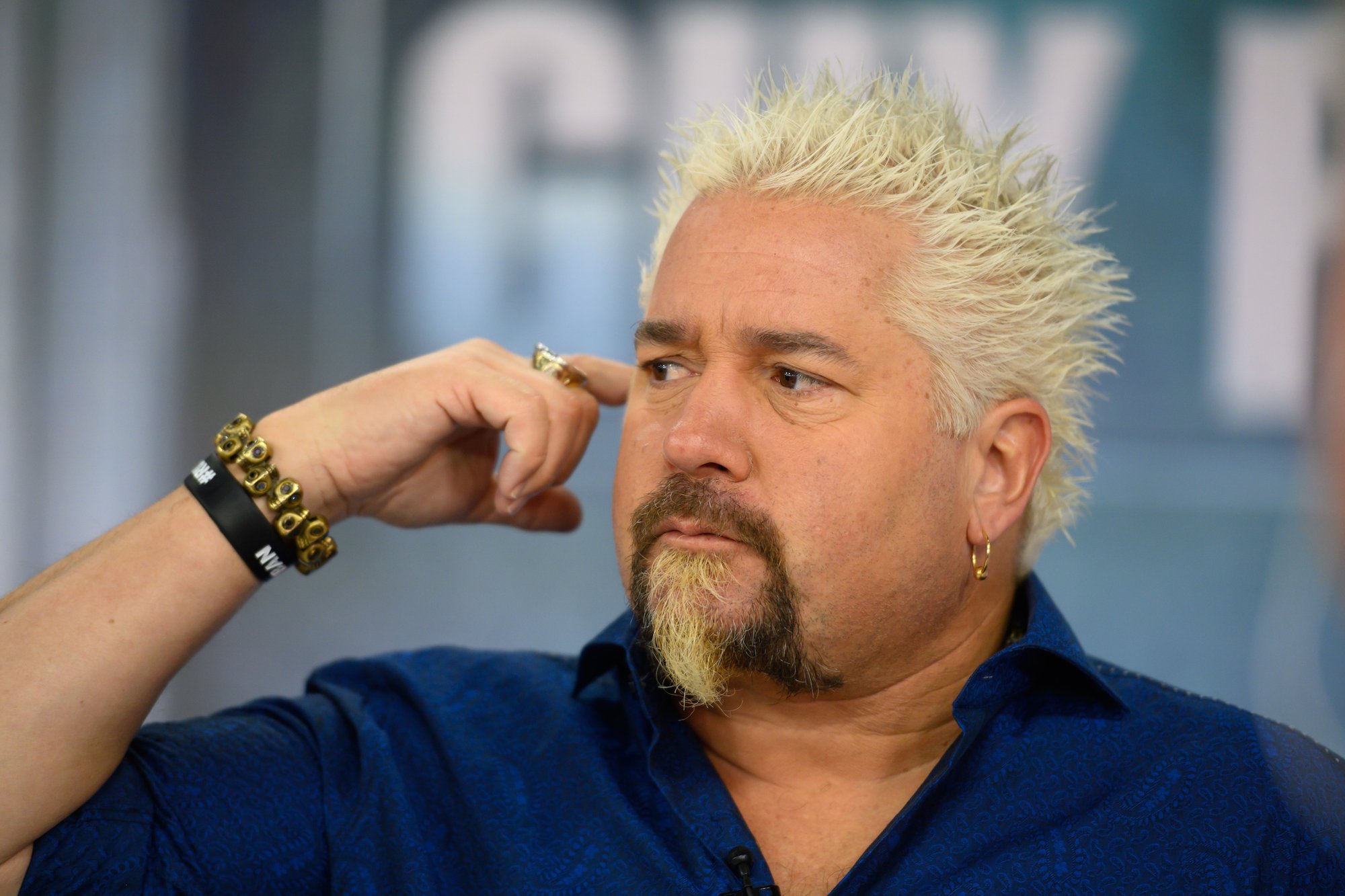 Fans love Fieri's Waldorf chicken salad because it's a solid meal that's easy to make. Most of his other recipes have surprise twists, like the pimento-stuffed burgers.
The cheese adds something extra that people wouldn't normally get in a burger. Although his chicken salad doesn't have any bells or whistles, fans love having something simple to make for lunch. The ingredients are readily available, and prep is a breeze.
As one Reddit fan wrote: "His Waldorf chicken salad recipe is really good. It's nothing crazy like you'd expect from Guy, pretty straightforward and classic."
Fieri uses his chicken salad in Panini. He ranks his Waldorf Chicken Salad Panini recipe easy to make, although it does take around two hours and 45 minutes of prep time. That includes making the Panini, and cooking the chicken from scratch.
If the chicken is bought pre-cooked, the chicken salad prep itself shouldn't take much time at all. Although it's not the best dish for a fancy party, it's a great go-to for lunch. For food more suited to a gathering, fans love Fieri's donkey sauce. 
Fans love Guy Fieri's donkey sauce
Although one redditor called the sauce "unfortunately named," all were pretty much in agreement that it's one of the best Fieri recipes there is. Fan seem to like it with chicken wings, but it could go with anything.
One of Fieri's recipes via Food Network lists the donkey sauce as something to serve with a Pig Patty Burger. The sauce seems versatile, and it's simple to whip up. One fan called it "absolutely killer," saying they'd tried in on a few different types of burgers, including a turkey burger. It worked on all of them. 
Donkey sauce only has about six ingredients, some of which are probably in most kitchen right now. The base of the sauce is just mayonnaise. Fieri adds roasted garlic and mustard, along with Worcestershire sauce and a dash of salt and pepper. That's all there is to it! It's another fan favorite because of how easy it is to make, and how versatile it is. 
Guy Fieri's trash can nachos are infamous 
Fans agreed that donkey sauce and trash can nachos are two Fieri must makes, especially for parties.
Unlike Waldorf chicken salad and donkey sauce, trash can nachos not so are simple to make. Fieri rates the recipe as easy, but fans might not see it that way. There are a lot of ingredients to these nachos. Plus, anyone who wants to cook up their own trash can nachos will need some sort of tin can to put them in. 
Fans who want to make their very own trash can nachos will first have to cook up carne asada, Fieri's special super melty cheese, and black beans. Once those components are ready, which will take some time, pour some of the cheese in the bottom of the can. Then, layer tortilla chips and the three main ingredients until the can is full.
Sprinkle toppings, like pico de gallo, shredded cheese, and some sliced veggies in the layers as well. When the can is full, turn it upside down onto a plate and enjoy.