Why Is Ahsoka Tano's Series' Logo and These 'Jedi: Fallen Order' Symbols Similar? Are There Such Things as 'Star Wars' Coincidences?
The Star Wars galaxy was already expansive, but after Disney's massive announcements about upcoming projects, it's going to get even bigger. A big one that fans were predicting for a while — and that was announced — is the Ahsoka Tano series. What's really interesting about the announcement, though, is that the logo associated with the show might actually be a major clue as to what it's about or where it can lead. 
An Ahsoka Tano series was just confirmed at Disney+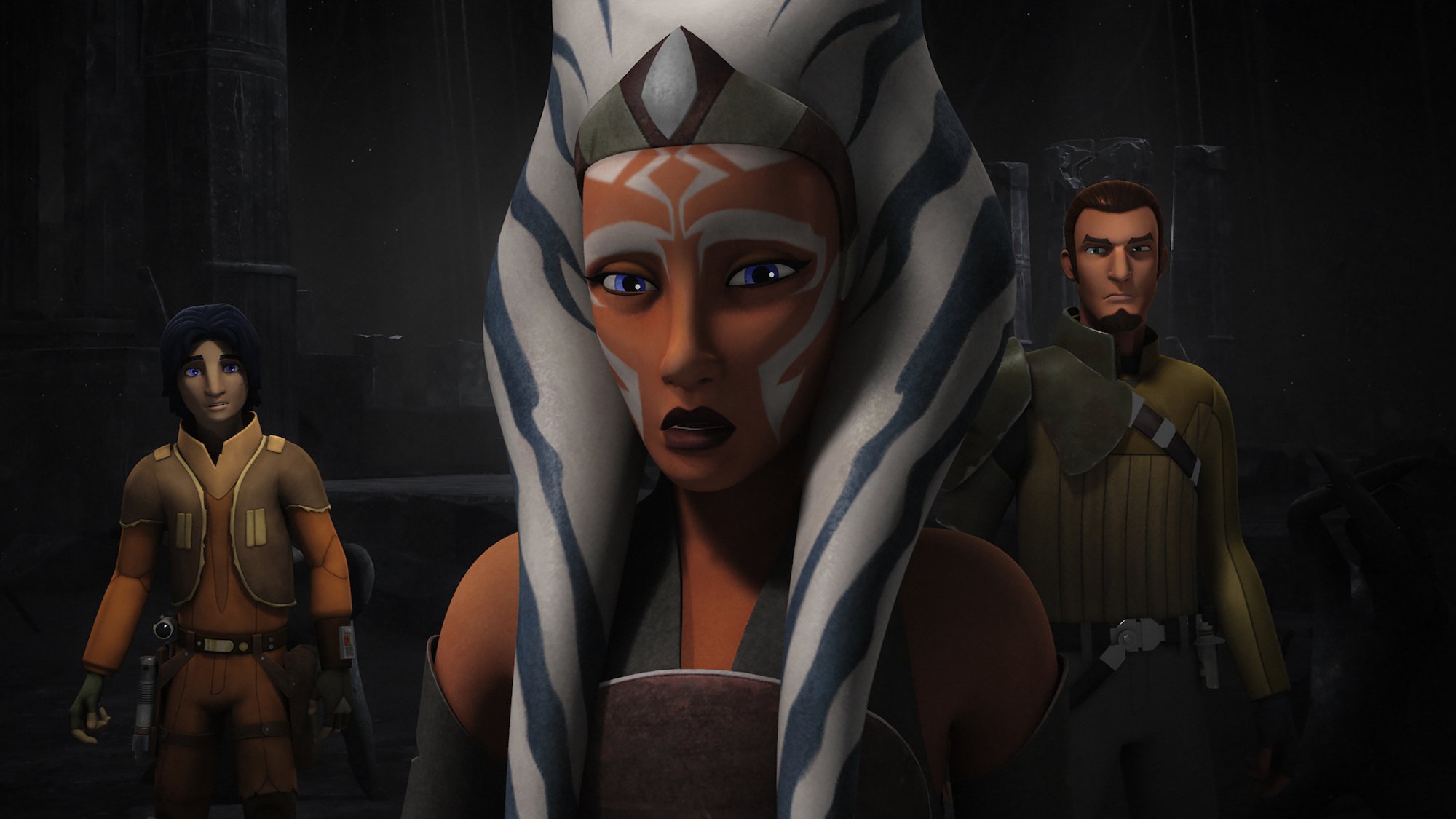 On Dec. 10, during the Disney Investor Day announcements, the highly anticipated Ahsoka series was announced. It's coming to Disney+ and set "within the timeline" of The Mandalorian, according to a tweet from the Star Wars account. 
Rosario Dawson, who played the former Jedi for the first time on The Mandalorian in Season 2, will reprise her role for the series since it will be live-action. The character has been around since 2008 in animation form and has been portrayed by Ashley Eckstein since her creation. 
Of course, there isn't much else known about the series, other than that timeline piece of information. This could lead to Star Wars Rebels' Epilogue if what Dave Filoni said is true and Dawson's appearance on The Mandalorian happened before her appearance at the very end with Sabine Wren. 
The logo looks a lot like symbols seen in 'Jedi: Fallen Order'
Aside from that speculation though, there isn't much else. That is until you look at the logo that accompanies her series' announcement. While many of the shows and movies announced during the Investor Day had nice fonts that correlated to the theme or content it went with, the Ahsoka one had her name on top of an intricate galaxy map or compass. 
At first glance, it looks really similar to the World Between Worlds portal arches she and Ezra Bridger encounter in Star Wars Rebels when he saves her. Considering she has that connection, and her guardian and Force condor, Morai, was also hanging out in that realm, that would be a good connection. But some fans also saw other familiarities. 
"Is it just me or are there major similarities between the Ahsoka show's symbol and meditation symbol from Jedi Fallen Order... does anyone know what it means?" one user wrote on Reddit. 
They're referring to the symbols that appear on the ground in the game that players navigate to recharge or save. You can regenerate your health at these spots, but it also regenerates all of the monsters and aliens you've killed up to that point to. 
"Yes! and there are similar concentric circles & lines on the ground outside the Lothal temple," Another user wrote underneath. 
And yet another user pointed out that it looks like a "celestial map" noting that it would be interesting if there was a hidden location there somewhere. 
Could this be a step closer to seeing Cal Kestis in live action one day?
So, why would Ahsoka be connected Jedi: Fallen Order? Cal Kestis' story and Ahsoka's are actually pretty similar. They were both Padawans during the Clone Wars and escaped the Jedi Purge. They both survived, and dealt with their survivor's guilt in separate ways, and both outlived their masters. At least, that's what Ahsoka thought. She later found out the dark truth. 
Plus, Cal was presented with the task of finding a Holocron with a list of Force-sensitive children that the Empire was also after. If they had found it, the Inquisitors would have gotten rid of all of the people on that list. Cal was then faced with the decision of whether to find those kids and train them or not.
Ahsoka faces a very similar issue and thought process in the Ahsoka novel, and comes to a similar, yet different conclusion than Cal. But the similarities between the two are very interesting. So why wouldn't their paths meet at some point? It's a little far down the line, in 9 ABY, but Cal Kestis is played by Cameron Monaghan, who has a big fan base thanks to Gotham and Shameless. So it wouldn't be out of the question at all to bring him on in live-action form and just age him up via makeup.  
Cal, however, doesn't have any connections with the World Between Worlds. At least not yet. It doesn't seem like it'd be a coincidence that these symbols are so close. But it doesn't seem like the "why" has been answered yet.