Why Jennifer Aniston and Ellen DeGeneres Once Kissed on 'The Ellen DeGeneres Show'
Ellen DeGeneres is known for her wild antics performed on The Ellen DeGeneres Show. Back in 2019, she had Jennifer Aniston on as a guest — and the two talked at-length about DeGeneres' kiss with Howard Stern that occurred prior to the show. Then, Aniston and DeGeneres went in for a kiss themselves much to the surprise of the audience. Here's what went down.
Howard Stern once kissed Ellen DeGeneres on 'The Ellen DeGeneres Show'
Back in 2019, Stern visited The Ellen DeGeneres Show. And he noted to DeGeneres that people were "giving her grief" over a photo she had of her with George W. Bush. According to Stern, he had the perfect plan to get peoples' minds off of it.
"People have this picture in their mind of you and George Bush," Stern starts. "What you need to do, in my opinion, is take a picture with me making out with me." This caused an uproar of audience laughter.
"Just hear me out," Stern continued.
"Your wife is here," DeGeneres noted.
"Once people see me with you, no one's gonna be thinking about George Bush," Stern clarified. "That's my thought."
DeGeneres then noted that in the photo of her with Bush, she was actually showing Bush photos of Stern's watercolor paintings. And Stern then interrupted DeGeneres by stating, "Kiss me, Ellen."
"Are you OK with this?" Stern questions before the kiss.
"Nothing worse can happen to me now," DeGeneres added. And she verified that she's not going to "make out" with Stern. Finally, the kiss happened — and the audience went wild.
Jennifer Aniston asked DeGeneres how the kiss with Stern was
It seems DeGeneres' kiss with Stern was the talk of the town. When Aniston joined DeGeneres on stage in 2019, she referenced the kiss on the show.
"I would like to ask how this kiss happened with him," Aniston noted.
"He asked for the kiss," DeGeneres explained. "I don't normally just grab anyone who asks for a kiss …."
Aniston then asked DeGeneres to tell her how the kiss was. And DeGeneres questioned why Aniston wanted to know. Ultimately, Aniston asked DeGeneres how often she kisses guys — and DeGeneres started to get defensive.
"When's the last time you kissed a girl on the lips?" DeGeneres fired back.
"I don't kiss girls on the lips," Aniston noted. After that, DeGeneres leaned in — and the audience went wild. Ultimately, the two ladies ended up locking lips for a brief moment.
"That's what they wanted to see!" DeGeneres exclaimed.
"You have such soft lips!" Aniston added.
"So do you," DeGeneres said, "that's why I do what I do."
DeGeneres joked that their kiss would get tons of social media attention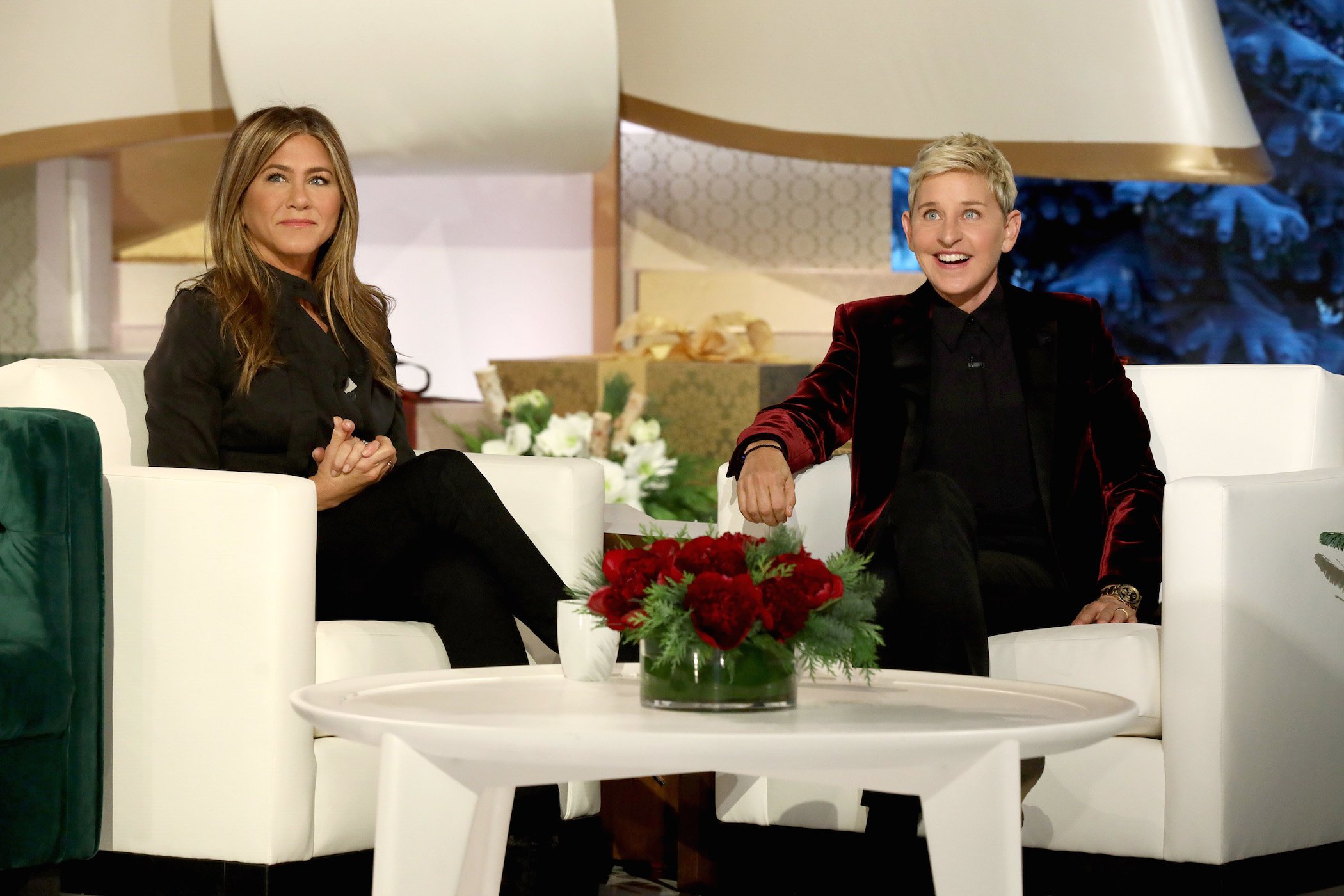 While DeGeneres and Aniston laughed off the kiss and were able to play it off like it was no big deal, it's clear the audience was surprised it happened. After the kiss, the two changed the topic to Instagram.
"By the way, you don't know this," DeGeneres told Aniston. "You just made The Guinness Book of World Records by [becoming] the first person joining Instagram to get to a million followers the fastest."
As for why Aniston chose to join Instagram, she wanted to share more of her personal life with her followers and "have fun" with it. But DeGeneres noted the photo of their kiss would surely grab even more attention online.
"That kiss thing is gonna be on your Instagram and my Instagram, and that'll get things going," DeGeneres added.
Prior to the show, Aniston was unable to say the last time she kissed a woman on the lips. After leaving, she could give a definitive answer to anyone who asked — though the lip lock was surely just for the audience and not for any other reason.
Check out Showbiz Cheat Sheet on Facebook!