'The Office': Why Jim and Pam's Relationship Was So Captivating
Find out what made Jim Halpert and Pam Beesly's relationship on 'The Office' so captivating to viewers.
When you consider television romances, the relationship between Jim Halpert (John Krasinski) and Pam Beesly (Jenna Fischer) on The Office is one of the most celebrated. 
Thanks to Brian Baumgartner's podcast, An Oral History of The Office, fans finally understand why they were so captivated with Jim and Pam's relationship.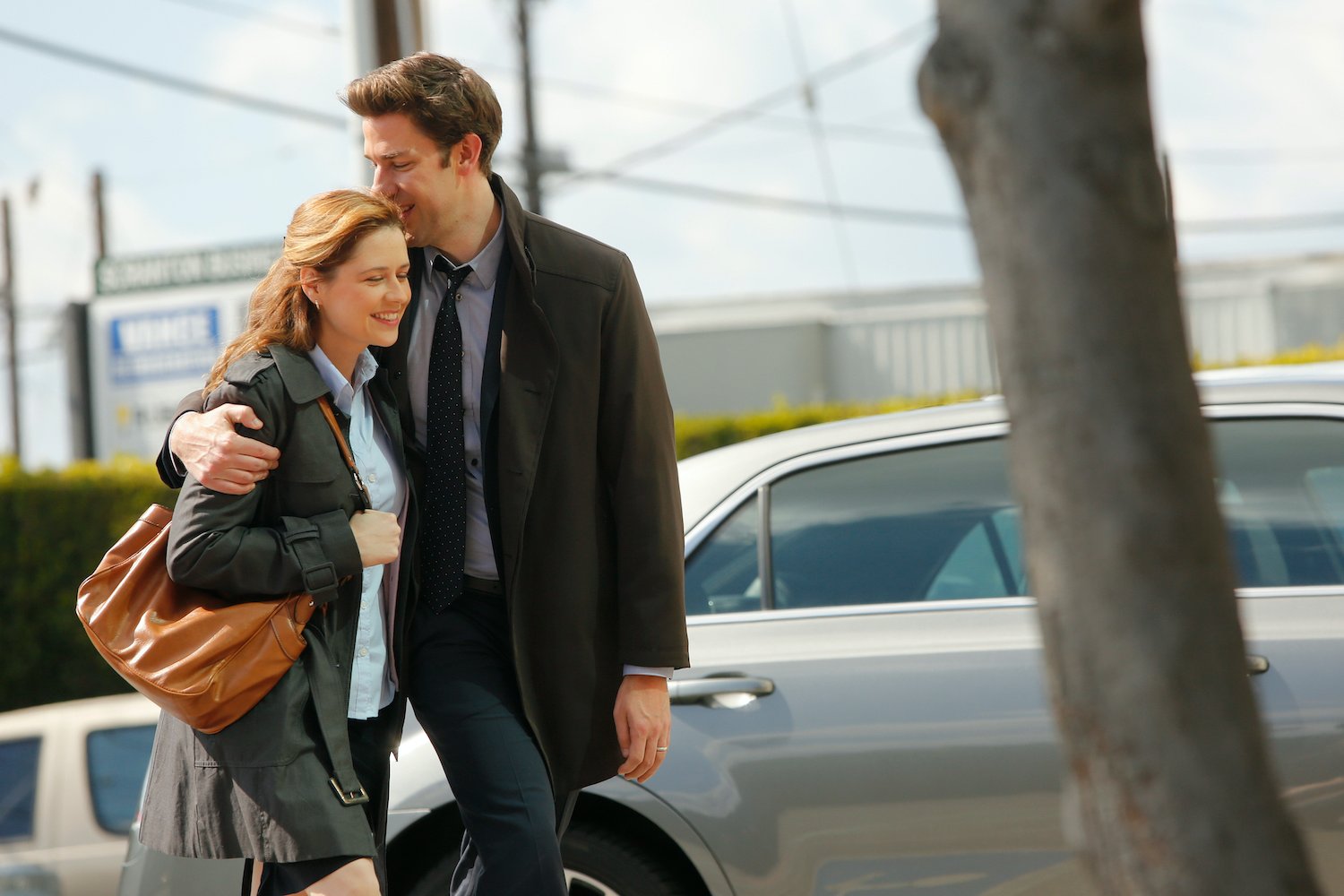 Brian Baumgartner is pulling back the curtain on 'The Office' 
Baumgartner, who played Kevin Malone in the NBC series, started a podcast to give The Office fans insight. 
In each episode, Baumgartner speaks with the cast, directors, and camera crew about their specific choices which ultimately created a show so many people know and love. 
In episode 5, "John and I Are Not a Couple," Baumgartner explored many of the relationships on the show. The episode dissects Michael Scott's (Steve Carell) quest to find "the one" and the awkward relationship between Dwight Schrute (Rainn Wilson) and Angelina Martin (Angelina Kinsey). 
The episode also addresses one of the most important relationships on the show — Jim and Pam's. 
Jim and Pam brought something special to 'The Office' 
The Office featured a love story as old as time: the engaged receptionist falls in love with one of the company salesmen. 
OK, maybe it's not a tale as old as time, but the love story between Jim and Pam is as iconic as they come because it is relatable.
That's partly why the couple was so appealing to viewers. 
'The Office' was a 'wildly funny comedy' with a 'subtle love story' 
The Office was structured within a documentary format. As such, Jim and Pam's romance was on the outskirts of a documentary about a mid-size paper company. 
Mike Schur, one of the writers on the show, demonstrated how traditionally, shows are centered around a love story with a "wacky boss" occasionally thrown in for comedy.
The Office flipped that narrative, making the story about the "wacky boss," leaving the "will-they-won't-they romance" in the background. 
"That does two things," Schur explained.
It makes the wacky boss into a viable character worthy of introspection and layering and dimension. No one usually cares about what's going on in the wacky boss's emotional life.

It also means that when you shove the romance into the corners. [Then] it becomes this very delicate gossamer spiderweb of glances and tiny little moments. [In this way,] you have fundamentally changed [how] audiences relate to romance.
Jim and Pam's lack of screentime made for a 'really intense love story' 
Because showrunners chose to focus on Michael Scott, fans were even more intrigued by Jim and Pam. 
"You're really in it, but it doesn't use up that much screentime," Schur said of the romance. "You can play a really intense love story for a quarter of the screentime of the show. You still get three quarters for comedy."
Baumgartner described how viewers' emotions perfectly: "You feel like you're stealing glimpses of Jim and Pam, and that hits home." 
As Krasinski pointed out, "that's real life." 
"I think when you're in love with someone — especially someone at work — you very much look forward to those interactions at work. But, that means that when you go home, you will not see that person. So you are tantalized by the idea that 'when I get that moment, I'll savor it.'" 
Ultimately, the showrunners made a wise choice. Putting the focus on Michael Scott and giving fans brief moments of Jim and Pam, their love story became all the more captivating.