Why Jimmy Page Needed a Special Guitar Built for 'Stairway to Heaven'
If you're a Led Zeppelin fan, the music itself might be enough for you. And when you're talking about a band with tracks such as "Whole Lotta Love" and "When the Levee Breaks" to its name, you can't argue with that approach.
However, when a band has so many legends surrounding it, you see why fans might take their love of Zeppelin to another level. That might include reading tales of Zep on the road, digging into Jimmy Page's Yarbirds work, or learning about Page's approach to producing the band.
Along the way, you might start wondering about Page's signature Gibson double-neck guitar. To detractors, this instrument can symbolize the excess (the pure bombast, perhaps) of '70s hard rock. For Zep fans, it might simply remind you of the band's live performances.
Indeed, Page did not begin playing his double-neck because it looked cool or represented the "more" Zep became known for. Page got his custom red double-neck because he needed it to perform "Stairway to Heaven."
Jimmy Page couldn't perform 'Stairway to Heaven' live on his old guitars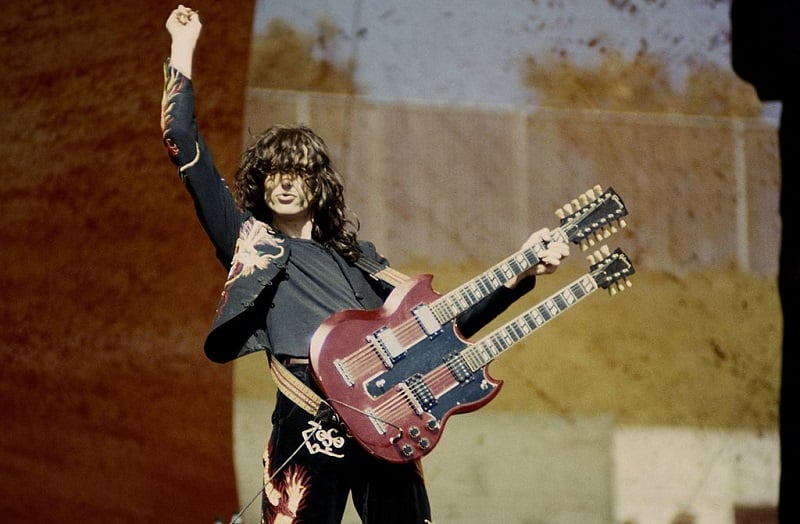 With Led Zeppelin IV (1971), Page and his bandmates produced the definitive hard-rock album. It started with the explosive blues of "Black Dog," carried on with "Rock and Roll," and approached the ethereal with "The Battle of Evermore." But they were just getting warmed up.
Before the end of side 1, listeners also got "Stairway to Heaven," which remains the genre's most iconic anthem. On that track, Page played both 6-string and 12-string acoustic guitars as well as the electric model he used for the "Stairway" solo.
While that was standard operating procedure in the studio, Page couldn't switch between three guitars in a live performance. (Remember, Zep wasn't The Beatles, who'd quit touring by the time their music became more complex.)
"The double neck was there as a necessity," Page told Telerama in 2014. "I thought the only way to replicate it properly, to do it any justice, was getting a guitar that will give you 12 strings on one neck, six strings on the other. So I got the double neck as a result of recording 'Stairway to Heaven.'"
Page acknowledged that the double neck is 'an impressive instrument'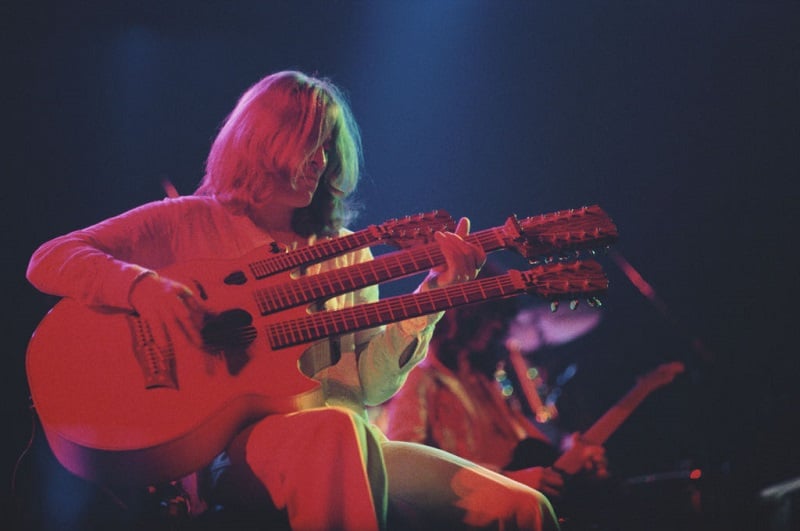 While Gibson produced double-neck guitars starting in the late '50s, they'd stopped production by the time Zep made "Stairway." So Page ordered a custom-model EDS-1275 for live performances. Of course, being the great showman he was, Page knew the double-neck offered more than a sound.
"It's an impressive instrument," he told Telerama with a smile. "It looks great. It's a sexy woman with two necks." After watching Page thrash and style with his Gibson double neck, it seems bandmate John Paul Jones decided he needed an upgrade, too.
Sometime in this period (circa '71), Jones got a custom multi-neck guitar of his own. In his case, Jones had a 6-string, 12-string, and a mandolin on the same body. (If you're keeping score at home, yes, that's a triple neck.)
Since Led Zeppelin III, Jones also needed to change guitars frequently. (Zep started playing an acoustic mini-set during live performances then.) And, since "big" was the only way to go in that band, a triple neck must have seemed like the obvious choice.