Why John Krasinski Thinks Emily Blunt Is 'Way Out of His League'
It's no secret that John Krasinski worships Emily Blunt. Krasinski doesn't keep shy about his admiration for his wife of over ten years. And even though they've been together for a decade and share two children, The Office star still can't believe how lucky he is to be with The Devil Wears Prada actress. Blunt seems to feel the same way about her husband, yet even so, Krasinski is still under the impression that his wife is "way out of his league." Keep reading to find out more adorable facts about their longstanding relationship.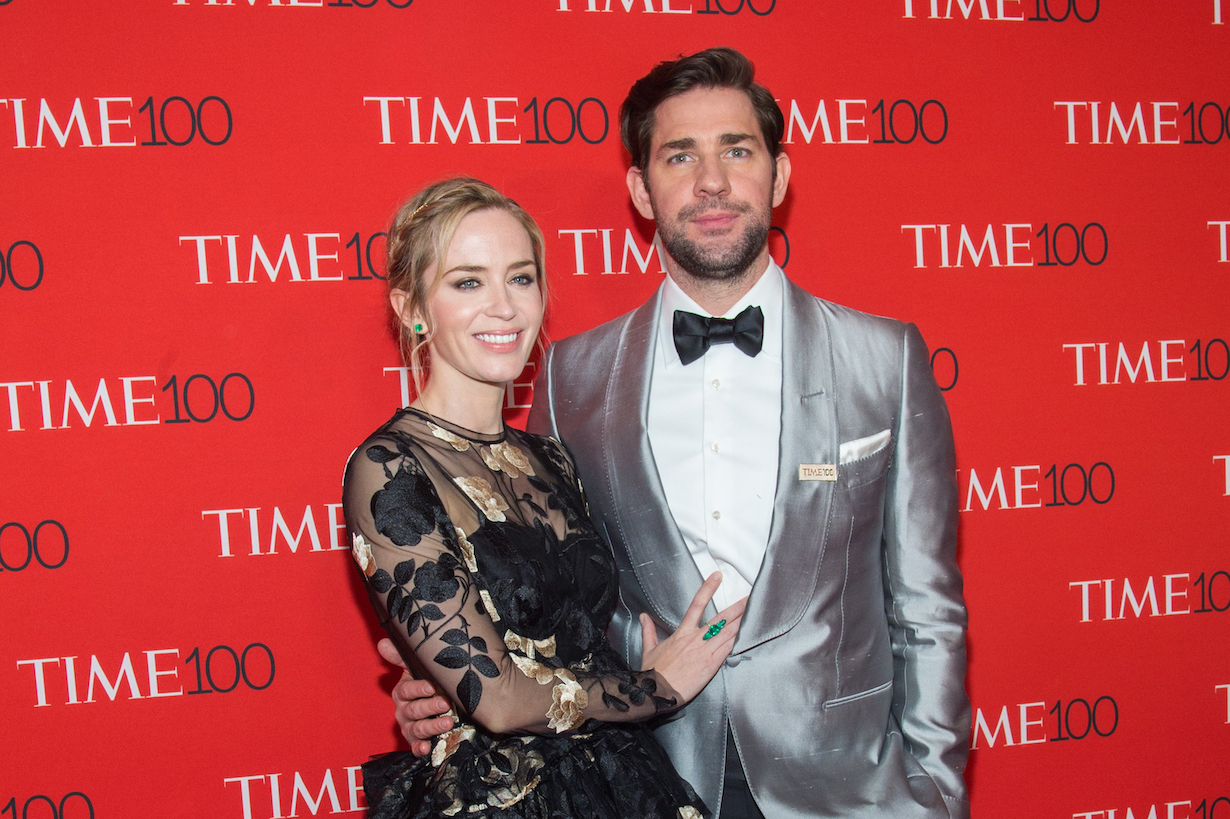 It was love at first sight for John Krasinski and Emily Blunt
The A Quiet Place actors fell in love almost instantly with one another. The two were at the same restaurant in LA when Krasinski walked up to Blunt and shook her hand. He described the incident on The Ellen Degeneres Show, telling the talk show host, "I was so nervous. I was like, 'Oh god, I think I'm going to fall in love with her.' As I shook her hand I went, 'I like you.'"
What Blunt didn't realize was that the man she was meeting was a huge fan of her movie, The Devil Wears Prada. Krasinski has even confessed to watching the film over 72 times!
During the early stages of the couple dating, Krasinski was watching The Devil Wears Prada at the same time that Blunt decided to surprise him by coming over. Upon her arrival, she asked what he was watching, and he immediately changed the channel to something "dude-like" in an effort to play it cool.
John Krasinski thinks Emily Blunt is 'way out of his league'
*Alexa, play "She's So High" by Tal Bachman.*
According to Krasinski, the best days of his life started when he met Blunt. He gushes about his wife in an interview with The Daily Beast, professing,     
"For me, the best days of my life started when I met my wife–that's the truth, it's not just me saying it because it sounds nice on a card," he confessed. "She's one of the coolest people, she's so talented, she's beautiful, and she's certainly out of my league. When you're lucky enough to meet your one person, then life takes a turn for the best. It can't get better than that."
Mutually, Blunt has claimed that Krasinski makes her feel "invincible."
John Krasinski tried to ruin his first date with Emily Blunt
Despite millions of people swooning over Jim Halpert on The Office, Krasinski was still under the impression that a girl like Blunt would never go for a guy like him. Because of his initial insecurities about their relationship, he purposefully tried to ruin his first date with Blunt, so it wouldn't hurt too much when she rejected him. Because of this, he took Blunt to the least romantic place imaginable for their first date: A shooting range.
Krasinski explains his reasonings with Conan O'Brien, revealing to the talk show host, "I decided, 'I'm gonna really hit the gas and bring her to a gun range.' I think that I was so sure that I would never end up with her…that I was like, 'You know what, I'm gonna blow it right away and then that way you don't feel bad.'"