Why Kelly Ripa's Parenting Strategy Involves Strict Technology Monitoring
Talk show host, Kelly Ripa, and her longtime love, Mark Consuelos, have successfully raised three children together. While two have already left the nest, their youngest will be on his way soon enough. Ripa previously shared some of her parenting tips — specifically about technology use.
Kelly Ripa and Mark Consuelos take parenting seriously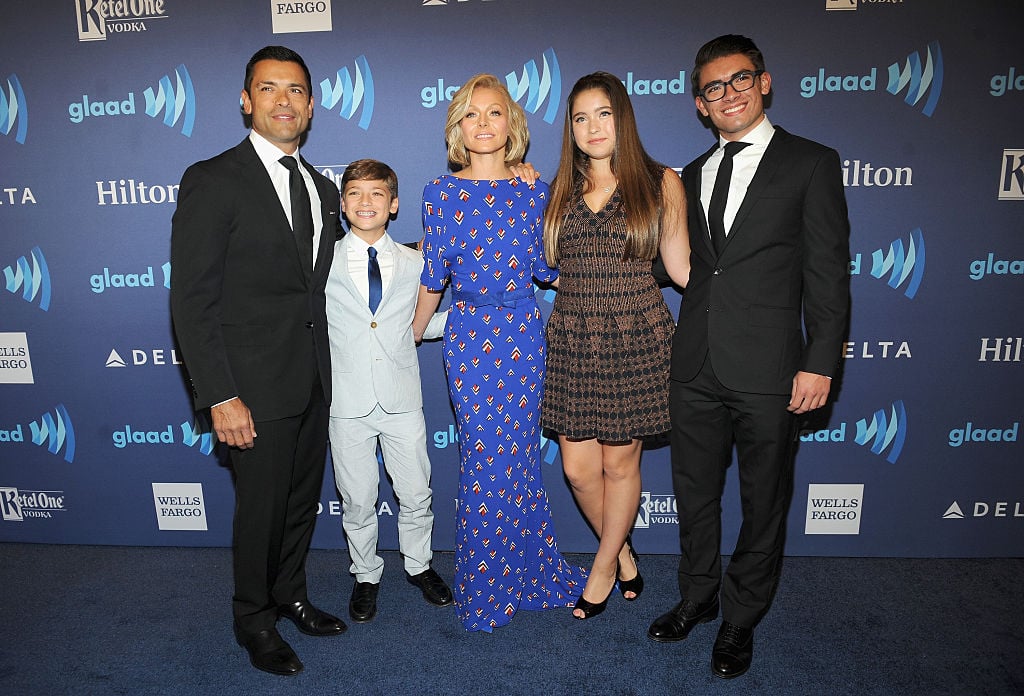 Live With Kelly and Ryan! co-host, Kelly Ripa, can almost celebrate a full-fledged empty-nest syndrome. She and Riverdale husband, Mark Consuelos, have said goodbye to their oldest son, 22-year-old Michael, and second-born, 18-year-old Lola. Next up is 17-year-old Joaquin and the happy couple is home free.
That said, Ripa and Consuelos, live their lives like an open book. When it comes to their love life, parenting, and everything in between, nothing seems off-limits to the celebrities.
Some of the rules Ripa and Consuelos have implemented may not be the most popular, but they've proven to serve the Consuelos kids well. Ripa is so dedicated to the way she and Consuelos raise their children, she's said in multiple interviews (and on-air) she is not their friend and does not care if they like her or not.
During a previous appearance on The Wendy Williams Show, Ripa re-iterated that belief saying, "I don't think [Lola] likes me, but I don't care."
"Basically, it's my philosophy that doing the easy thing in the short term makes it harder for parents in the long run," she told WebMD. "Giving in when you want to say 'no' may quiet things down momentarily, but you'll just have more of the same — and then some — down the road."
That exact sentiment is what Ripa and Consuelos lean into in hopes that all the rules pay in spades throughout the children's adulthood.
How Ripa monitored technology use with her children
Ripa and Consuelos have firm boundaries when it comes to rules and tech. In a previous interview with Roger Friedman's Showbiz 411, Ripa admitted her children didn't watch TV or play video games, they shared a family computer, and they were meant to hand in all devices at the end of each day.
While that news is wild enough, there's more. Ripa also revealed via multiple outlets that phones are fair game. She will read everything, confiscate without notice, and shamelessly "snoop."
"I walked into her room and she wasn't there. But there was her phone, which isn't supposed to be in her room during study hours. So I was like 'let me just accidentally dial in her code'. I saw a lot of things like 'so-and-so responded to your Instagram' or 'so-and-so liked your photo.' She was in the bathroom showering," she told Wendy Williams.
Ripa also has no shame in check-in on social media use.
"We will give you certain freedoms, but when you want privacy in a not private world…you can't have privacy and be on Instagram," she said.
"Privacy is if you want to write a letter or write in your journal, I'm not going to read that. But if you want to Tweet about what a pain…your mom is, I'm going to see that," she also continued.
The Consuelos crew also had a phone policy in effect
However extreme, Ripa's on top of whatever her kids get into — including burner phones, which she's found.
"It starts with me tossing the room like a prison warden because I know there's a hidden device that I haven't found yet. I know, because I just know," Ripa told Megyn Kelly.
"So I find the hidden cell phone that is buried underneath a pillow, deep within the bed, below the thing, underneath the thing, plugged a thing and I go 'an iPhone 2?!' And I confiscate it."
Parenting is hard but clearly Ripa and Consuelos know what they're doing.
"Parents should never allow kids to surf the Net without supervision," Ripa told WebMD. "Guide them and set limits. They won't like it. But you wouldn't allow a young child to walk down the street alone."