Why Led Zeppelin's Hall of Fame Induction Had Some Painfully Awkward Moments
While the members of Led Zeppelin were usually on good terms, things got very awkward during the band's Rock and Roll Hall of Fame induction.
Who cares about the Rock and Roll Hall of Fame? No one I can think of, but if you're going to have a Hall you better have Led Zeppelin in it. That very thing happened in 1995, some 15 years after the death of John Bonham and subsequent dissolution of the Zeppelin.
At the ceremony, as in several other reunion concerts, the three surviving members of Zep played with Bonham's son Jason on drums. But while everyone waited to see how Jimmy Page, Robert Plant, and John Paul Jones would sound after all these years, most of the drama wasn't music-related.
In the months before the induction ceremony, Jones had spoken with the media about Page and Plant's Unledded project. He mentioned being surprised by the album and tour. "It's kind of embarrassing because everybody's been asking me about it and I've got to explain myself," he told Entertainment Weekly in 1994.
Two months later, as he attended Zep's Hall of Fame induction, the audience got a close-up view of the tension between the old bandmates. On stage, Plant seemed to take a crack at Jones, who returned some fire in his own remarks.
Robert Plant mocked John Paul Jones' old band and made a crack about his comments in the press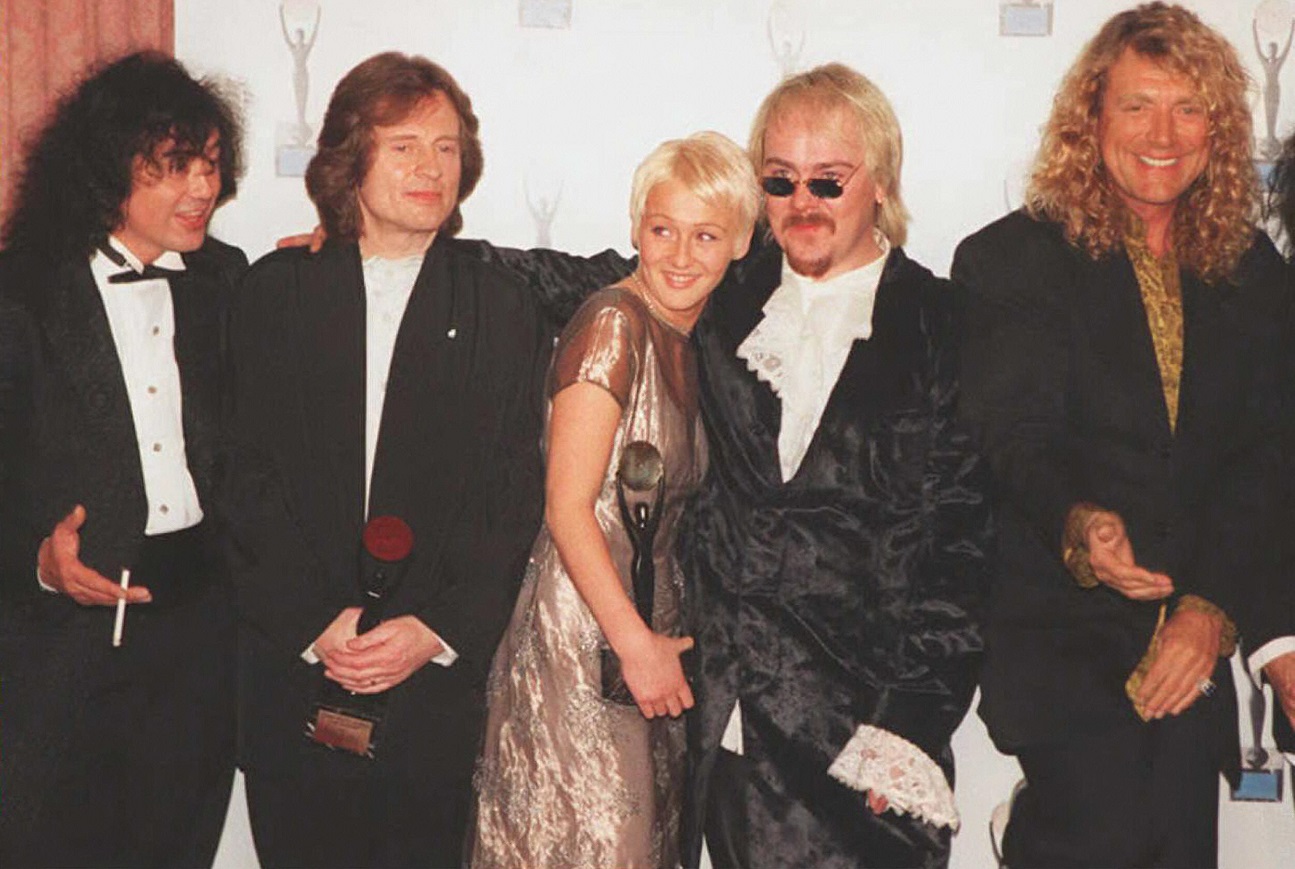 As at any past show, Plant did most of the talking at Zep's Hall of Fame induction. After paying tribute to Atlantic Records legend Ahmet Ertegun, Plant brought up British music of the era.
"Being English and having to put up with Herman's Hermits wasn't much fun," he said with a laugh. "Even though John Paul Jones did play with them for a bit," he added, gesturing toward Jones (at 3:50). After some uncomfortable laughter from the crowd, Plant made a pointed media reference.
"Ooh, New York Times today?" he said, as Jones put his head down laughing. Before the event, the press was still asking about Jones not joining that Unledded tour, and Plant was likely referencing comments from his former bandmate.
Indeed, Jones had taken the pose of a man who had moved on. "Playing songs we did 20 years ago wouldn't have been that interesting to me — even new versions," he'd said (via EW). "I've already done it in the best band. […] I know a lot of people like to hear the old stuff, but I prefer to look forward."
Jones responded with a zinger about Plant and Jimmy Page remembering his number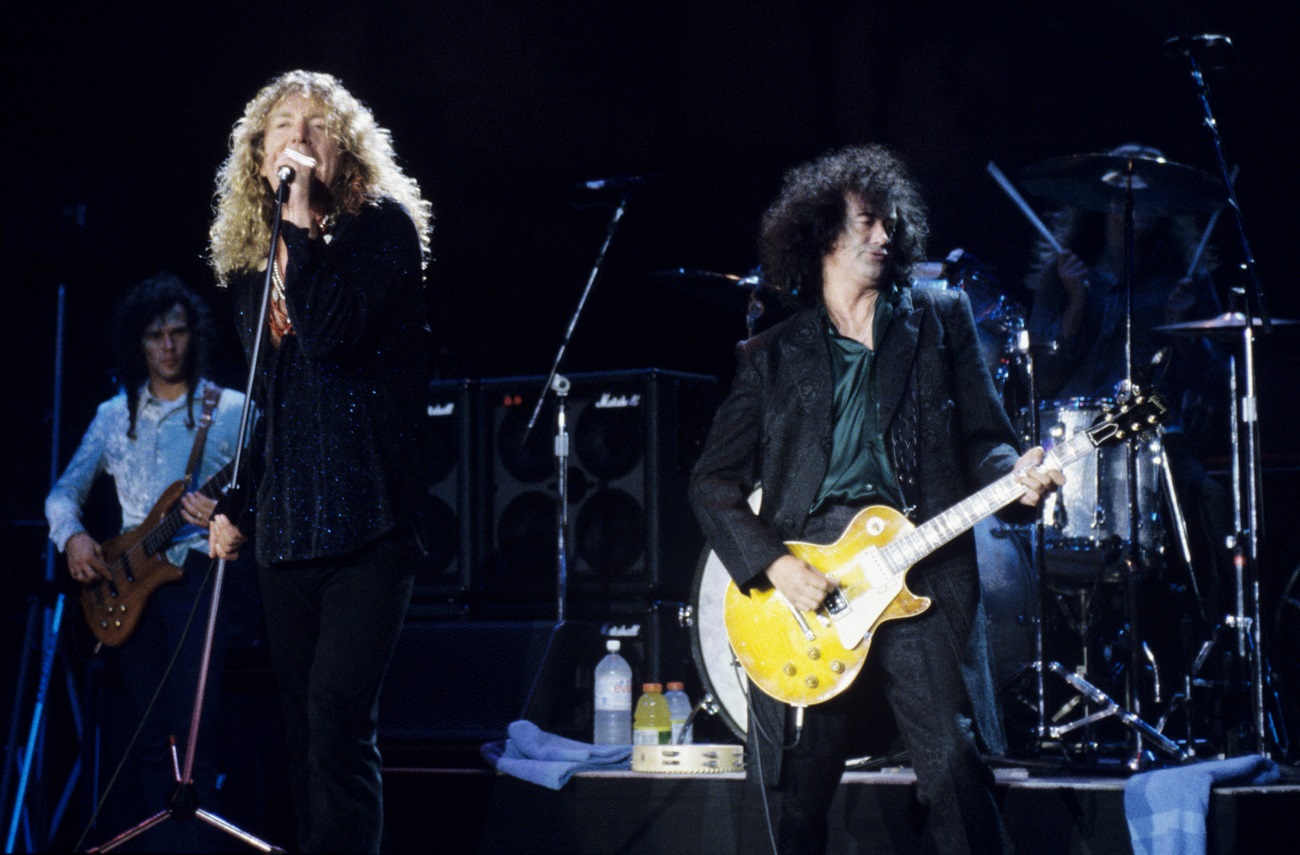 After Plant's lengthy (six-minute) speech, Page came to the podium to make some comments. It didn't last long. "For my part of this I'd like to say it's a great honor to be inducted," he said. "Actually it's the second time for me because earlier I was inducted with The Yardbirds. It's almost like inducted, induced, and this time it's the forceps."
With that, Jones stepped up to the microphone. He brief words lasted even less time than Page's. But in Jones' case the lines came with much more bite. He started out by acknowledging Zep manager Peter Grant for the freedom he gave the band in the studio. Then he turned to his bandmates.
"Also, thank you, my friends, for finally remembering my phone number," Jones said. Following that line, you hear an awkward silence followed by some uncomfortable laughter from the crowd. For his part, Plant looked like a man who'd been burned. He clapped slowly and turned to look at Page. All in all, it was a memorable night for the Hall.