Why Lindsey Buckingham Is Reportedly Feuding with Fleetwood Mac Again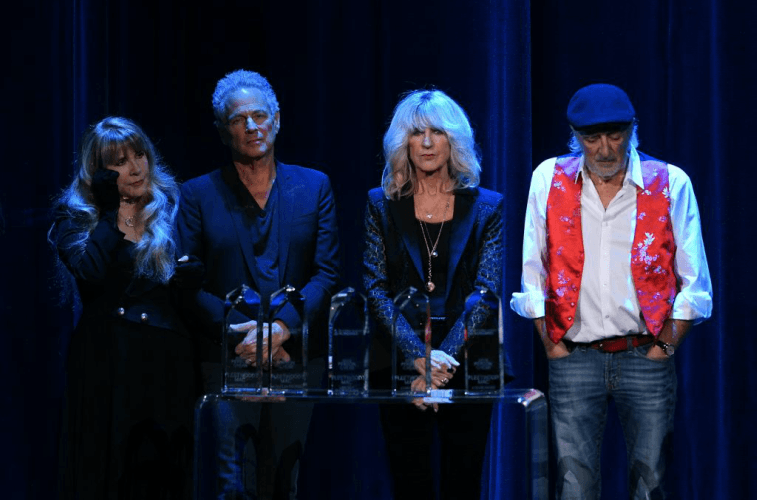 Lindsey Buckingham joined Fleetwood Mac as the lead singer and guitarist back in 1975. He later left in 1987 to pursue a solo career, then returned again in 1997. But Buckingham is making another exit from the band and even suing them for allegedly getting fired. So why is Lindsey Buckingham reportedly feuding with Fleetwood Mac again? Here are five things to know about what happened.
1. Lindsey Buckingham claims he was fired from the tour
In the lawsuit he filed, Buckingham claims his manager told him in January Fleetwood Mac "would proceed with its upcoming and already organized 2018 to 2019 concert tour without him" according to Us Weekly. He also said "not a single member of the band" reached out to him to tell him this.
According to Us Weekly, the lawsuit is against bandmates Stevie Nicks, Mick Fleetwood, Christine McVie, and John McVie for fiduciary duty, breach of oral contract and intentional interference with prospective economic advantage.
The rest of the band has since done their own interview and actually refuse to use the word "fired" regarding Buckingham. "Words like 'fired' are ugly references as far as I'm concerned," Fleetwood told the Rolling Stone. "Not to hedge around, but we arrived at the impasse of hitting a brick wall."
2. Buckingham tried to get the tour to start later to release his own music
So what went wrong? Buckingham revealed that he tried to get the tour delayed. He wanted it to start in November instead of August because he was already working on music and he'd like to release it. The lawsuit claims the bandmates reportedly declined so he agreed to postpone his music to do the tour.
3. Stevie Nicks said the band didn't want to put off the tour
Nicks has spoken about this disagreement and why the band didn't want to move the tour. "We were supposed to go into rehearsal in June and he wanted to put it off until November [2019]," she told the Rolling Stone. "That's a long time. I just did 70 shows [on a solo tour]. As soon as I finish one thing, I dive back into another. Why would we stop? We don't want to stop playing music. We don't have anything else to do. This is what we do."
The band has replaced Buckingham with Mike Campbell who previously performed in Tom Petty and the Heartbreakers guitarist. Also, Neil Finn from Crowded House joined the tour.
4. Buckingham's manager reportedly told him 'Stevie never wants to be on a stage with you again'
The one band member that reportedly wasn't happy with Buckingham was Stevie Nicks. So much so that his manager told him "Stevie never wants to be on a stage with you again." The singer told the Rolling Stone that it was for two very specific moments.
The first was when she was giving a thank you speech during their performance at a MusiCares benefit show and he was reportedly smirking throughout it. The second was that he reportedly had an outburst before the intro music of "Rhiannon" played.
"It wasn't about it being 'Rhiannon,'" explained Buckingham. "It just undermined the impact of our entrance. That's me being very specific about the right and wrong way to do something."
He also said he smirked because the band has joked before that Nicks tends to take a long time to speak. "I may or may not have smirked. But I look over and Christine and Mick are doing the waltz behind her as a joke."
5. Stevie Nicks said their relationship has always been 'volatile'
Nicks and Buckingham used to be in a romantic relationship and their breakup wasn't easy. Nick recently admitted that their relationship has always been volatile.
"Our relationship has always been volatile," she told the Rolling Stone. "We were never married, but we might as well have been. Some couples get divorced after 40 years. They break their kids' hearts and destroy everyone around them because it's just hard."
Well if the past has taught us anything it's that this lawsuit will probably lead to more of a battle between Nicks and Buckingham. Fleetwood Mac has yet to respond to the lawsuit.
Read more: This Star Is the Biggest Mama's Boy We've Ever Seen
Check out The Cheat Sheet on Facebook!