Why Linkin Park Singer Chester Bennington's Legacy Goes Far Beyond the Music, According to Fans
It's been nearly three years since the death of Linkin Park frontman, Chester Bennington. Those who loved him, or merely connected to his music, are still grieving the tragic loss. With Bennington's birthday having just passed, fans are remembering the musician's legacy and the lessons he taught along the way.
Chester Bennington would've been 44 years old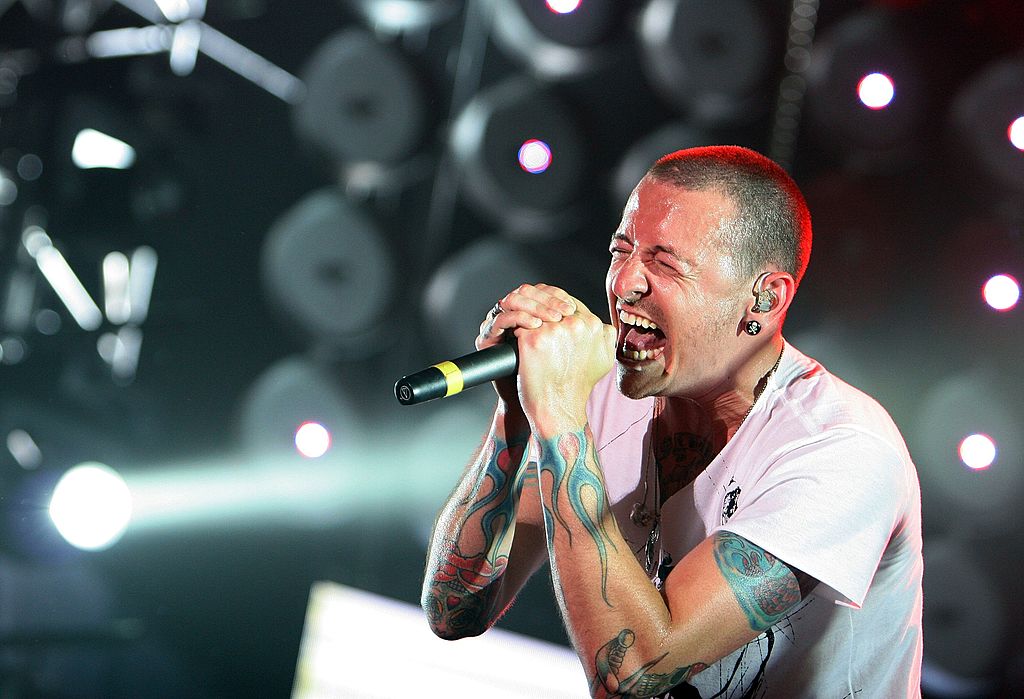 On July 20, 2017, Linkin Park singer, Chester Bennington, died by suicide. He was 41 years old at the time. With a March 20 birthday, Bennington — who would've turned 44 — is weighing heavily on the minds of many.
The beloved frontman, husband, and father, started his music journey in 1993 with Sean Dowdell and His Friends?, followed by his time in another band, Grey Daze. By 1998, Bennington left and auditioned for Jeff Blue at Zomba Music in Los Angeles for, what would be, Linkin Park.
Linkin Park's debut album, Hybrid Theory, hit in 2000 via Bennington and fellow bandmates, Mike Shenoda, Rob Bourdon, Dave Farrell, and Brad Delson. The album sold more than 4.8 million copies its first year, reaching best-selling album status with singles like "One Step Closer" and "Crawling."
The album won multiple awards, launching Linkin Park into mainstream success. The band soared with follow-up albums, Meteora, Minutes to Midnight, A Thousand Suns, Living Things, The Hunting Party, and One More Light — released two months before Bennington's death.
How Bennington's death affected Linkin Park
July 20, 2017, Chester Bennington died by suicide. Shenoda confirmed the death via Twitter saying, "Shocked and heartbroken, but it's true. An official statement will come out as soon as we have one."
That same day, the band released their newest single, "Talking to Myself." With a tribute to Bennington live on the band's website, and donations made to the One More Light Fund (created in Bennington's honor), the fate of Linkin Park became unclear.
While the fund contributed to some of Bennington's preferred programs, it also worked to open the dialogue regarding mental health. I
In partnership with Bennington's wife, Talinda Bennington and The Campaign to Change Direction, 320 Changes Direction opted to change how we "think and talk about mental health; enabling people who are struggling to seek help and streamlining resources for individuals and families," according to the website.
In Aug. 2017, the remaining members of Linkin Park hosted a tribute concert, Linkin Park and Friends: Celebrate Life in Honor of Chester Bennington at the Hollywood Bowl. The event streamed live and included a slew of other performers.
Many assumed the loss of Bennington meant the loss of Linkin Park. However, in Jan. 2018, Shenoda said the band will go on, somehow. By Feb. 2019, he mentioned being open to a new lead vocalist.
"It's not my goal to look for a new singer," Shinoda explained. "If it does happen, it has to happen naturally. If we find someone that is a great person and good stylistic fit, I could see trying to do some stuff with somebody. I would never want to feel like we are replacing Chester."
Fans say Bennington's legacy is more than music — he saved lives
In celebration of Bennington, fans took to social media to share how the late musician impacted their lives.
"HAPPY BIRTHDAY KING! today would've had been your 44th you helped millions cope w things they never thought they could your voice was therapeutic one of the kindest and the purest souls we'd ever seen," this person tweeted.
"Today is more than a special day, it's a glorious day. It's the day the person who showed me the light where there was darkness was born. I know this day is your angel. But it's my gift. Your birth was a gift from which I have forever thanks. Happy birthday," another fan said.
"Happy birthday to the man whose music literally saved my life. #ChesterBennington," another echoed.
"Happy 44th birthday you beautiful man. The music scene and indeed the whole world is a much bleaker place without your presence. Your music saved so many lives. If only you'd known how loved you were and how great your impact on a whole generation truly was," this fan added.
These barely scratch the surface of how beloved the Linkin Park frontman truly was. In a world where so many are struggling in silence, Chester Bennington provided a safe space for all to feel seen and heard. He is missed but never, ever, forgotten.
How to get help: In the U.S., call the National Suicide Prevention Lifeline at 1-800-273-8255. Or text HOME to 741-741 to connect with a trained crisis counselor at the free Crisis Text Line.