Why 'Loki' Fans Are Disappointed With the Show's LGBTQ Representation
When it comes to showcasing LGBTQ characters, Marvel Studios has taken a slow approach — something fans have been quick to point out in recent years. Although there's a brief scene in Avengers: Endgame where Joe Russo portrays a character whose male partner disappeared in the Blip, the franchise didn't feature a canonically LGBTQ main character until Loki in 2021. Unfortunately, even with that step forward, many fans expressed disappointment with the show's representation.
What LGBTQ representation exists in Marvel's 'Loki'?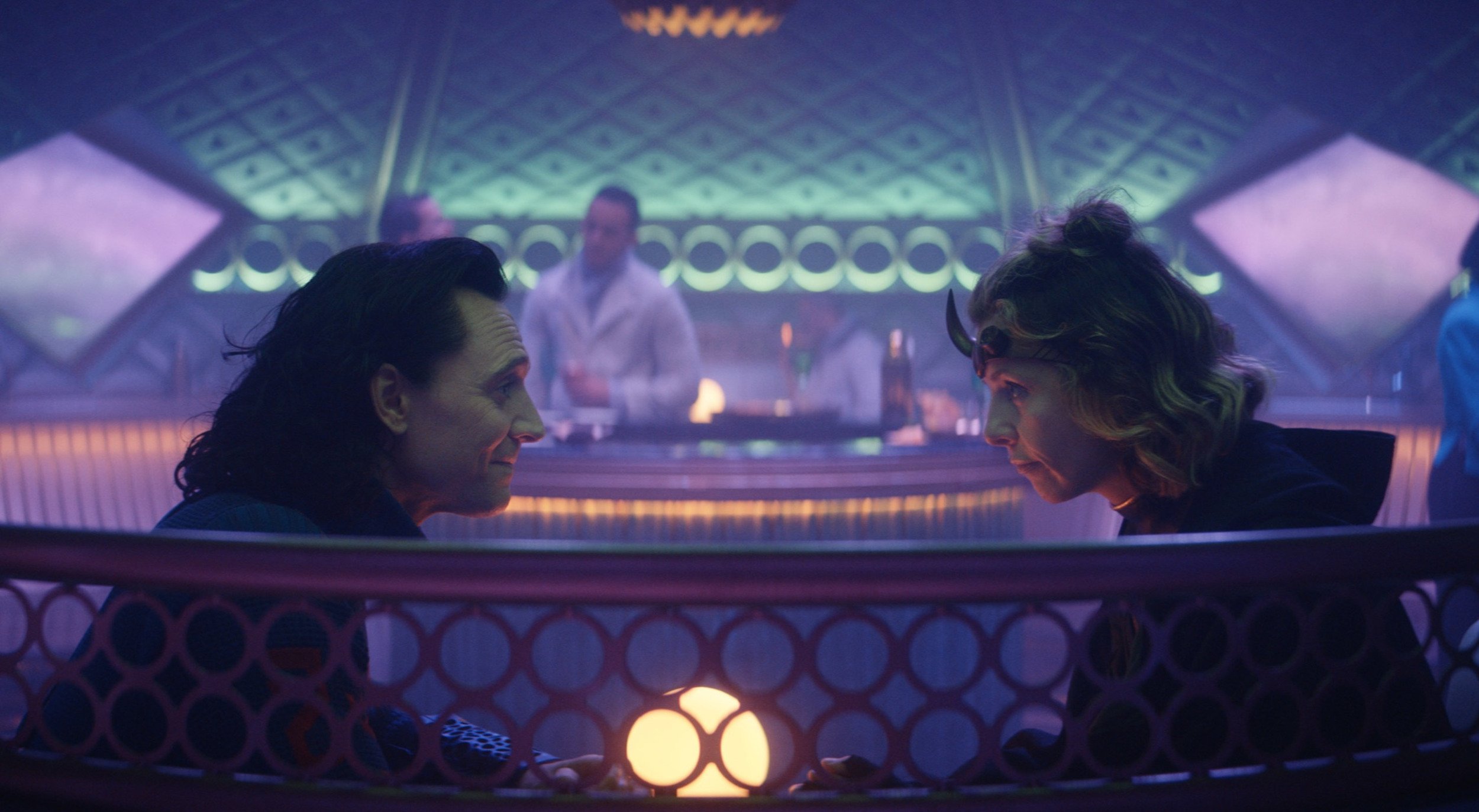 RELATED: Sophia Di Martino Didn't Realize How Big of a Deal Loki's LGBTQ Reveal Was Going To Be — 'People Have Been Waiting a Long Time'
The third episode of Loki sees the titular trickster (Tom Hiddleston) and Sylvie (Sophia Di Martino) discussing their past romantic partners. During that conversation, both confirm they've been with men and women before. This moment from "Lamentis" cements Loki and Sylvie's bisexuality as canon in the Marvel Cinematic Universe. It also implies any Loki variant viewers meet is similarly bisexual.
In addition to Loki's bisexuality, the character's file at Time Variance Authority refers to him as gender-fluid, or not having a fixed gender identity. This is another first for the MCU, but as Screen Rant points out, it's a blink-and-you'll-miss-it mention in a promotional video.
Of course, Marvel Comics portrayed Loki as both bisexual and gender-fluid before the show existed, but these identities were never addressed in the MCU. The character's comic history is why Hiddleston told Out Magazine he'd always known about these facets of Loki:
"Back then, I did a really deep dive into my own research and could see that not just in the comics, that's always been there, but also in the history of the character across hundreds of thousands of years, there's been a fluidity about Loki that I found really interesting and compelling and very much a part of the fabric of the character. It was really thrilling to get to touch on that this time around."
Still, Loki's comic background doesn't excuse a 10-year lack of on-screen confirmation, followed by minimal acknowledgment in the Disney+ show. While the prospect of openly bisexual, gender-fluid characters in the MCU is exciting, fans found the execution disappointing.
Why 'Loki' fans are disappointed in the show's portrayal of LGBTQ characters
RELATED: Tom Hiddleston Knew Loki's Gender Identity Was Fluid 10 Years Ago: It's 'the Fabric of the Character'
Following Loki and Sylvie's brief discussion during "Lamentis," Loki never digs any deeper into either character's LGBTQ identity. That's not because the show lacks a romantic subplot. In fact, it sees Sylvie and Loki developing feelings for one another, a relationship that's gotten mixed reactions from viewers.
The presence of a straight-passing relationship doesn't negate Loki or Sylvie's LGBTQ identities. The fact is, these characters are both bisexual and gender-fluid, and thus, in an LGBTQ relationship. However, the show didn't need romance to explore those identities in further depth.
Never having either character acknowledge their sexuality or gender beyond one conversation felt like a cop-out to fans wishing for more distinct on-screen representation.
"There have been no explicitly queer scenes in the MCU," one Reddit user wrote. "The characters are gay only in name, but not in practice. There is no real representation."
"For me, I thought it was a bit of a cop-out for Loki's bi representation just being one line, with his main relationship in the season being a very straight-presenting one," another Reddit user added.
It seems a few additional lines or further background on Loki and Sylvie's LGBTQ identities could have solved the series' issues. Will Marvel take that into consideration in future projects? One can certainly hope so.
Where does the Marvel Cinematic Universe go from here?
RELATED: Will Marvel Finally Include an LGBTQ Storyline in 'Thor 4' with Valkyrie?
With Marvel Studios' vice president of film production Victoria Alonso suggesting there's more LGBTQ representation on the horizon, where does that leave the franchise? The response to Avengers: Endgame and Loki proves that fans are growing weary of Marvel's attempts to portray LGBTQ characters on-screen. However, the studio intends to increase representation in future projects.
Marvel's Eternals claims to have the first openly gay hero in the MCU, as well as the franchise's first gay kiss. The hero in question is Phastos (Brian Tyree Henry), who is married to a character played by Haaz Sleiman. Sleiman spoke about their relationship during an interview with New Now Next, suggesting it will be more upfront than the MCU's previous attempts at inclusivity.
"I'm his husband, an architect; we have a child. Even though I wished I was the superhero, because when will we see an Arab Muslim openly gay actor playing a superhero? I can't wait to see it," Sleiman said.
Marvel can also make strides toward better representation in Thor: Love and Thunder. Although Valkyrie (Tessa Thompson) has never come out on-screen, the character is bisexual in the comics. Thompson told Rolling Stone she thinks of her character as LGBTQ when bringing her to life. Marvel Studios President Kevin Feige also confirmed Valkyrie will have an LGBTQ romance in an interview with i09.
Additionally, Loki Season 2 offers new opportunities for Marvel to explore the trickster's bisexuality and gender-fluidity, assuming the studio chooses to go that route. With any luck, it will listen to fans' concerns and implement changes accordingly. It would be nice to see viewers praising Marvel's representation for a change, and for the characters to receive their due diligence.