Why Miley Cyrus Said Cher Was Responsible for Her Getting Naked
Cher has had a huge influence on pop music, however, her influence on Miley Cyrus' risque moments isn't obvious. Despite this, Cyrus says one part of Cher's career was directly responsible for her risque moments from her Bangerz era. Here's a look at what the Goddess of Pop herself thought about the time Cyrus famously twerked on MTV.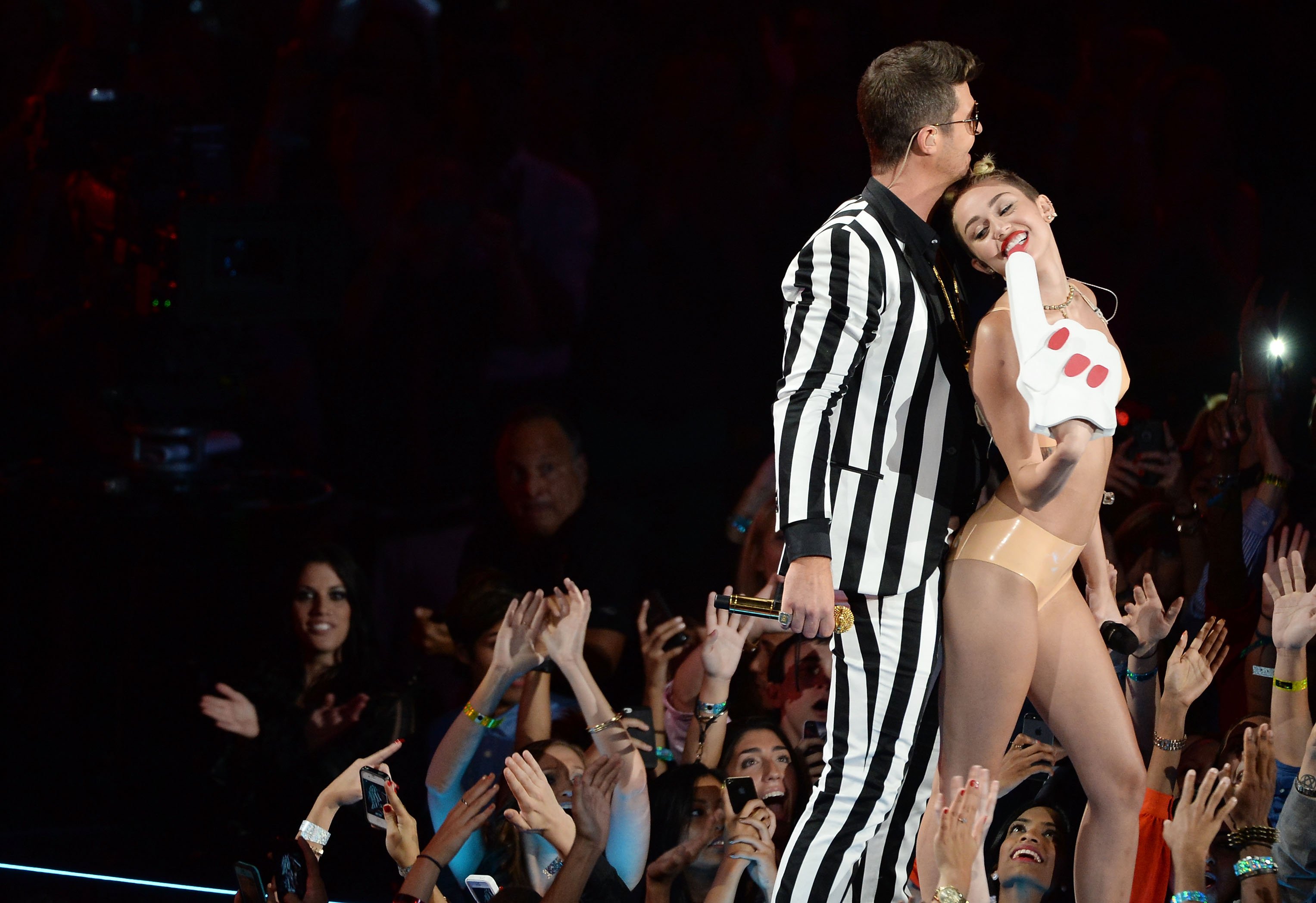 'The pop culture moments almost eclipse the music itself'
In a wide-ranging interview with Rolling Stone, Cyrus discussed everything from Hannah Montana to Joan Jett to Avril Lavigne. She also discussed her album Bangerz, which included "We Can't Stop" and "Wrecking Ball" — two hits with risque videos.
 In the interview, Cyrus contrasted her current work with Bangerz. "I think that I'm really embracing — and everyone else is embracing, too — that the music is a priority right now. [Points to giant photo of her licking an ice cream cone shot in 2013.] Look at this f*cking wall. That wasn't about the music for a moment. The music was driving it, but all those things from that era, especially with Bangerz, the pop-culture moments almost eclipse the music itself. I guess I'm just in love with the fact that for once it feels like it's really focused on the music, and I think I felt that I almost took some blame for the distraction sometimes."
Why Miley Cyrus likes getting naked
Later in the interview, Cyrus explained why she was getting naked during the Bangerz years. "I remember comments saying, 'Why the f*ck do you distract everybody with getting naked and shaking your *ss when you're a f*cking talented-*ss singer?' But because I did grow up watching the Cher show religiously, I love show business. I love entertainment. I love pop culture. I love unforgettable moments."
Cyrus' comments are interesting. The Goddess of Pop's show, Cher, wasn't risque like the music video for "Wrecking Ball." It seems Cyrus was saying Cher influenced her to make her image and eye-popping headlines a big part of her brand. She and the Goddess of Pop certainly have that in common even if Cher wasn't as scandalous as Cyrus during her post-Disney years.
What Cher thought of Miley Cyrus twerking on Robin Thicke
Cyrus' comments raise an interesting question: What did the Goddess of Pop think about Cyrus' Bangerz era? Cyrus performance at the 2013 MTV VMAs — where she twerked on Robin Thicke — was such a pop culture event many celebrities discussed it. Cher was one of them.
According to Rolling Stone, the Goddess of Pop was not a fan of the performance. She said she would have appreciated Cyrus performing nude if the performance was executed well, however, she didn't like Cyrus' dancing or outfit. Her appraisal of Cyrus' singing was a bit more positive, as she called it "average." Cyrus owes quite a bit to Cher — even if Cher wasn't a fan of her most famous moment.