Why No One Took Kanye West Seriously as a Rapper at the Start of His Career
Kanye West is an accomplished artist who has changed the hip-hop landscape as we know it. While he often attracts controversy with his strange choices and outlandish statements, the 44-year-old is used to people dismissing him. Not being taken seriously dates back to the start of West's music career.
Kanye West's middle-class background was not cut out for the rap industry
Hardcore and gangsta rap largely characterized hip-hop in the '90s. Artists rapped about the dangers of drugs, police violence, and dropping out of school. The biggest cohort of hip-hop artists came from poor neighborhoods and used rap to express issues affecting them. Growing up in the streets was an almost unspoken requirement for all hip-hop artists.
Born in Atlanta and raised in Chicago, West lacked street cred due to his relatively privileged background. His father, Ray West, was a former Black Panther and prominent photographer; his mother, Donda West, was an English professor. Kanye attended the American Academy of Art on a scholarship. After one semester, he switched to Chicago State University, where his mother taught in the English department. He eventually dropped out of Chicago State as well.
By contrast, Kanye's peers never enjoyed the luxury of a college education and faced numerous adversities living in poor neighborhoods. Industry gatekeepers viewed Kanye as detached and less qualified to address challenges facing people in the hood, which was the central theme in hip-hop music at the time.
Kanye was more of a producer than a rapper in the early 2000s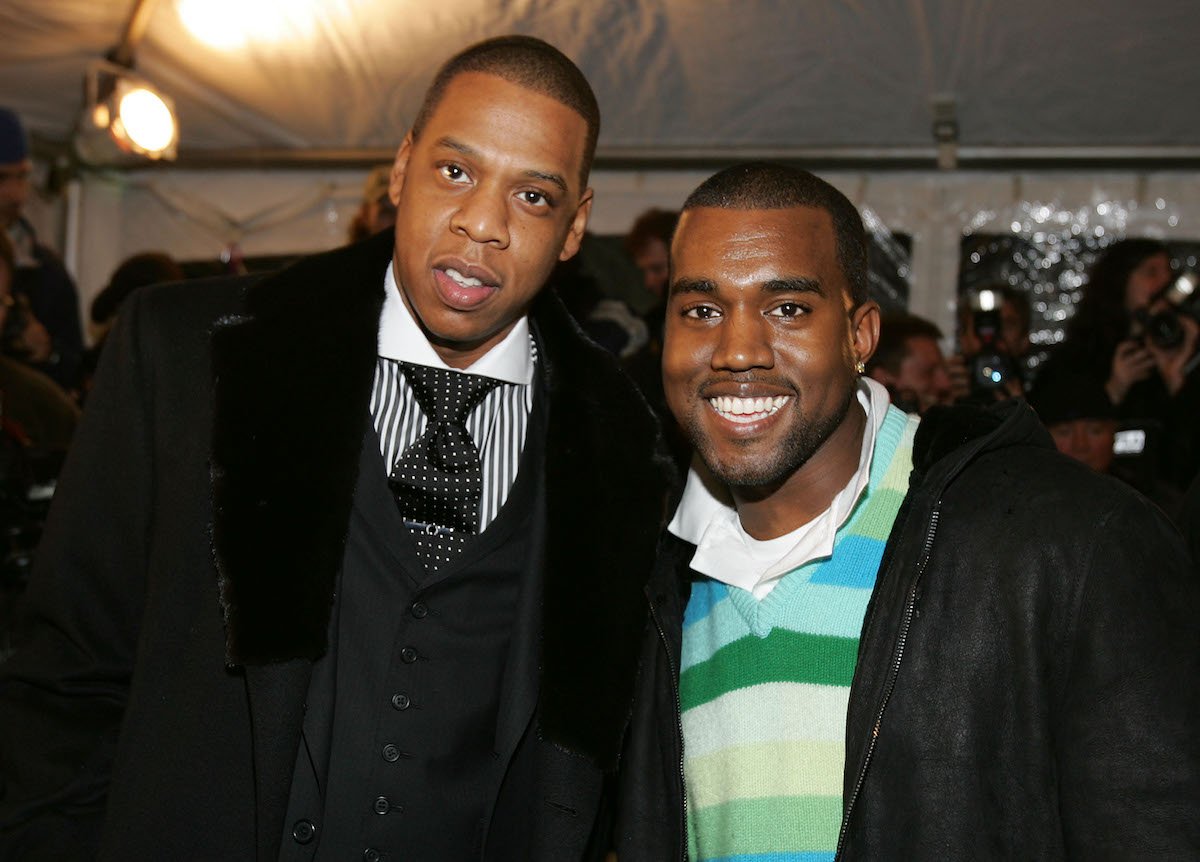 Kanye began his career as a producer — and a good one, producing beats for artists Foxy Brown, Harlem World, and Goodie Mob's crew.
His major break came in 2000 when he joined Roc-A-Fella Records as a producer. Kanye made significant contributions to Jay-Z's 2001 album The Blueprint. He also produced chart-topping singles for famous artists like Ludacris and Janet Jackson.
Kanye's middle-class background and success as a producer meant most label executives were unwilling to take him seriously as a rapper. According to Complex, he had just made his name as a high-level producer, and few could envision him wearing another hat.
Kanye West lacked the gangster rap image
Kanye was not content with creating other people's chart-topping singles. He wanted to rap and compose his own material. He rhymed and rapped for everyone willing or unwilling to listen to his music. This meant Kanye started nagging Jay-Z, who had been reticent to sign him in the first place.
Ever the businessman, Jay-Z was skeptical that a gangster-driven audience would embrace Kanye's college-educated, pink polo-wearing, backpack-carrying rap style. It was only when Kanye initiated negotiations with Capitol Records, the first notable West Coast-based record label, that Jay-Z finally decided to take a chance on him. The rest is history.
An accident after signing as a rapper
Two weeks after Damon Dash signed Kanye as a rapper to keep him at Roc-A-Fella, the aspiring rapper experienced a road accident and broke his jaw. But this did not deter him. Billboard interviewed Kanye after the accident and did not take him seriously when he said he would rap about the accident with his mouth messed up.
Later that year, Kanye released "Through the Wire," which featured him rapping with his mouth practically shut. His lyrics amused listeners and hinted at a whole new approach to rap.
Kanye's many successes vindicate his decisions over the years. These victories include 21 Grammys, three albums on Rolling Stone's "500 Greatest Albums of All Time," and collaborations featuring some of the world's most prominent artists and brands.
RELATED: Kanye West's Net Worth Definitely Got on Jay-Z and Diddy's Level in a Hurry