Why 'Outlander' Author Diana Gabaldon Once Accused Sam Heughan and Caitriona Balfe of Having 'No White-Hot Passion'
Outlander author Diana Gabaldon has been involved with the Starz adaptation of her time-traveling drama since the beginning. But the version that makes it to TV screens doesn't always stay faithful to her books. During the show's first five seasons, Gabaldon has repeatedly praised the actors who have brought her characters of Jamie and Claire Fraser to life – Sam Heughan and Caitriona Balfe.  Fans will be surprised to learn that she once accused the on-screen lovers of having "no white hot passion."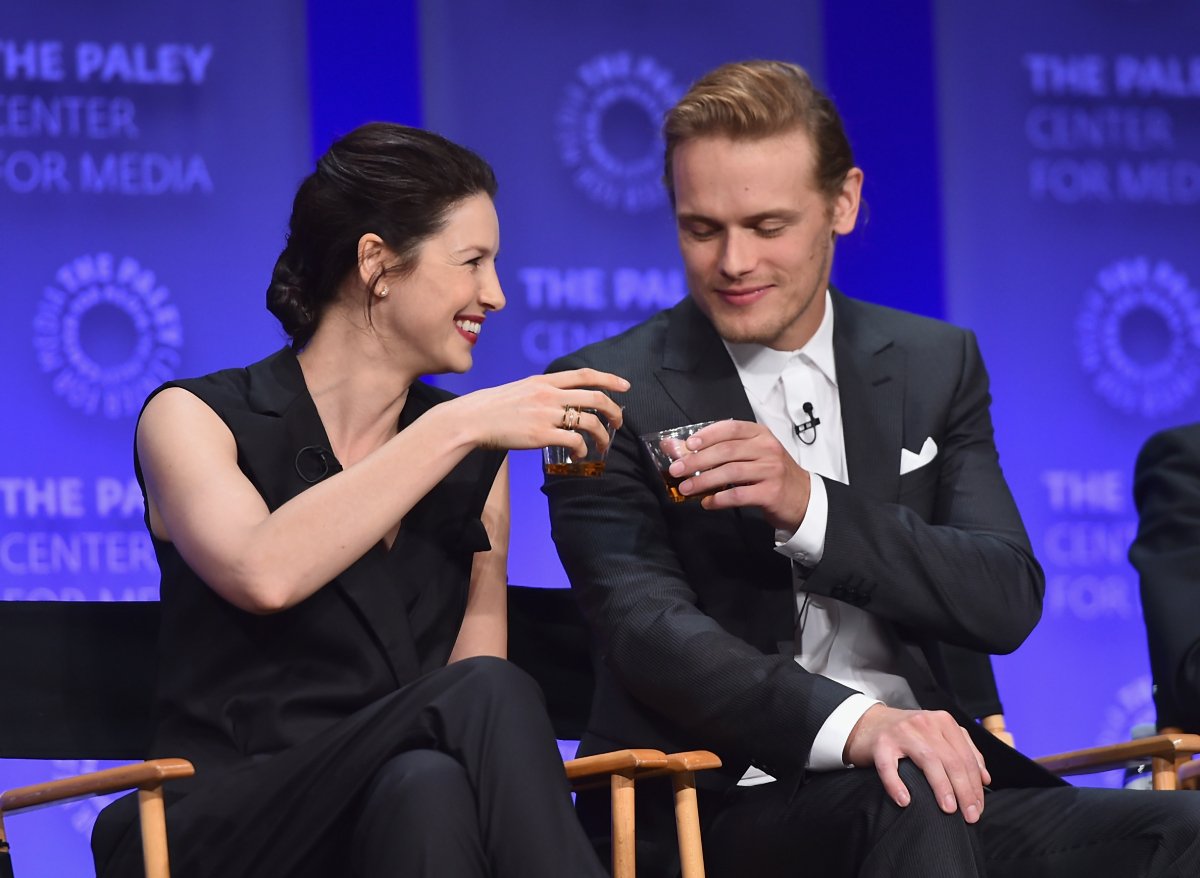 The 'Outlander' author made a last-minute change to her book series
As fans know, Outlander is a time-traveling story set in the Scottish Highlands during the 18th century. First published in 1991, the series has found massive success in recent years thanks to the TV show.
During an interview with Express, Gabaldon revealed that she made a major last-minute change to the book ahead of its release. The author said that when they were getting ready to publish the book, they were still discussing titles.
"My working title was Cross Stitch, which you know it was published originally under that title in Great Britain," Gabaldon explained. "But that was just my working title and not a particularly great title either."
Before the book hit the United States, Gabaldon's publishers asked her to think of something more exciting than Cross Stitch because it "sounds like embroidery." After tossing ideas back and forth for six or seven months, Gabaldon finally said "Outlander."
The author says the word's meaning refers to the "foreigner" in her story, Claire Fraser. Gabaldon explained it's about "what she is and who she is."
Diana Gabaldon had her doubts about casting Sam Heughan as Jamie Fraser
Gabaldon did not sit in on the auditions when they were casting the Starz series based on her novels. But she did regularly communicate with executive producer Maril Davis and showrunner Ronald D. Moore.
Davis and Moore cast Heughan first, only four days into the process. But when they broke the news to Gabaldon, she had her doubts. According to Express, Gabaldon found Heughan "grotesque" based on photos from his early work where he mostly played "weird parts."
The author told Tim Downie and David Berry on their Outcasts podcast that she found a handful of pictures of Heughan on Google. But none of them convinced her that Heughan could be Jamie Fraser. But when she finally saw the video of his audition, she quickly changed her mind.
"Maril and I were both clutching our chests when we were watching Sam's audition thinking, 'Oh my God, this is actually him,'" Gabaldon revealed.
She added that he was "not at all like his pictures." The author said in just a few seconds, it was like "Jamie Fraser was there."
The 'Outlander' author once accused Sam Heughan and Caitriona Balfe of having 'no white hot passion'
Gabaldon admits that she does occasionally have issues with how her novels are adapted to the screen. According to Express, there is one steamy scene in particular where Gabaldon accused Heughan and Balfe of having "no white hot passion."
The scene in question happened in season 5 after Claire became furious with Jamie when he asked if he could gamble with her wedding ring from late husband Frank Randall (Tobias Menzies). After an argument, Jamie finds Claire in a barn petting a horse. She proceeds to slap Jamie before they make love in the hay.
Gabaldon says that the scene didn't work for her. She noted that they used the lines from the book, so she can't complain about the writing. But, her issue is that they framed it with an "odd sort of jealousy between them."
"They had to get from where they were to a scene of white hot passion in about five seconds which is a little difficult to do and they didn't do it for obvious reasons," Gabaldon said.
She added that the way she wrote the scene in the book was "completely different" and very "hot." The scene on TV had no emotional context because it didn't "exist in the lines."
Outlander seasons 1 through 5 are available on Starz On Demand and Amazon Prime.