Why 'Outlander' EP Maril Davis Just Declared It the 'Least COVID-Friendly Show Ever'
The pandemic has put Outlander season 6 on hold indefinitely. The cast and crew were just days away from beginning production when the virus hit in the spring. But now it appears that going back to work just isn't an option until well into 2021, at least. With numerous other TV shows already back on set, many fans are wondering why Outlander isn't following suit. Executive producer Maril Davis says it's because the Starz time-traveling series is "the least COVID-friendly show ever."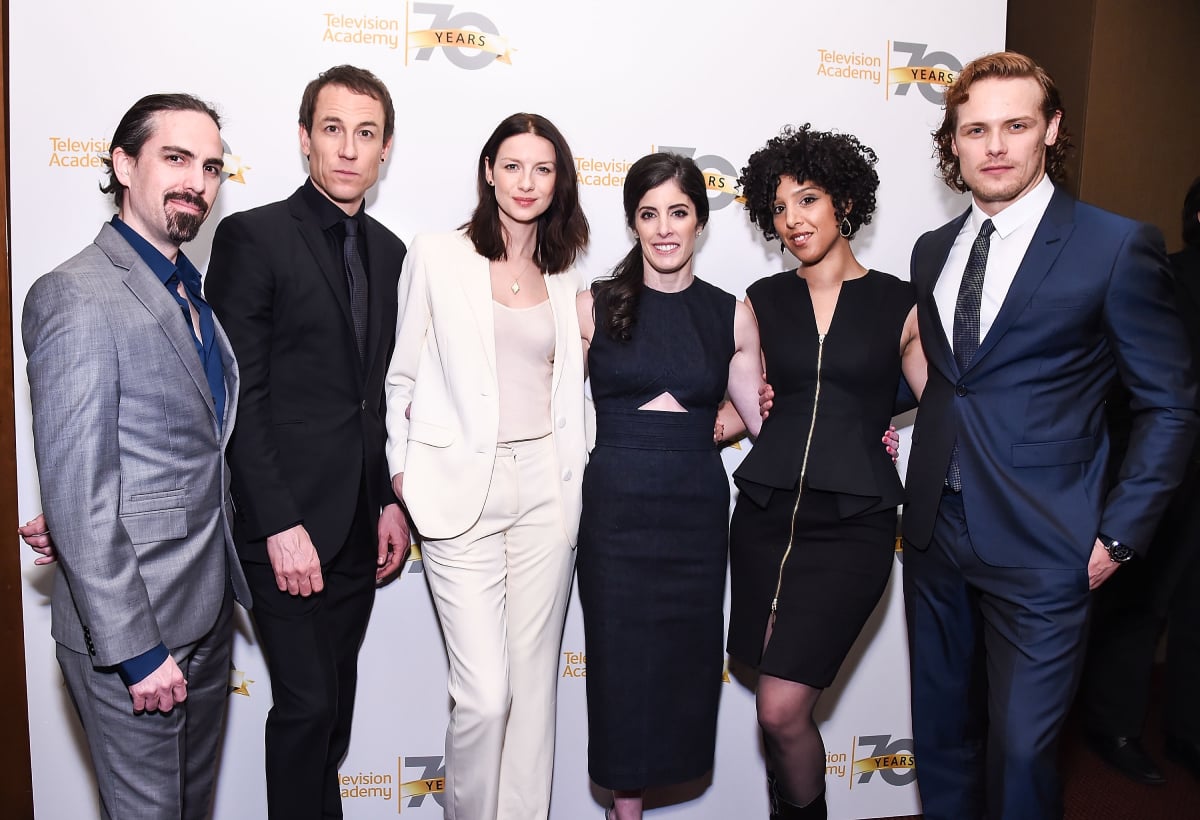 Could 'Outlander' season 6 provide clues for one of the show's biggest mysteries?
While Outlander fans are stuck in the longest Droughtlander ever, one came up with a theory that explains how the show could solve one of its biggest mysteries. Fans will remember that in the Outlander pilot episode, Frank Randall (Tobias Menzies) walks past a mysterious man in a beret.
Viewers didn't see the man's face, but his kilt and his attention toward Claire (Caitriona Balfe) indicated it was Jamie (Sam Heughan).
A rattled Frank believed he had seen a ghost, and author Diana Gabldon later confirmed that he actually saw Jamie's ghost. But how Jamie's ghost landed in 1946 remains to be seen. He's not capable of time travel, and Gabaldon said that Jamie's ghost is actually 25. How can this be when Jamie is well into middle-age in season 5?
Inverse noticed Reddit user Ksuri422's theory that posits Jamie died on the same day that Claire traveled back in time to the 18th century. The fan thinks that Jamie's ghost arrived in 1946 to summon Claire to the past so she could save him from the redcoats. Season 6 could reveal clues about the power of the stones at Craigh na Dun and exactly how Jamie's past death led to that moment.
Executive producer Maril Davis doesn't know when production of season 6 will begin
This past summer, the Outlander cast made it clear they were ready to get back to work. Then in early October, reports claimed that production of season 6 would begin in January 2021. But Davis says that's not necessarily the case.
Unlike other TV shows that already have new episodes on the air, Davis says that Outlander is still on the back burner. According to Cinema Blend, they don't even have the promise of a start date for season 6.
Davis explained that Outlander has a set of problems that other shows don't have to deal with. The most glaring is that the show uses a large number of extras. New COVID set protocols have significantly reduced the number of people allowed on sets.
RELATED: 'Outlander' Author Diana Gabaldon Confirms She Is 'Close to Finishing' Book 9 Weeks After Teasing Claire's Fate
Another challenge Outlander is dealing with in a COVID world is the steamy scenes between Jamie and Claire.
"We are going to be shooting Season 6. That has been slowed down as well. We will come back once we feel like it's safe to do so with our crew and our cast. We don't have the kind of show, unfortunately, that can be COVID friendly," Davis said.
Maril Davis says 'Outlander' is the 'least COVID-friendly show ever'
The large number of extras on Outlander and the regular intimate scenes between Jamie and Claire make it extremely difficult for the cast and crew to shoot under new COVID protocols.
Davis explained that a lot of studios are talking about how they can adapt, and some are making it happen. However, she says that Outlander doesn't have that luxury. Following the new rules could take away the things that make the show the epic series that it is.
"It's the least COVID-friendly show ever. It means that maybe there's no kissing, there's no interaction; there's not a lot of actors and extras," Davis said.
With the American Revolutionary War on the horizon, big battle scenes are coming. And no one wants to watch Outlander without those passionate moments between Jamie and Claire. It appears that Droughtlander could last the entirety of the pandemic.
Seasons 1 through 5 of Outlander are available on the Starz app and Amazon Prime Video.