Why Sex Pistols' Steve Jones Encourages People to Watch 'Pistol' 'With an Open Mind'
The history of classic rock is riddled with controversy. After all, the notion of "sex, drugs, and rock and roll" seems inherent to the story of most iconic bands. Certainly, the Sex Pistols have their fair share of wild stories to share. Now Pistol takes a look at what was happening behind the scenes of what is widely considered the band that launched punk music. Here's why Sex Pistols guitarist Steve Jones just hopes fans go into the miniseries with an open mind.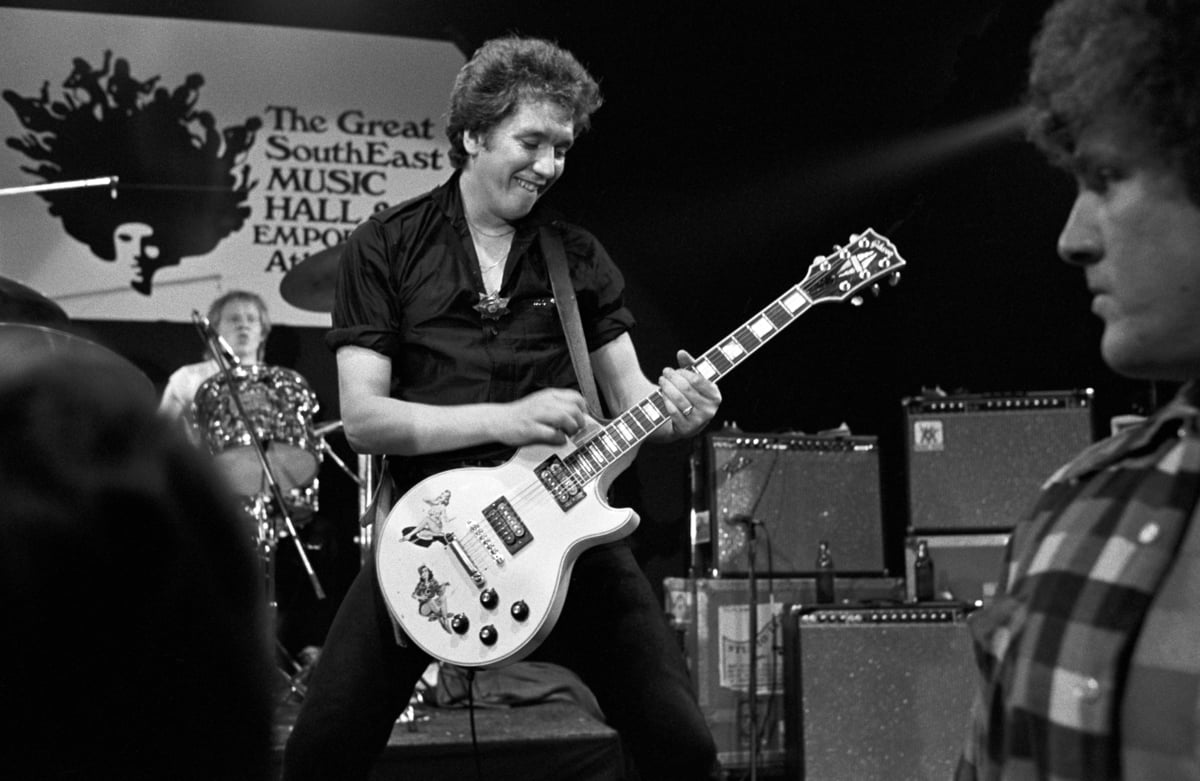 'Pistol' adapts Steve Jones' memoir into a Hulu miniseries
Created by actor and screenwriter Craig Pearce, Pistol adapts Jones' memoir Lonely Boy: Tales from a Sex Pistol into a six-part dramatization that takes fans inside the punk band. It stars Toby Wallace as Jones, Anson Boon as Johnny Rotten, Jacob Slater as Paul Cook, Christian Lees as Glen Matlock, and Louis Partridge as Sid Vicious. Oscar-winning filmmaker Danny Boyle (Slumdog Millionaire) directs.
The series premiered with all six episodes hitting Hulu on May 31, 2022. Leading up to its release, Pistol notably made headlines due to a legal battle over the rights to use Sex Pistols music in the series. According to The Guardian, Jones and Cook sued Johnny Rotten – whose real name is John Lydon – and won the lawsuit, allowing their music to be included in the show.
RELATED: Why the Sex Pistols' Steve Jones Thinks 'Never Mind the Bollocks' Is a 'Bizarre' Classic Album
The Sex Pistols guitarist is 'curious' to see what fans think
Now that Pistol is available to stream, Jones shared his hopes that Sex Pistols fans will check out the miniseries. As he told Forbes, he's concerned the show might divide viewers due to its format or the dramatic license it's taken with the Sex Pistols' story.
"I'm really curious to see how people react [to Pistol]. I know there's people who are gonna be upset with it because it's not a documentary. It's not a biopic, it's a six-hour-long series. It's a great story. I think if you look at it with an open mind and not compare it to the original band and all the rest of it, it's very entertaining."
Of course, miniseries like Pistol are becoming more and more common in the age of streaming. Hulu's own Pam & Tammy took a similar approach to the lives of Pamela Anderson and Tommy Lee. But what exactly has the response to Pistol been?
What the critics have been saying about 'Pistol'
According to Rotten Tomatoes, Jones' concerns might have very well been valid. Pistol has divided both fans and critics right down the middle. The show currently has a 53 percent score among critics and 55 percent from audiences. And the critics consensus perhaps reveals why.
"Danny Boyle's frenzied direction brings plenty of energy to this punk biography, but the rote conventions of a band's rise and fall make Pistol something of a misfire," the site claims. Perhaps for all its impact on music history, the Sex Pistols' story isn't as distinctive as it seems.
RELATED: John Lydon Thinks Sex Pistols 'Genuinely' Didn't Like Each Other: 'It Was the Longest Year and a Half I've Ever Lived'