Why Some 'Have Issues' With Johnny Depp and Marilyn Manson's Friendship
Celebrities Johnny Depp and Marilyn Manson have faced abuse allegations in recent years. However, some conflicted about their friendship.
Johnny Depp has been a major movie star for more than three decades. While Depp has always been a firm fan favorite, the past several years have seen the star caught up in a whirl of controversy amidst his divorce from Amber Heard and the subsequent court case.
Recently, Depp took the stand in the defamation trial involving Heard. In it, he opened up about his relationship with shock rocker Marilyn Manson. That friendship with Manson is causing a lot of conjecture online. A few critics have even claimed that Depp's association with Manson has caused them to have some "issues" with their perception of the actor. 
Johnny Depp and Marilyn Manson have been friendly for many years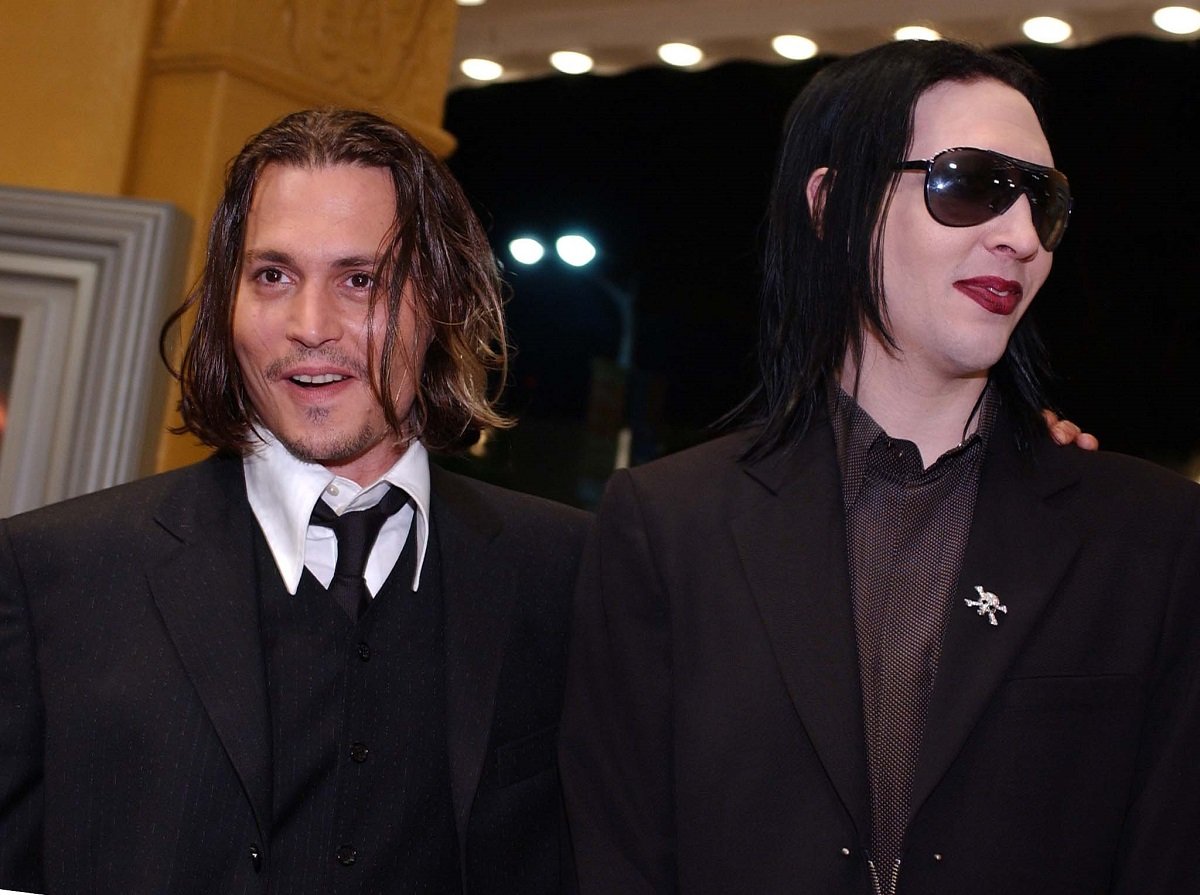 Depp's friendship with Manson dates back to the '90s when Depp was a young star on the rise. Manson, an established musician known for his outrageous stage performances and over-the-top black and white makeup, was frequently in the headlines — and he and Depp quickly bonded. During the early years of their friendship, the two stars gave each other various gifts, including a house that Depp bought for Manson.
When Depp started a family, he asked Manson to be the godfather of his daughter, Lily-Rose Depp. The stars even have matching tattoos, which Manson described to Rolling Stone as art featuring "Charles Baudelaire, the flowers of evil, this giant skeleton thing" on their backs and the phrase "no reason" on their wrists.
What 'issues' are people having with Johnny Depp's friendship with Marilyn Manson?
Manson has had his own legal troubles. He's been the subject of allegations of abuse coming from his ex-girlfriend, Evan Rachel Wood. With Depp's history in the headlines, a few public figures are speaking out about the friendship between Depp and Manson. "If Johnny Depp is friends with Marilyn Manson I have issues," podcast host and reality TV expert Kate Casey wrote on Twitter. Some fans replied to her tweet, alleging that Depp and Manson aren't as close these days due to the scandal involving Wood and Manson.
Casey went on to write, "I wonder if he remained friends after it was clear how he operates. After watching Evan's HBO documentary you have to wonder how anyone could have remained friends with someone with so many strange behaviors." The comments on Casey's tweet were mixed. Some defended Depp, while others claimed that Manson might be a victim of media spin.
Depp opened up about Manson while on the stand
In the ongoing defamation trial between Heard and Depp, lawyers have asked Depp about his friendship with Manson multiple times. During Depp's recent testimony, one of Heard's lawyers, Ben Rottenborn, asked Depp about this. "One of your good friends that you've taken drugs with before is Marilyn Manson, right?"
Depp told Rottenborn (via NME), "Yes, we've drunk together, (and) we have had cocaine together maybe a couple of times." Rottenborn pressed Depp to explain whether he had taken pills with Manson. Depp paused before responding, "Um, I once gave Marilyn Manson a pill so that he would stop talking so much." His response made the courtroom erupt with laughter. It's very possible that in the coming weeks, fans could learn even more about Depp's relationship with Manson, including whether the two are still good friends.