Why Taylor Swift May Have Been the Wrong Pick for 'Cats:' What It Takes to Play Bombalurina
As a self-proclaimed cat lover, Taylor Swift's casting in the upcoming movie musical Cats seems quite apropos. No celebrity would be more excited to enter "cat school –" learning the intricate mannerisms and behavioral tendencies of our feline friends – than the A-lister who seems to enthusiastically observe feline behavior for kicks.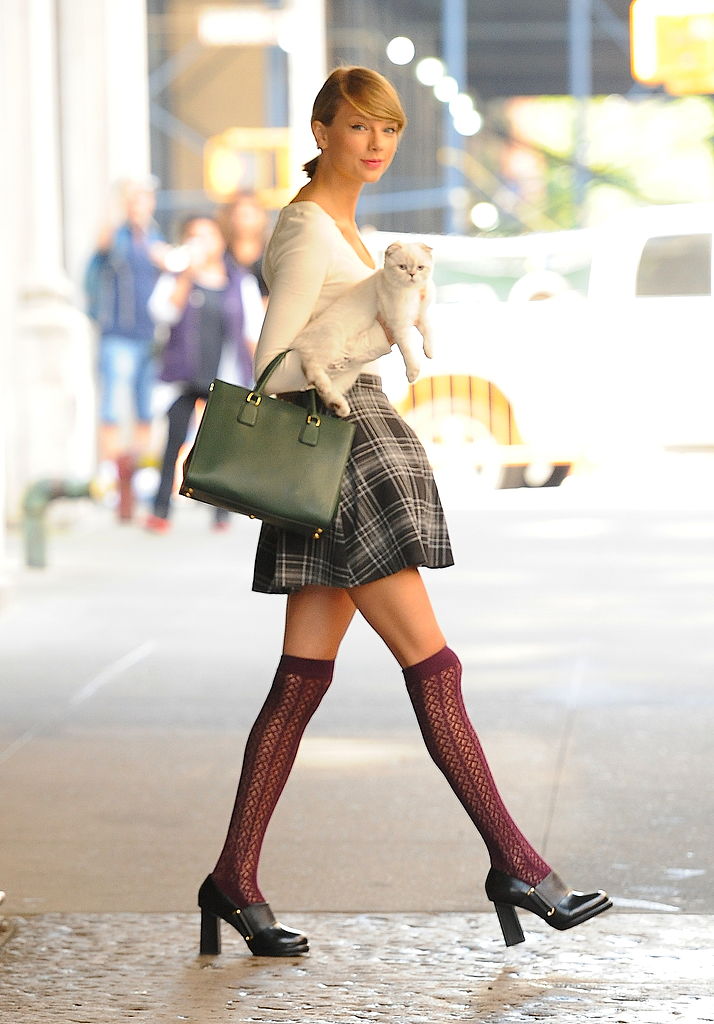 If discussing intangible foundations concerning this choice – serendipity, fate, destiny, etc. – Taylor Swift is a perfect pick. However, placing aside the personality match at play here, does Taylor Swift have what it takes to portray one of Cats' most integral characters? Does she have the vocal range, and deftness, required to play Bombalurina?
Every character in Cats demands something unique, yet challenging in its own right. Grizabella must be a Soprano with a powerful belt up to E-flat, as The Musical Company explains. Grizabella must also be capable of portraying a chill-inducing combination of regret, rejection, isolation, and later acceptance and vulnerability. So, as for Jennifer Hudson, she has a challenge ahead but seems more than qualified given her turns in Dreamgirls, The Inevitable Defeat of Mr. and Pete, and more.
What does Taylor Swift's character, Bombalurina, demand? 
As for Taylor Swift's character, Bombalurina requires a strong high belt and is usually played by a triple threat, as The Musical Company explains. In the stage musical, Bombalurina is involved in several of the significant numbers, including "The Rum Tum Tugger," "Entry of Grizabella," and "Macavity: The Mystery Cat," the latter of which she boasts a solo part in. 
The role requires a great deal of simultaneous singing and high-energy dancing. In most stage productions, Bombalurina is extremely flirtatious and enjoys being the center of attention. While this may be on the easier side when it comes to acting, her internalized truth is much harder to convey convincingly. Bombalurina can be quite protective and harbors disgust towards those who have fallen from a previously higher pedestal of beauty (i.e. Grizabella). 
From the acting chops required to the vocal demands necessary to take on Bombalurina, Taylor Swift may simply not have what it takes. Based on prior evidence, her voice doesn't exactly align with The Musical Company's prescribed requirements, nor is the performer a triple threat, as she lacks experience in one of the core three areas – acting.
Inside Taylor Swift's musical inclinations: Why Bombalurina may not be a fit 
Over the last few years, especially with her latest album, Taylor Swift's vocals have displayed maturity and improvement. Swift can now tackle higher notes with efficiency. However, when she reaches for the high ones, she remains in the territory quite briefly. Swift tends to hit the very high notes, before almost immediately returning to a lower octave.
Bombalurina requires a singer who can hold a high note. As explained above, a high belt is usually customary of Bombalurina. As the Critic of Music explains, Taylor Swift's voice has a tendency to become nasally, and her "belts are pinched above B4." The Critic of Music also notes that her energy drains quickly when performing live – "with little body motion or dancing." 
Though Taylor Swift will likely benefit from pre-recorded numbers – a benefit the cast of Les Miserables did not have while filming – her own vocal drawbacks may affect her ability to tackle the role. Hopefully, Taylor Swift rises to the challenge – especially on the acting front – for Swift's experience as an actress is virtually restricted to the music video realm.