Why the 'Chopped' Judges Always Use Chopsticks Instead of Forks
With many people all over the world still in quarantine, waiting out the coronavirus (COVID-19) pandemic, many are turning to the kitchen as a way to pass the time. However, even if people don't want to actually cook anything themselves, they can still enjoy the cooking process by tuning into The Food Network, and watching talented chefs create delicious — and sometimes, not-so-delicious — dishes. For fast and furious culinary fun, there is nothing that tops Chopped, a cooking-based reality game show. Not only do viewers enjoy watching the dishes that chefs come up with, but they also enjoy dissecting the show online.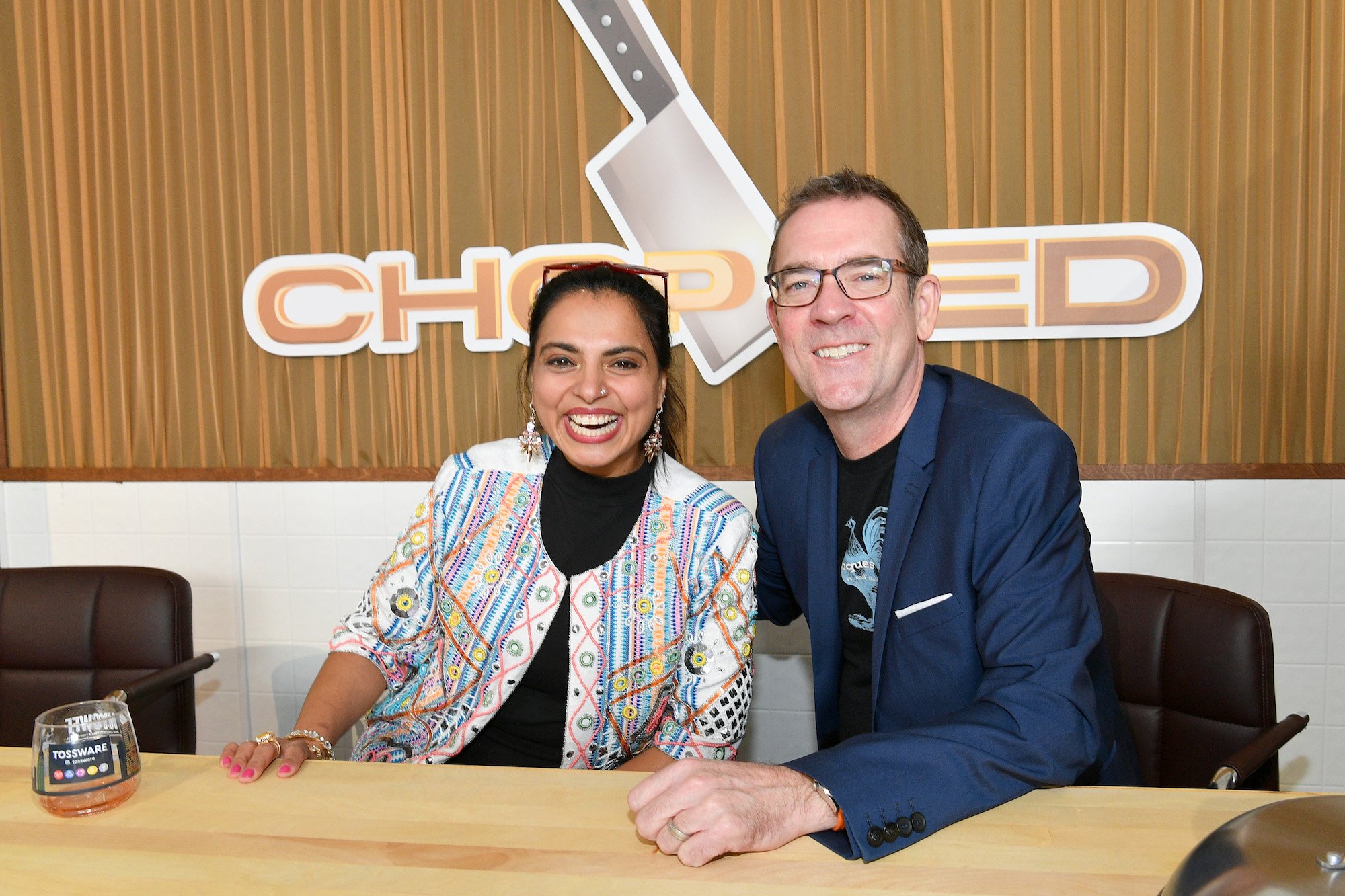 When did 'Chopped' debut on television?
The Food Network is known for shows dedicated to popular chefs like Ina Garten and Ree Drummond. However, the channel has earned a reputation for fun game shows as well. Of these, Chopped has reigned supreme for well over a decade. The show first premiered in 2009, and featured a format that has since become iconic: in each episode, four chefs compete in a three-round contest, where they try their best to incorporate unusual and often bizarre combinations of ingredients into an appetizer, a main course, and finally, a dessert.
At the conclusion of each round, the contestants' dishes must be judged by a panel of experts. The judging panel varies from season to season and episode to episode and has included culinary all-stars like Martha Stewart, Marc Murphy, Chris Santos, and Alton Brown. For the contestants, the process of preparing the dishes is nerve-wracking, but the prospect of their finished dish being judged by veteran foodies is often even more sweat-inducing. 
'Chopped' has spawned many spinoffs and special episodes
Almost immediately, viewers reacted positively to Chopped. Over the years, it has become one of The Food Network's most popular shows, and it has spawned many "special episodes." A few of these include Chopped Champions, Chopped All-Stars, Chopped Ultimate Champions, Chopped Grill Masters, and more. Each special episode features new and unique challenges, special guest judges, and other fun, exciting elements.
For many fans, watching the judges react to the dishes presented to them is the most entertaining part of the series. In particular, guests like Martha Stewart have managed to draw in very positive audience reactions. Still, fans have had a few questions regarding the actual judging process, and in a recent Reddit thread, fans discussed the interesting way that the judges taste the food. 
Viewers have questioned why the 'Chopped' judges use chopsticks
A fan on Reddit posted a comment, speculating as to why frequent judges Geoffrey Zakarian and Martha Stewart tend to use chopsticks instead of forks whenever they are trying the new dishes presented to them. One fan chimed in quickly, stating that the reason that the Chopped judges use chopsticks is because metal has a tendency to alter flavors, so they favor wooden chopsticks. The same poster also mentioned that "there's some degree of precision with chopsticks, and the added benefit of not "piercing" the food (like, you might not want to pierce open a baby tomato or similar.)"
A few other fans added that the use of chopsticks likely helps the judges slow down and savor the flavors of the food, while another claimed that when working with top chefs, the use of chopsticks is something that is very commonplace. While chopsticks might not be popular with the masses yet, it certainly seems as though the judges on Chopped have figured out the secret to fine dining, as well as food criticism.