Why 'The Office' Actually Has a Longer Title
The longer, full title of 'The Office' left plenty of room for showrunners to create spinoff series like 'Parks and Recreation.'
The Office was one of the most beloved comedy series on television. In the show, a documentary crew followed the employees of Dunder Mifflin's Scranton branch for a PBS special. After nearly a decade of filming, the employees finally got to see the documentary footage air.
What many fans forget is that The Office actually shared the longer title of the fake documentary being made in the show. Showrunners had a very good reason for giving The Office the longer name that they did.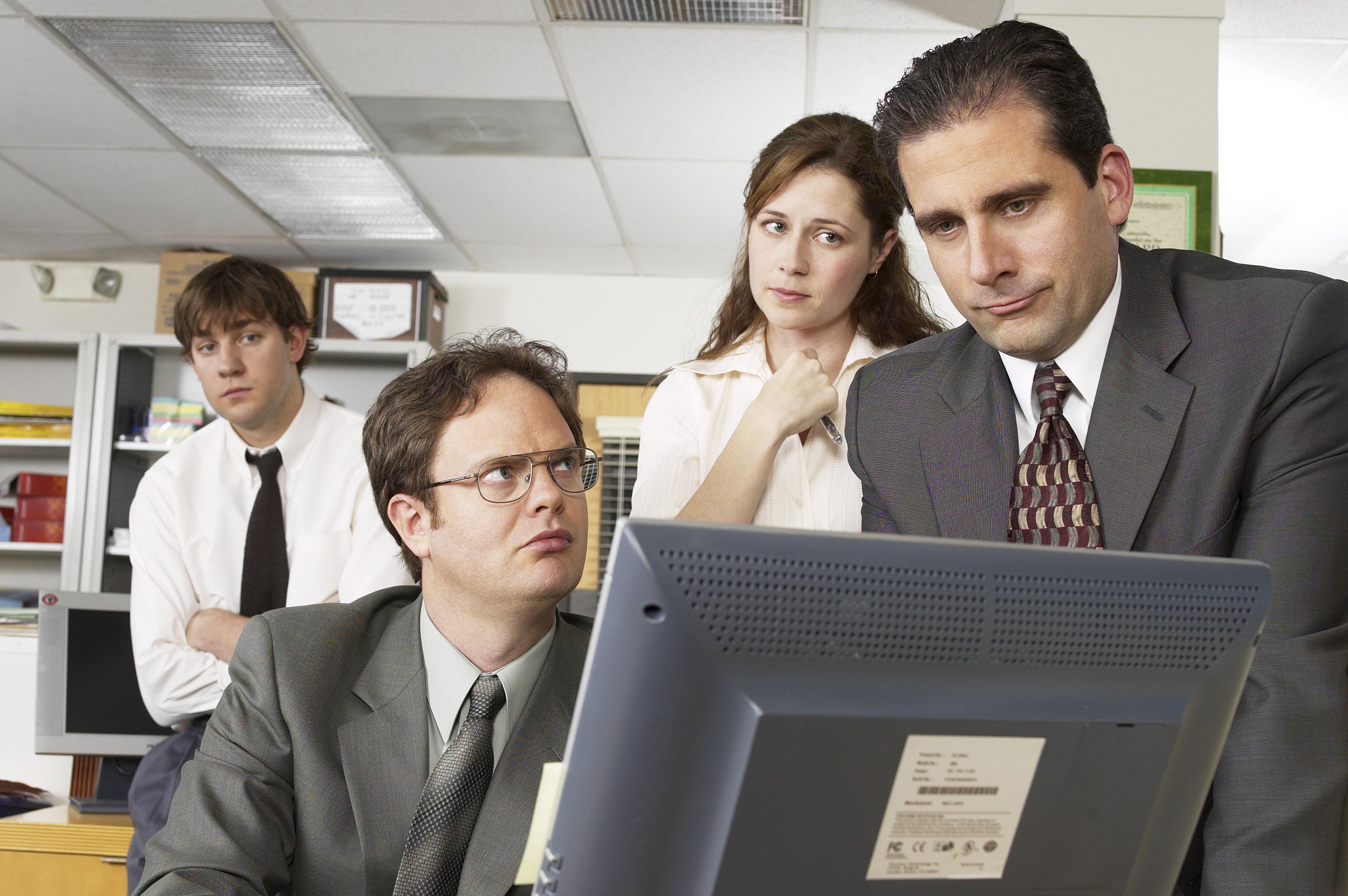 'The Office' was always going to get a spinoff series
As explained on Office actor Brian Baumgartner's podcast, An Oral History of The Office, showrunner Greg Daniels was stepping away after season 5. The Office had brought the network so much success, and they wanted more from Daniels. So, NBC had asked him to work on a spinoff series. 
Daniels approached writer Mike Schur to get his ideas and opinions on a spinoff that would be just as good as The Office. 
"It was during the writer's strike," Schur recalled. "[Greg] was basically like 'The network wants me to do a new show, and I want to do it with you.'" Honored, Schur said that was the moment his life changed. 
Fortunately, the full name of The Office — The Office: An American Workplace — left room for plenty of spinoff opportunities.  
'The Office' showrunners knew they could make a spinoff, but they weren't sure which spinoff would be best 
"The reason the show is called The Office: An American Workplace is because [Greg was] thinking a thousand chess moves ahead," Schur explained.
"[He thought] if this works, you could do The School: An American Workplace, and do a show about teachers. You could do The Team: An American Workplace, [and do a show] about a minor league baseball team."
Then, they turned their attention toward the people they already had.
Each character on The Office was hilarious enough in their own right. Showrunners knew any of Dunder Mifflin's employees were capable of having their own series. 
"[Greg] could have taken The Accountants [web series] and spun them into his own show," Schur explained. "He could have taken Kelly and spun her into a show. He could have taken Jan and spun that into a show. He could be the Dick Wolf of comedy if he wanted to." 
Daniels had so many options to choose from. Still, he didn't want to ride on the coattails of The Office or do the show any kind of injustice, so he dug a little deeper.
Coming up with a spinoff of 'The Office' 
Together, Schur and Daniels pitched ideas back and forth until they came up with the perfect spinoff series. 
They talked about doing a series about the Dunder Mifflin warehouse workers. Daniels and Schur also discussed a series that followed the employees of a different Dunder Mifflin branch. Then, their ideas started to go beyond a mid-size paper company. 
Showrunners ended up settling on what became Parks and Recreation. 
Ultimately, 'Parks and Rec' was the answer
"We got really excited [because] we could invent Dunder Mifflin, but an entire town — an entire eco-system with media outlets and restaurants and city hall and local celebrities and [a town with] history," Schur detailed. 
The spinoff idea for Parks and Recreation set Daniels and Schur's brains on fire, so they ran with it. 
Sadly, Schur couldn't work on The Office and Parks and Rec at the same time. So, he entrusted writers Paul Lieberstein and Jen Salata to take over the series. Lieberstein, who played Toby Flenderson, called it a "big honor."