Why 'The Office' Producers Noticed Some Occasional 'Pushback' From Cast Members During Season 3
Season three of 'The Office' brought about some changes on set when the cast and crew realized they were a hit.
The Office is considered one of television's most iconic sitcoms. Now with a massive fan base that gets its fix of episodes from streaming services, viewers are still holding onto hope for a reboot.
Though the NBC comedy is now considered a groundbreaker, the show struggled to find its audience when it premiered. Originally a British show for BBC, show creators were concerned American audiences wouldn't understand the out-of-the-box humor. Yet after a rocky start, the sitcom soon became Must See TV which resulted in some changes on set when season three began.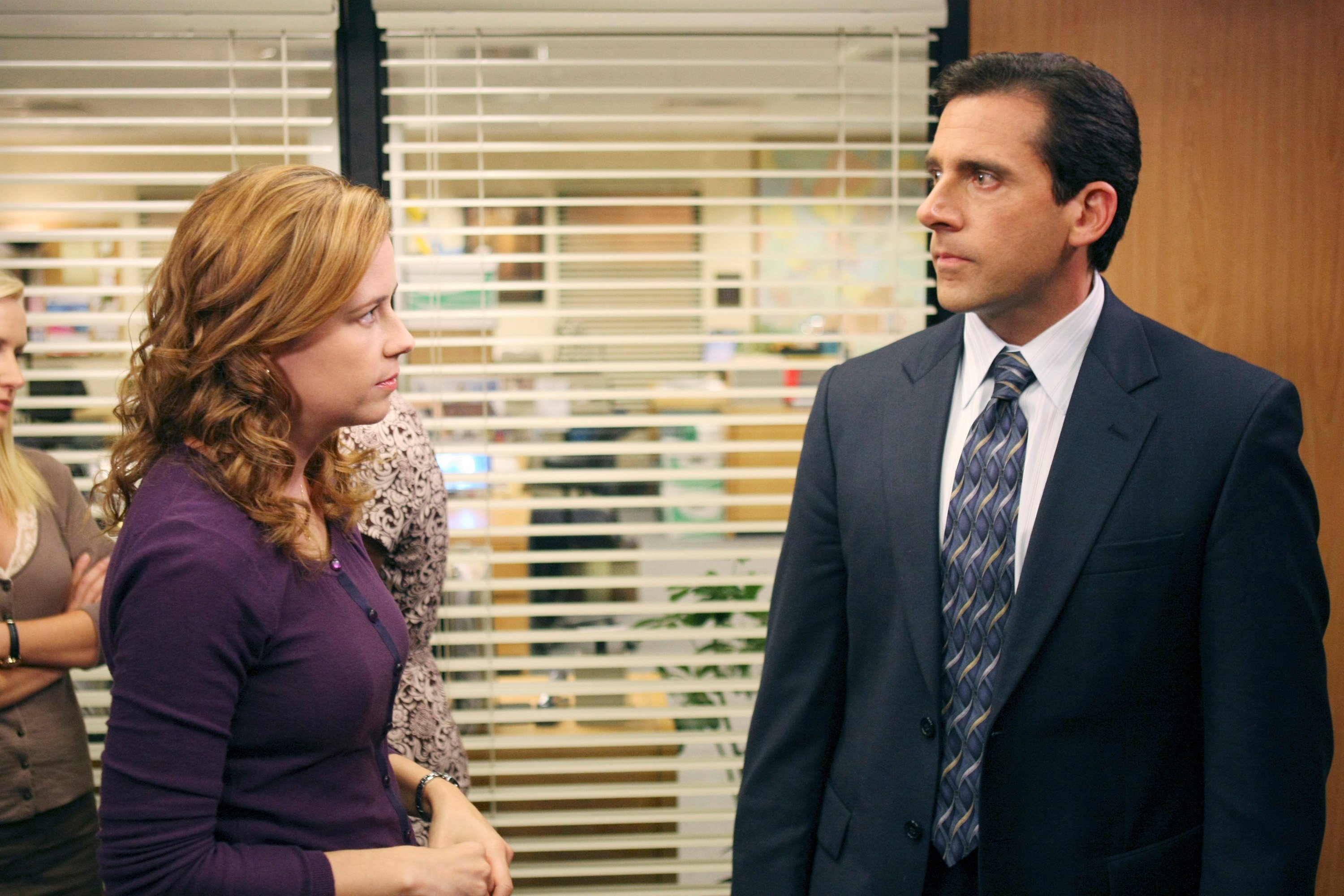 'The Office' was on shaky ground
When The Office debuted in 2005, the show was trying to navigate its way out of the shadow of the UK series.  "The first episodes took a while to find their own soul," producer Ben Silverman told Andy Greene in his book The Office: The Untold Story of the Greatest Sitcom of the 2000s.
One major concern of the production team was that audiences wouldn't like the offbeat sense of humor of the show. "The first season really felt like an experiment," script coordinator Jason Kessler said. "It was clear NBC wasn't putting all its chips on The Office. … I absolutely loved it… But I don't know if I believed a network audience as a whole would get it. It's just a very specific, dry brand of humor."
Even director Paul Feig was skeptical that the comedy would last. "Watching those first six [episodes], as hilarious as they were, it was like, 'Wow, I don't know if this is going to survive,'" he told Greene. But we were hoping it would, because we saw how funny it was."
Cast and crew of 'The Office' enjoy their success
After a slow start, The Office found its footing in season two and going into the third season the show was clearly staying on the air.
"It was so exciting," hairstylist Kim Ferry shared. "You definitely felt like you had job security finally… People started buying houses."
Production team members began noticing some pricey new possessions on set. "When we came back for the third season, you started seeing new cars in the parking lot," Kessler recalled.
Cinematographer Matt Sohn noted a serious uptick in automobile brands. "All of the Hondas and Toyotas turned into Mercedes and BMWs," he said.
Even the food options were upgraded. "Craft services in season one and two was like sausage links, a bunch of deviled eggs, and some sandwiches," director and cinematographer Randall Einhorn remembered. "By season three, I'd be sitting there with a forty-pound camera on my shoulders and this guy would walk up to me and say, 'Crab-stuffed mushrooms?'"
'Things started to feel a little different'
Along with the comfort of steady employment, many were feeling they could finally breathe a sigh of relief.
"The pressure came off significantly after that second season," writer Brent Forrester said. "I kind of felt like the troops had won their victory."
The production team knew they had hit smooth sailing with viewers and network execs. "Season three felt more like a regular sitcom," writer Larry Wilmore told Greene. "That feeling of guerrilla filming and being a renegade and all that was long in the rearview mirror."
Some also noticed that cast members became a bit vocal about their storylines, apparently feeling more comfortable with imparting their vision.
RELATED: 'The Office' Spinoff Never Happened After Being 'Shamelessly Copied' By An ABC Sitcom
"Things started to feel a little different by season three because from time to time there might be a little pushback on certain things from the actors in ways they wouldn't before," director Ken Whittingham revealed. "They'd start saying to me, 'Well, I don't know if my character would do that.'"
Costume designer Carey Bennett remembered when show creator Ricky Gervais stopped by, and commented on similar changes he saw in the cast of the British show after the first season.
"Ricky Gervais came to set at this point," Bennet told Greene. "I'm like, 'You know what? … I'm trying, but everybody wants to be fancy. …. They want to be in fancier, cuter outfits.'"
Gervais' response? "He said, 'Oh man, tell me about it,'" Bennett recalled the show creator saying. "'After the first season of the UK show, everybody came back and their teeth were whitened and they had tans.'"