Why Whitney Houston Didn't Think Bobby Brown Liked Her When They First Met
Whitney Houston and Bobby Brown had a relationship that made them one of the most talked-about celebrity couples on the planet.
Even after their divorce and Houston's death, the public is still curious about their tumultuous romance. When things were still fresh between them, Houston once opened up about their love story and their first meeting.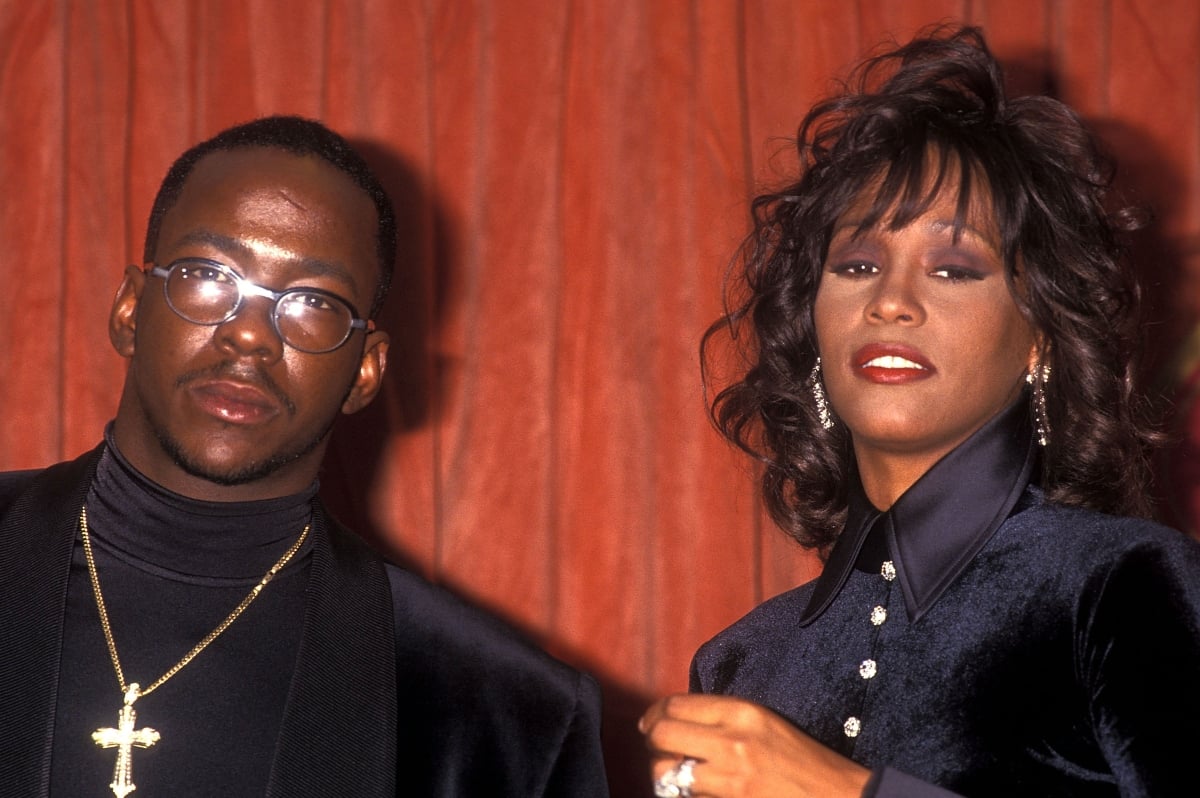 How Whitney Houston met Bobby Brown
Many fans know that the two singers met at the Soul Train Awards, the same year both were nominees. Brown put on a memorable performance of "My Prerogative" at the event and happened to be seated near Houston and her friend Robyn Crawford in the audience.
During a 1993 interview with Rolling Stone, Houston talked about their first exchange. She didn't believe Brown liked her.
"I and some friends of mine were sitting behind him. I was hugging them, we were laughing, and I kept hitting Bobby in the back of the head," said Houston.
"Robyn said, 'Whitney, you keep hittin' Bobby, he's goin' to be mad at you.' I leaned over and said, 'Bobby, I'm so sorry.' And he turned around and looked at me like 'Yeah, well just don't let it happen again.' And I was like 'Oooooh, this guy doesn't like me'."
Determined to find out why he wouldn't warm up to her—and to smooth things over—she decided to invite him to a party. "And he called back and said, 'I'd love to come,' which was a surprise. He was the first male I met in the business that I could talk to and be real with. He was so down and so cool, I was like 'I like him'."
Brown's version of their first encounter was depicted in his TV miniseries, The Bobby Brown Story. Brown served as a producer on the project and supplied details for it through memory and from his book, Every Little Step.
Brown and Houston's first date was months later
Houston told Rolling Stone she bumped into Brown at a Winans concert about four months later. They partied and had dinner with BeBe and CeCe Winans that evening and that's when Brown asked her out.
"At the time I was dating someone, but it was kind of ehhhh," Houston shared. She agreed to go out with Brown the next night and they hit it off—as friends. She emphasized they were strictly platonic in the beginning and their relationship wasn't intimate.
They later developed romantic feelings for each other, and Houston mused that Brown asked her to marry him but she turned him down. She said after about one year, she fell in love and said yes the second time.
The couple married in a summer ceremony
In July 1992, the two were madly in love and tied the knot at Houston's home. They welcomed daughter Bobbi Kristina in 1993 and persevered through at least one separation before divorcing.
The couple cited various reasons for the demise of their union, but Houston once told Oprah that jealousy and infidelity played a role. However, both acknowledged they had a tremendous amount of love for each other.
Houston and Brown officially called it quits in 2007, five years before the singer died.