Why Will Smith and Jada Pinkett Smith Reportedly 'Shielded' Their Children From Their Marriage Problems
Will Smith and Jada Pinkett Smith reportedly wanted to protect their children from any negativity within their partnership.
Will Smith and Jada Pinkett Smith reportedly tried to remain in positive spirits with their children, Trey Smith, Jaden Smith, and Willow Smith, even when they had issues within their marriage.
During the course of the celebrity pair's marriage, both Jada and Will faced typical marital woes. Until recently, the couple would allegedly air out any negativity in private. Reportedly, this was to protect their children and allowed them to not worry about the possibility of them getting a divorce.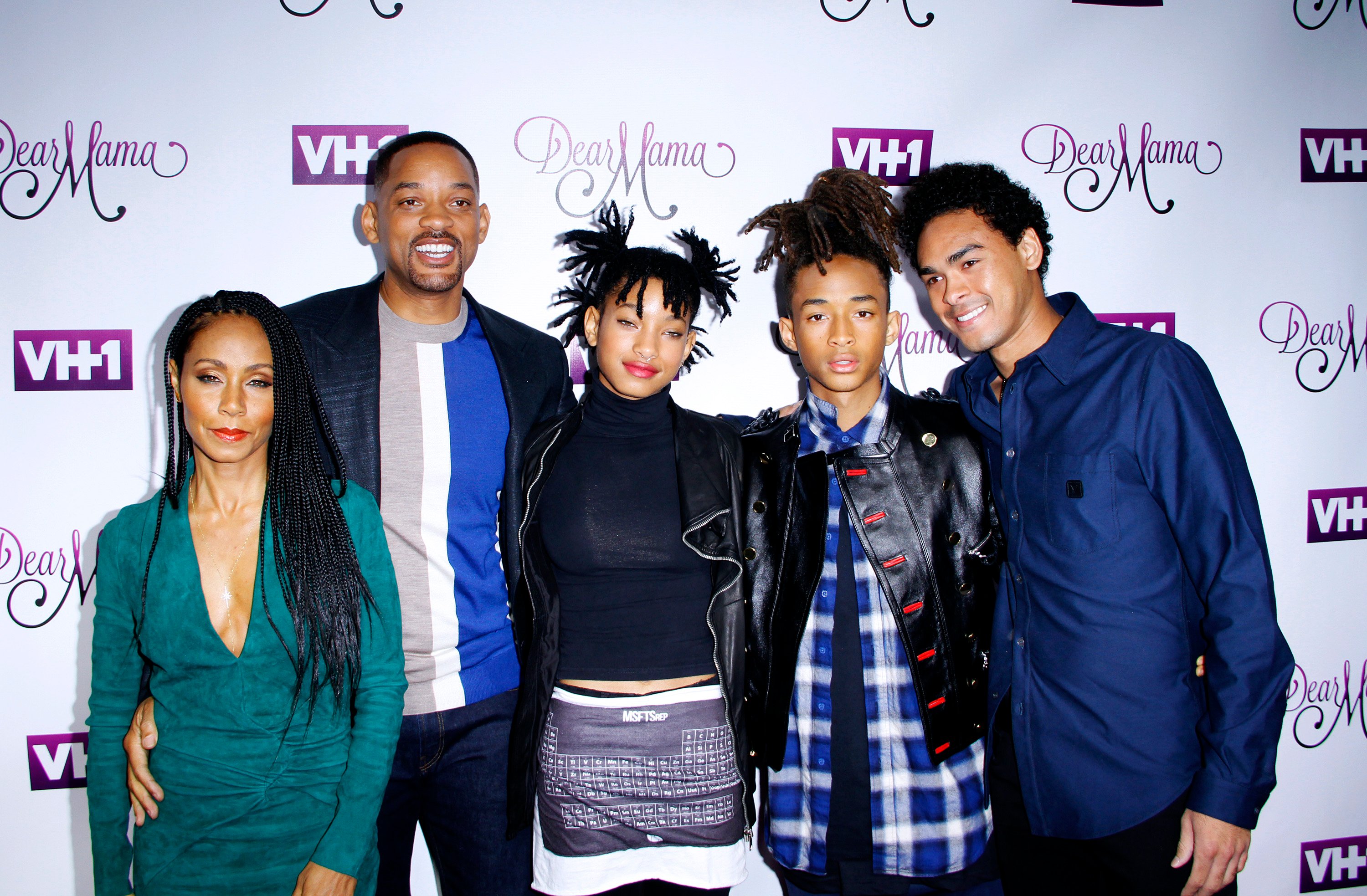 The Smiths' need to hide their real issues ultimately didn't last as their children became older. Most recently, Jada had to address her affair with August Alsina in front of the world and her kids. 
The reason Will Smith and Jada Pinkett Smith' shielded' their children
Will and Jada's relationship spans over 20 years. The pair got married in December 1997 and had their two children- Jaden, 22, and Willow, 19, shortly after. Before they welcomed their biological children, Will had Trey from his marriage to Sheree Zampino. 
Related: Willow Smith And Her Boyfriend Tyler Cole Get Real In First Appearance On 'Red Table Talk' Together
According to People, Jada and Will vowed early in their marriage not to expose their children to any drama they faced. Their kids were reportedly the couple's "uniting factor," and they wanted to air out their issues on their own time. 
"It was never chaotic in the house," an insider shared. "They shielded a lot of what they were going through from their kids. In bad times Jada would just be gone a lot." 
Will Smith took two years off work because his' family wasn't happy'
Throughout the years, both Will and Jada have stressed the importance of staying connected to their family. Will told Haute Living in December 2019 that one year, in particular, made him prioritize his family by any means necessary. He shared with the outlet that, in 2012, his family faced some of its most challenging times. Although they were working on various projects like The Karate Kid for Jaden and Hawthorne for Jada, Will said his "family wasn't happy" under his direction, and he had to reevaluate the role he played in their lives. Will said after working with intimacy counselor Michaela Boehm, he could see there was more to life than consistently working. 
Related: Jada Pinkett Smith Regrets The Way She Co-Parented Trey Smith — 'I Probably Should Have Fell Back'
"I literally worked with Michaela for two years," Will recalled. "Trying to figure out what I didn't know about my family being happy. And I didn't work―I didn't make a movie for two years. I knew there was more I needed to know other than conquering in movies, conquering in television, conquering in music and entertainment. I had done all this conquering, but no one around me was happy. So, I shut it down, and in that time I discovered so much new wisdom, so many new ideas. I traveled, and I met people, I studied."
Jada Pinkett Smith feared she and Will Smith wouldn't 'make it back' after 'entanglement' with August Alsina
In July 2020, singer August Alsina addressed the ongoing rumors about his relationship with Jada. Alsina became close friends with Jada in 2017, and he claimed the friendship soon turned into a romantic relationship. Alsina also said Will approved of the relationship, as he and Jada were no longer together. 
Related: Will Smith And Jada Pinkett-Smith Once Explained Why They Have A Business Plan In Place For Their Marriage
After several weeks of staying silent about Alsina's comments, Jada and Will decided to address the controversy during an episode of Red Table Talk. Jada referred to her time with Alsina as an "entanglement" that occurred when she and Will were considering separating. Although they would interact as a family for their children, Jada said she didn't think she and Will would return to a romantic union. However, after she ended her relationship with Alsina, Jada and Will got their marriage back on track. 
"You gotta go through some sh*t to get the answers," Jada said of her and Will's past issues. "And I'm just happy because I definitely believe that you and I, we never ever, ever thought that we would make it back."