'Wicked' Movie Director Jon M. Chu Promises to Honor Idina Menzel and Kristin Chenoweth, 'the OGs'
Because we knew Idina Menzel and Kristin Chenoweth, Broadway has been changed for good. That's basically the tribute the Wicked movie director Jon M. Chu just paid to the veteran Broadway stars. Chu announced the stars of his Wicked movie cast on Nov. 4. And the internet has been teeming with excitement ever since Cynthia Erivo and Ariana Grande were announced as Elphaba and Glinda. The director took to Twitter on Nov. 5 to thank the "OG" Elphie and Galinda for their support of his casting decisions. And if you weren't sure how much Chu loved Wicked before, allow this tweet to assure you.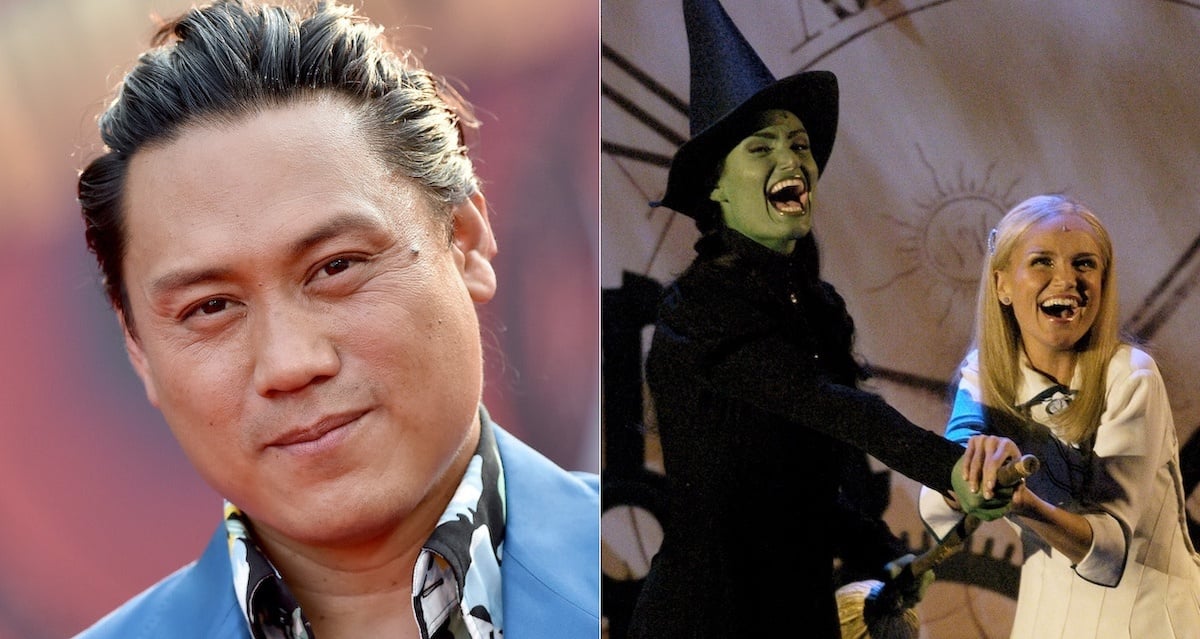 'Wicked' Jon M. Chu thanks Idina Menzel and Kristin Chenoweth for their contribution to theater
Chu is a theater lover. He most recently directed the film adaptation of Lin-Manuel Miranda's In The Heights. On Nov. 5, he took to Twitter to honor Menzel and Chenoweth's place in Broadway history. He said:
"Mad love to the OGs @idinamenzel and @KChenoweth without which many of us wouldn't have fallen in love w/theater, musicals, Wizard of Oz, and of course Elphaba & Galinda…Wicked. U two are as iconic & classy as they come. We promise 2 do everything we can to honor what u created."
In response, fans have flooded Chu's replies to his tweet with requests for the stars to be cast in the Wicked movie as well. Whether it be a cameo or in a role like Madame Morrible, fans are eager to see Menzel and Chenoweth in the film adaptation.
It would be incredible to have the original Elphaba and Glinda in the movie somehow. Given Wicked's history, and the way it impacted Broadway and took Menzel and Chenoweth's careers to new heights, it seems fitting to have them included in some way.
RELATED: 'Wicked' Movie Cast: Cynthia Erivo and Ariana Grande's Broadway History Gives Them a Unique Connection
Idina Menzel and Kristin Chenoweth's reactions to 'Wicked' movie casting
Chu also got emotional over Menzel and Chenoweth's reaction to Erivo and Grande's casting.
"Congrats to two amazing women," the Frozen star tweeted. "May it change your lives for the better forever and ever as it has for us. So much love."
Chenoweth has known Grande since the "Thank U, Next" singer was 7 years old. Grande's grandmother took her backstage after seeing Wicked on Broadway for the first time to meet the Glinda actor. Grande sang a little for Chenoweth, and she was impressed. Chenoweth gave Grande her Glinda wand from the show, and the two have been close ever since. Chenoweth shared the photo from that first night at Wicked along with Grande's 2011 tweet where she dreamed about playing Glinda and said:
"I'm not sure if I've ever been this proud. From the very first day I met you, you were destined for this role. Congratulations @ArianaGrande! The best Glinda you will be with Cynthia by your side. I love you!!"
Chu cried like the rest of us.
"In tears reading how @idinamenzel and @KChenoweth have reached out," he tweeted with a bunch of hearts and crying emojis.
RELATED: 'Wicked' Movie: Idina Menzel's Reaction to Cynthia Erivo Playing Elphaba Will Make You Emotional
Cynthia Erivo and Ariana Grande's reactions to 'Wicked' movie casting
Chu also honored the Wicked musical book writer, Winnie Holzman, on Friday night.
"Also on this Friday night, in honor of the writer of @WICKED_Musical #WinnieHolzman I'm rewatching the amazing show she created #MySoCalledLife," he tweeted.
Something has changed within all of us after this week of exciting Broadway news. But no one is as excited as the stars of the Wicked movie themselves. To announce Erivo and Grande as Elphaba and Glinda, Chu shared photos of the moment the stars were told they got the parts.
Erivo covers her mouth in shock, tears welling up in her eyes. And Grande sits at a counter with her hands covering her face. Other screenshots show Erivo and Grande FaceTiming and celebrating.
"Pink goes good with Green," Erivo wrote in her Instagram caption.
"Thank goodness," Grande wrote in hers.
Thank goodness, indeed.