'Wicked' Movie: Idina Menzel's Reaction to Cynthia Erivo Playing Elphaba Will Make You Emotional
Did that really just happen? Have we actually understood? The Wicked movie has a cast! Cynthia Erivo will play Elphaba alongside Ariana Grande's Glinda in the Wicked movie. That sound you just heard was the voices of theater kids shrieking in delight. The casting was announced on Nov. 4 by director Jon M. Chu. And in the time since, the internet has been reacting with excitement. But other than Erivo and Grande, no one's reactions were more anticipated than Idina Menzel and Kristin Chenoweth's — Broadway's original Elphaba and Glinda. And Menzel's reaction to Erivo playing Elphaba is a heartwarming show of support.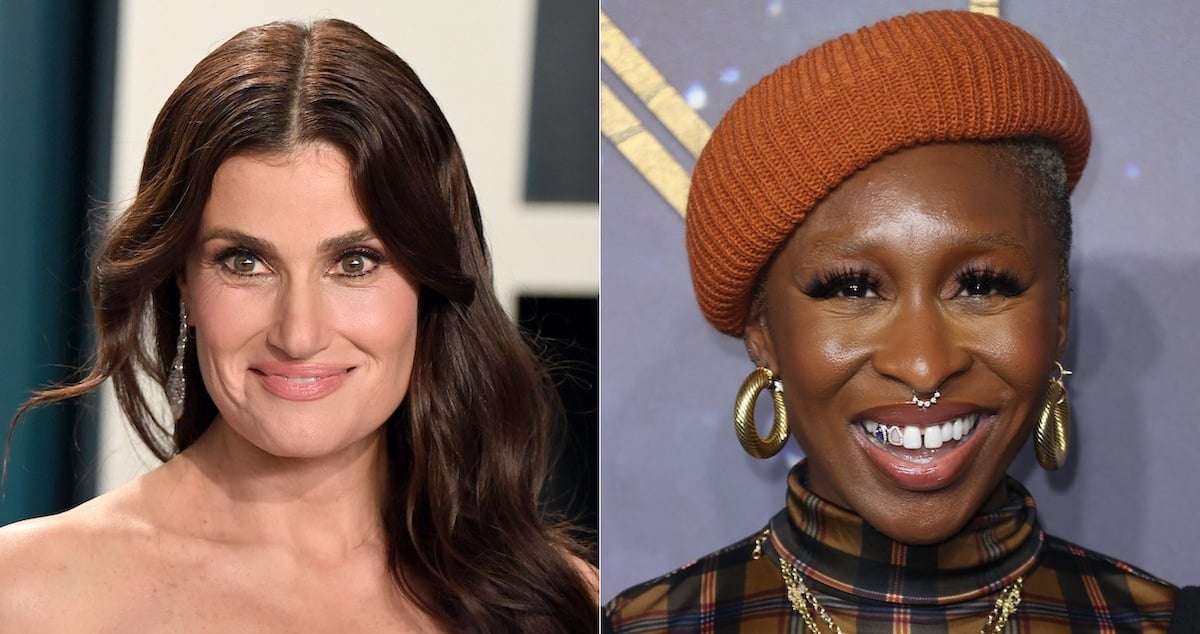 Idina Menzel's reaction to Cynthia Erivo playing Elphaba
Elphaba is considered one of the hardest roles to play on Broadway, if not the hardest. All of her songs are uniquely challenging and require a singer at the top of their game. And let's be real, "Defying Gravity" is the best act one finale in Broadway history, hands down. Seeing the iconic number on the big screen with Erivo's truly excellent singing and acting will be an absolute thrill.
Menzel won a Tony for playing Elphaba in the original Broadway cast of Wicked. Chenoweth was also nominated in the same category that year for playing Glinda. While Wicked lost Best Musical to Avenue Q that year, it has remained a Broadway blockbuster for over 15 years. The Wicked movie has been long overdue. And Menzel couldn't be happier for Erivo.
"Congrats to two amazing women," the Frozen star tweeted. "May it change your lives for the better forever and ever as it has for us. So much love."
Menzel quoted Chu's tweet announcing the casting. The photos the In The Heights director shared showed Erivo and Grande's reactions to being told they got the parts of Elphaba and Glinda.
RELATED: 'Wicked' Movie: Kristin Chenoweth's Reaction to Ariana Grande Playing Glinda Is so Pure
Was Cynthia Erivo in 'Wicked' on Broadway?
Now, let's get into Erivo's impressive resume. Before her film career, she rose to fame on Broadway. Erivo won a Tony for her Broadway debut in The Color Purple revival. She also won an Emmy and a Grammy for playing Celie The Color Purple, making her an Oscar away from achieving EGOT status. The Wicked movie could certainly get her there. Hollywood has a long history of movie musicals winning the industry's highest honors.
The Color Purple movie musical is also happening. In The Heights' Corey Hawkins and H.E.R. have been cast so far, but Celie is still available. It's possible Erivo could pull a Ben Platt/Dear Evan Hansen and play Celie both on Broadway and on the big screen. The original Color Purple movie was nominated for 11 Oscars, but didn't win any.
The movie musical version could certainly bring in Oscar noms as well. If Erivo won an Oscar for playing Celie, she'd be the first person to EGOT playing one role. Erivo almost EGOT'd at the 2020 Oscars. She was nominated for Best Actress and Best Original Song for Harriet.
Since starring in The Color Purple, Erivo hasn't done another Broadway show. So she has never played Elphaba on Broadway. But she has performed in concert productions of Broadway musicals, including a special Wicked tribute.
RELATED: 'Wicked' Movie Cast: Cynthia Erivo and Ariana Grande's Broadway History Gives Them a Unique Connection
Cynthia Erivo sang 'Couldn't Be Happier' from 'Wicked'
Erivo played Cathy in Jason Robert Brown's The Last Five Years in concert alongside Joshua Henry. She also took part in PBS' WICKED In Concert in August 2021. Glee alum Amber Riley impressed audiences with her powerful "Defying Gravity," prompting people on social media to hope she would be cast as Elphaba. As for Erivo, she sang one of Glinda's songs, "I Couldn't Be Happier." Her cover of the song was beautiful and melancholic, matching the tone of the song's lyrics.
Ironically enough, Grande sang an Elphaba song in the Wicked 15th anniversary concert in 2019. She sang "The Wizard and I," Elphaba's opening number. This performance prompted fans to say Grande should play Elphaba. But fate had other plans. Menzel and Chenoweth also performed at this concert. And they reunited once more at the 2021 Tony Awards to sing "For Good," Elphaba and Glinda's iconic duet.
Now, we just need to know who Menzel and Chenoweth will be playing in the Wicked movie. Because they simply must be in it. They must.