From Luann De Lesseps to Teresa Giudice, These Are the Wildest 'Real Housewives' Moments Ever
The Real Housewives franchise has been going strong ever since its 2006 debut. For over a decade, the show has entertained, amused, and totally confused diehard fans who simply can't get enough.
So, have you've seen every head-scratching scene of the series? Check out these 15 wild moments to find out.
15. Vicki Gunvalson's empty love tank
Much to any romantic's dismay, Vicki Gunvalson's marriage to her lovable, easy-going husband, Donn, shriveled before our very eyes. But before their actual split was underway, she gave the RHOC fans something to latch onto.
Was it the hope that one day, the two would repair their relationship? Nope. It was, however, a term we'll never forget. In fact, we're willing to bet plenty of people use it in their own relationship. Well, not really, but you get the idea.
Gunvalson's "love tank" was "empty," and she wanted the world to know. (But that still doesn't forgive the fact that she left Donn for the deceitful, cancer-faking Brooks Ayers.)
Next: How fabulous?
14. Gone With the Wind fabulous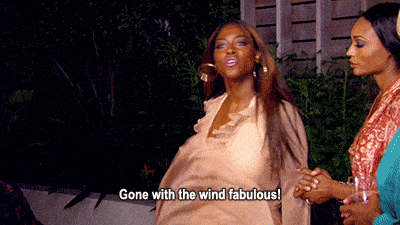 Kenya Moore has no shortage of self-confidence. She's so great, in fact, that she compares her fabulousness to an iconic film in a Season 5 episode of The Real Housewives of Atlanta. As she spins around in a flowing dress, Moore tells the ladies, and Porsha in particular, that she's "Gone With the Wind fabulous."
As Moore continues to spin her way out of the scene, she makes one of the most dramatic — and hilarious — exits we've ever seen.
Next: The first of many moments on our list featuring Kim Richards 
13. Lisa Rinna's glass-throwing moment with Kim Richards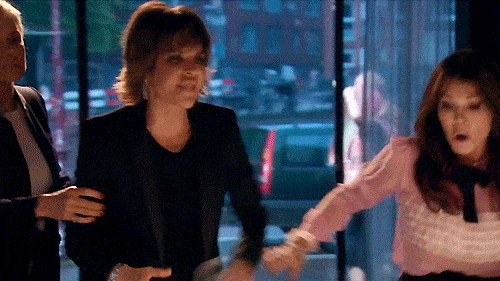 Talk about Harry Hamlin in a defamatory manner? Not if you're in Lisa Rinna's presence. As the audience knows, Rinna is crazy about her husband. On second thought, she's kind of obsessed. So, when frenemy Kim Richards mentioned his name during a trip to Amsterdam during The Real Housewives of Beverly Hills Season 5, Rinna went berserk.
In true Kim Richards' fashion, she deflected the whole sobriety issue by taking a jab at one of her fellow housewives. And that night, Rinna was primed for the picking.
Next: These brothers-in-law have been at odds for years.
12. Joe Gorga and Joe Giudice's epic fight (No. 1)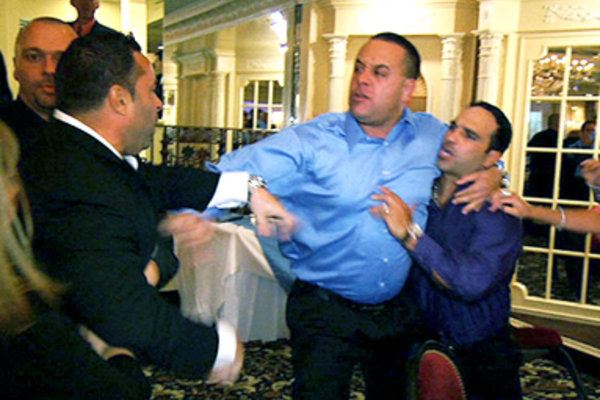 The Real Housewives of New Jersey Season 3 premiere gave us a glimpse into the complicated relationship between the Guidice and Gorga clans — and it was volatile, to say the least. It didn't take long for the two Joes to attack each other during a family event. And that family event? Well, it was Baby Gorga's baptism, no less!
The two went at it in a physical altercation, which would prove to be the first of many. As we'd soon find out, there were more brother-in-law brawls to be had.
Next: This isn't the only time they've fought on camera.
11. Joe Gorga and Joe Giudice's epic fight (No. 2)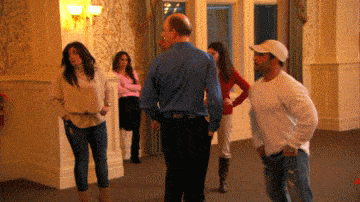 And the hits just keep on coming for the Gorga-Giudice brood. Fast forward to Season 5 of RHONJ, and it's clear to see the brothers were still at it. This time, their fight broke out during a family retreat in Lake George. Things came to a head when one ticked-off Joe (Giudice) learned another fed-up Joe (Gorga) had called his wife "scum." Because really, do you think the prison-bound Joe Giudice was going to let that slide? No way.
The real takeaway from the scene wasn't the fight itself, though. After all, we already knew they hated each other. What we hadn't known, however, was that Joe Gorga was balding. As the two were torn apart, we all got to see Gorga's black spray-on hair after it had rubbed off during the fight.
Next: The new girl in town stirs things up. 
10. Kelly Dodd's owl-like yelling match with Shannon Beador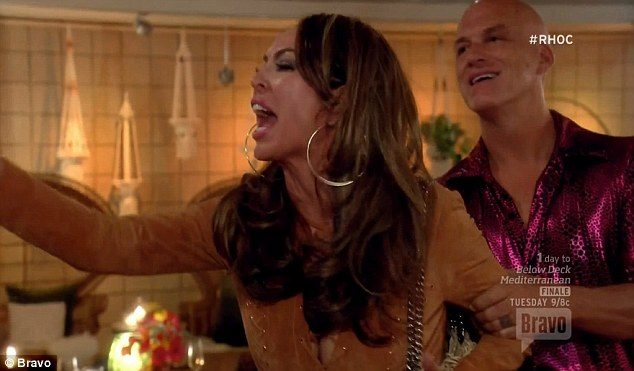 Shannon Beador thought it'd be a great idea to throw a 70s-themed party. But she was wrong. As we all know, her shindig turned into a screaming match with RHOC Season 11 newcomer — and loud mouth — Kelly Dodd. Both ladies started jabbing below the glittery belt, resulting in an all-out, owl-like exchange.
Confused? Let us explain. During the heated debate, Dodd called out Beador's husband for cheating. Naturally, it went tit-for-tat. And when Beador accused Dodd of cheating on her husband, Dodd continually cooed "Who?" over and over again.
The always-entertaining Tamra Judge noted her co-star sounded "like an owl." And we couldn't agree more.
Next: Yet again, this housewife shows off her unstable personality. 
9. Kim Richards' bizarre behavior during her car ride with Lisa Rinna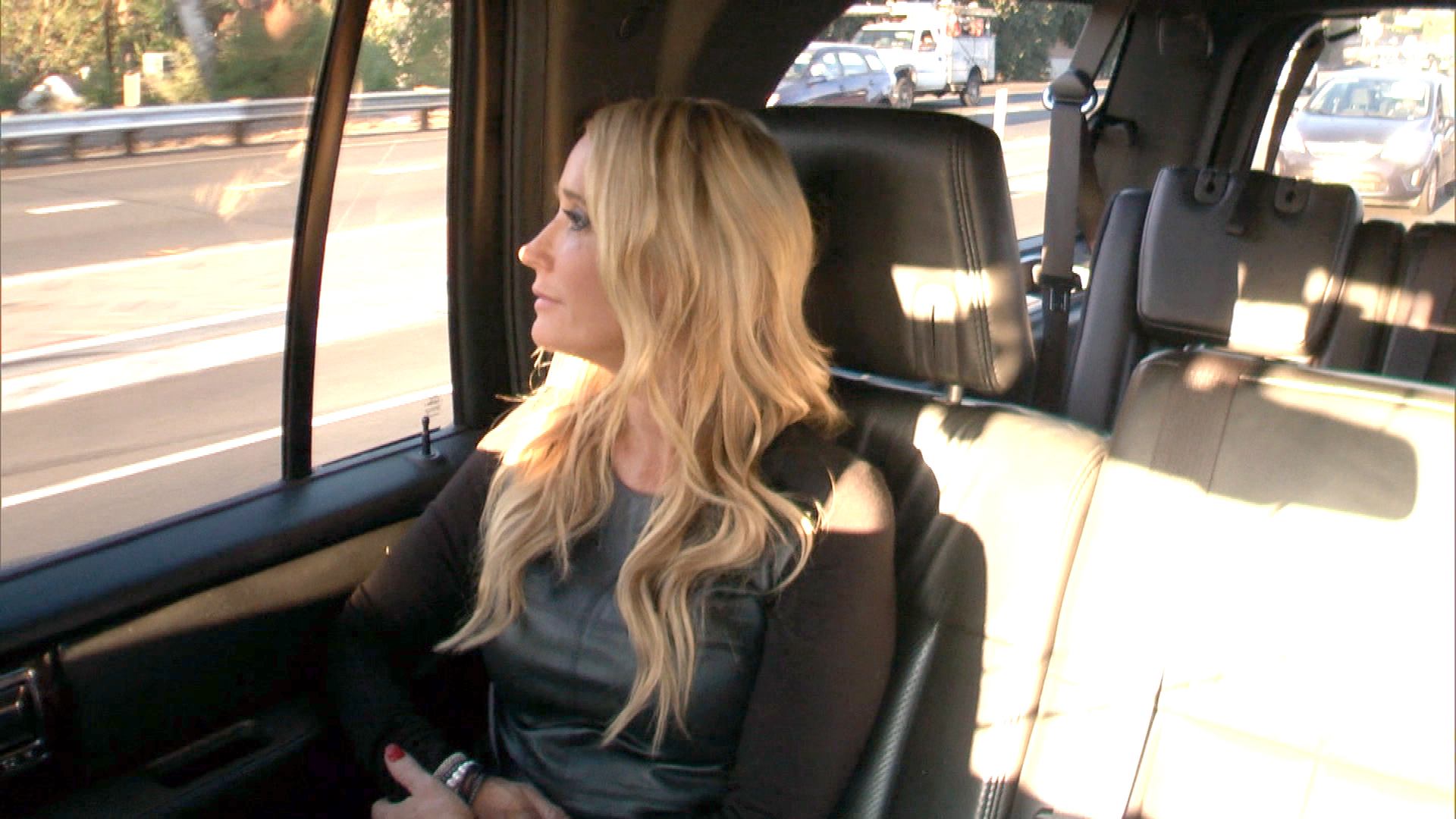 For years, we've witnessed the totally inexplicable, completely bizarre behavior that is Kim Richards. Is she sober, or is she not? Well, the latter was crystal clear during a wacky exchange between her and co-star Lisa Rinna.
In this Season 5 episode of RHOBH, Richards goes from "ornery" to angry to trying to act oddly seductive. And it was weird.
Next: Everyone loves this mean-girl-turned-sensitive-Christian housewife. 
8. Tamra Judge's drink-throwing tantrum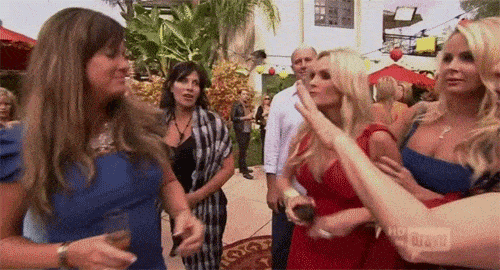 At the close of Season 6 of RHOC, Tamra Judge, formerly Tamra Barney, was in the throes of a messy divorce from her husband, Simon. Lucky for her, though, she happened to be dating Eddie Judge, the manager of a law firm who'd soon become her husband.
Never one to run away from an argument, Barney knew she'd be running into former housewife Jeana Keough. And when she did, things got ugly. The gang was at Gunvalson's party when Keough approached Barney to discuss the details of Barney's messy divorce. Barney, of course, didn't like that — or Keough.
Her solution? Serve Keough with a cease and desist letter — and then swiftly toss her drink in Keough's face.
Next: Yes, just yes
7. Luann de Lesseps late-night shenanigans (and her cast mate's 'uncool' reaction)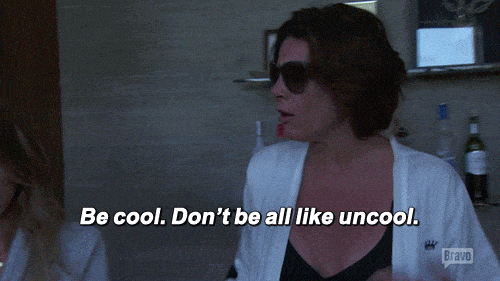 The ladies were not amused when Luann de Lesseps brought a "naked man" home to their vacation house in an episode of The Real Housewives of New York City Season 7. Actually, they were pissed. Heather Thomson, in particular, had no problem calling de Lesseps out. And really, it was her laissez-faire attitude that really kept us laughing.
In one of the most memorable scenes ever, de Lesseps said to Thomson, "So, be cool, don't be all like, uncool." And that, folks, is reality TV gold.
Next: We don't even know what this kind of party is. 
6. Vicki Gunvalson's bunco party blow-up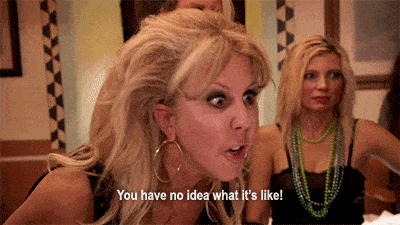 As the OG of the OC, Gunvalson is no stranger to screaming at other housewives. In fact, she's the queen of scream. Case in point: Her ridiculous rant aimed at Gretchen Rossi at the always-dramatic bunco party in Season 7 of RHOC.
Her freak-out was enough to make us all keel over laughing. Why? Well, she donned a not-so-flattering '80s get-up.
Next: The most infamous dinner party of all time
5. The dinner party from hell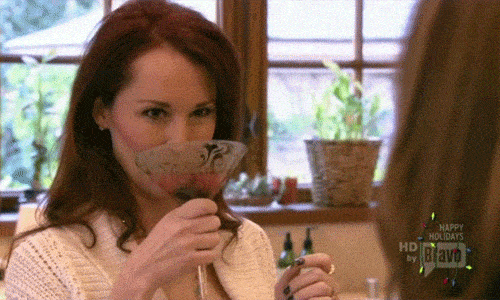 As if Camille Grammer weren't confusing enough on her own, she had to bring her classless, tactless friend, medium Allison DuBois, to her now-infamous dinner party at the end of RHOBH Season 1. Over the course of the evening, DuBois condescendingly told the women the "hard truths" they needed to hear.
Kyle Richards, for instance, was in a dead-end marriage. Oh, and DuBois also knew when the women would die, and how. Weird? Yeah, to say the least. But perhaps the most irritating part of the night was DuBois' refusal to put down her vaporizer. Honestly, did she think that was a good look? We sure didn't.
Next: This scene was so strange, it got dubbed its own name.
4. Kelly Bensimon's meltdown on Scary Island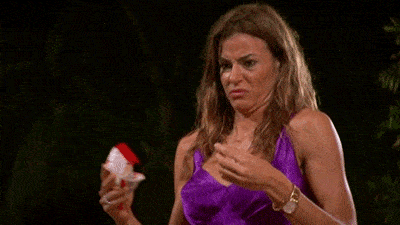 Let's be honest, we live for the Real Housewives vacation episodes. For starters, the women are stuck together 24/7, meaning the you-know-what is bound to hit the fan sooner rather than later. And few vacation scenes have been more dramatic, or confusing, than the one known as Scary Island.
When RHONY ladies left the Big Apple during Season 3 in search of some fun in the sun, they ended up finding much more than sandy beaches and hot temps. Enter Kelly Bensimon's infamous meltdown. Throughout her absurd interaction with her cast mates, Bensimon babbled about Al Sharpton, jelly beans, and Gwyneth Paltrow.
Turns out, she should've taken Bethenny Frankel's advice from the beginning, and just gone to sleep.
Next: Will these sisters ever get along?
3. Kim and Kyle Richards' back-of-limo blowout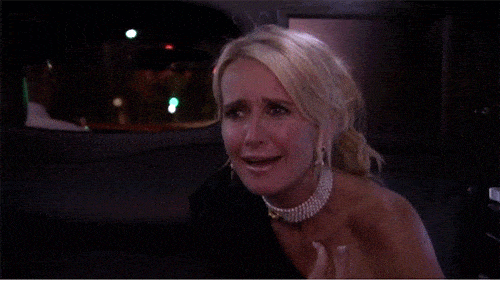 Over the course of an entire season — and every other season Kim Richards was in thereafter — viewers suspected something was up. And they were right. As we learned during a painfully emotional exchange between the two sisters, Kim was, in fact, an alcoholic who struggled with substance abuse.
During RHOBH Season 1 finale, those tensions finally reached a boiling point. When Kim accused Kyle of stealing her house, Kyle finally unleashed on her sister. She revealed to the world that Kim was "a liar and sick and an alcoholic." And it's haunted us ever since.
Next: One of the most infamous moments of all time 
2. Teresa's table flip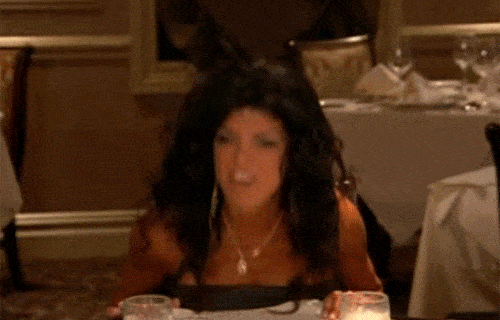 The Bravo execs praised the high heavens when this one went down. Of course, we're talking about the table flip seen 'round the world. When Teresa Guidice freaked out on Danielle Staub and flipped the table on RHONJ Season 1, the moment fast became one of Bravo's most infamous moments of all time.
Would any of Guidice's other moments ever trump that epic table-flip? Well, perhaps. After all, she did spend time in jail (or "camp," as everyone in her life is required to call it), but that's an entirely different conversation.
Next: We're still scratching our heads over this bizarre moment 
1. Aviva Drescher's leg-throwing moment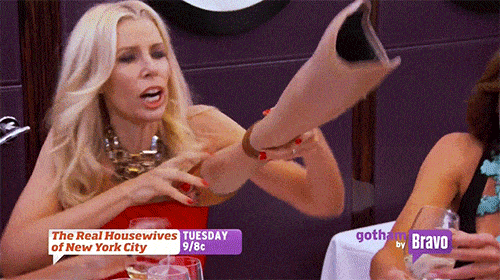 This moment definitely takes the cake, and we have no words. Except we do. For starters, who does that?
In by far the most bizarre moment of them all, RHONY Season 6 wrapped when Aviva Drescher quite literally became undone. Claiming there was only one fake thing about her, Drescher placed her prosthetic leg on the table before throwing it across the room.
The reaction to this appalling display? Well, it was equal parts shock and amusement. While some people laughed, others simply gasped. And everyone, from production crew to restaurant employee to passer-by, was utterly confused.
Read more: Celebrities Who Are Die-Hard Fans of the 'Real Housewives'
Check out The Cheat Sheet on Facebook!