Will Katie Thurston Keep Her Ring From 'The Bachelorette' After Her Breakup With Blake Moynes?
Sometimes the engaged couples of The Bachelorette don't make it down the aisle. Katie Thurston and Blake Moynes have broken up. But will she be able to keep her Neil Lane ring? Here is everything you need to know.
Katie Thurston and Blake Moynes got engaged on 'The Bachelorette'
The end of The Bachelorette took an unexpected turn. That's because frontrunner Greg Grippo left early, breaking Thurston's heart. She decided to move forward with Moynes, and Justin Glaze left.
She chose Moynes, but there was still a question of whether he'll propose. At the final rose ceremony, he did pick a Neil Lane ring and popped the question.
"I can't give you what you came here for because you deserve a lot more than that," Moynes told her. "You deserve the world, and I'm excited to support you and be there for you every day moving forward." He then got down on one knee, and she said yes.
The couple was still engaged on After the Final Rose. Thurston revealed they kept the engagement secret from her family, so they found out with the rest of the world. But on Oct. 25, the former bachelorette revealed on Instagram that they broke up.
Will Katie Thurston keep her ring from 'The Bachelorette' after her breakup?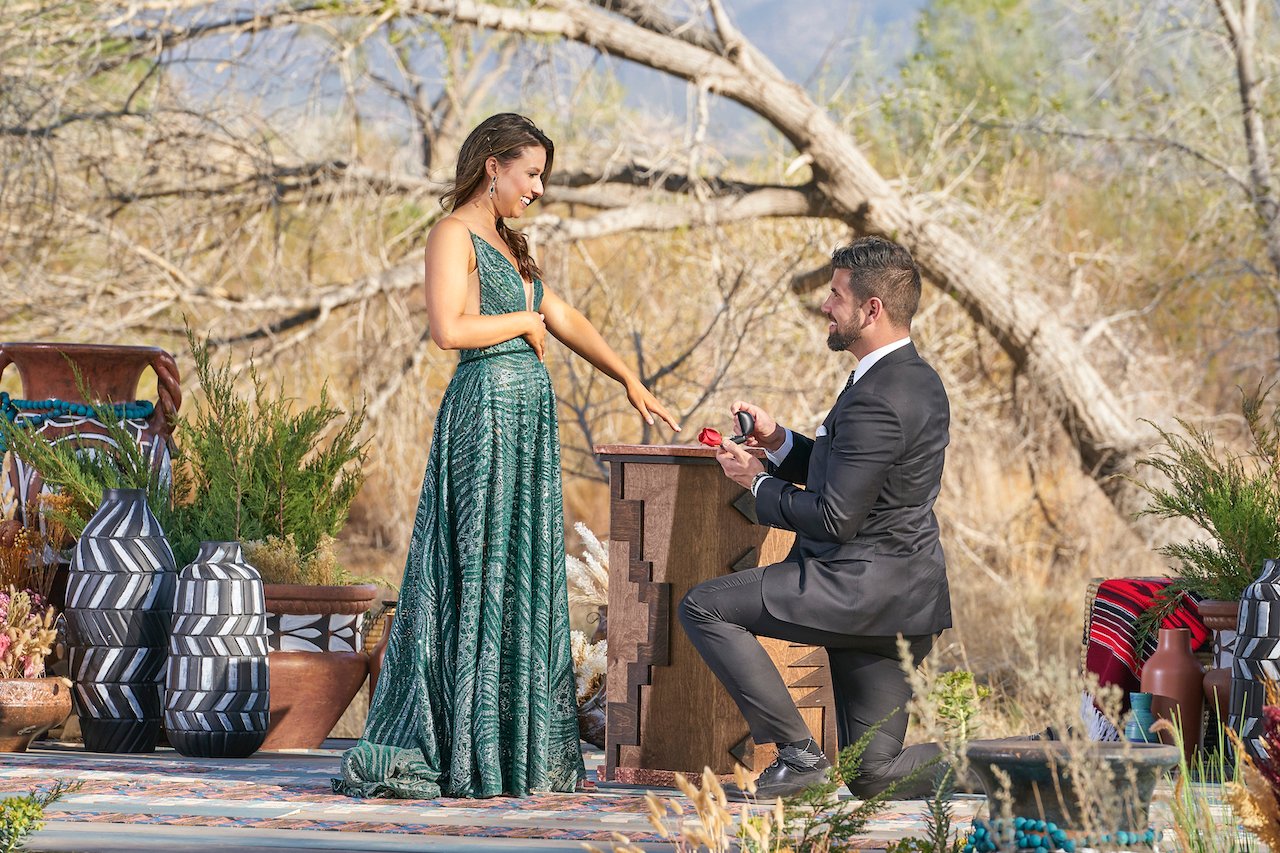 Engaged couples in the franchise get a free ring as long as it's from Neil Lane. However, they do have to return it if the engagement doesn't last a certain amount of time.
"In the contract, it says if you are not together for two years after the final day of the show airing, you have to give them the ring back," Jesse Csincsak, who was engaged to DeAnna Pappas, revealed, according to Bustle.
This means Thurston will have to return her ring since her relationship lasted less than two years after the finale. Moynes picked a 3-carat oval-shaped ring, complete with a halo that includes 90 diamonds.
"It's a very unique ring," Lane told People. "The halo is hidden so you don't see it from the top. It's a lot like their relationship — about taking a risk and the beauty of hidden details. A lot of it is on the surface at first, but there is so much more than meets the eye. 
Thurston's breakup statement
Thurston's statement about their breakup made it sound very amicable. "It is with mutual love and respect that we have decided to go our separate ways," read her caption. "We are so grateful for the moments we shared together and the entire journey that has unfolded this year, but we ultimately have concluded that we are not compatible as life partners, and it is the most caring choice for both of us to move forward independently."
It continued, "We ask for kindness and privacy as we both navigate this transition. Both of us will forever want the best for one another and ask you to please support us in our decision."