Will Lady Sif Return in 'Thor: Love and Thunder' as Thor's Next Love Interest: MCU to Follow or Diverge From the Comics?
Jaimie Alexander may return to the MCU as Lady Sif in 'Thor: Love and Thunder.' Will she be the God of Thunder's next love interest?
Lady Sif — portrayed by Jaimie Alexander in Thor and Thor: The Dark World — disappeared from the God of Thunder's franchise come Thor: Ragnarok. Allegedly, scheduling conflicts (among other issues) prevented Alexander's Marvel Cinematic Universe (MCU) reprisal, as she had to shoot Blindspot at the same time Ragnarok began filming. However, Lady Sif is a vital figure in Norse mythology, and her character's historical legacy warrants a return to the franchise. Not to mention, recent reports from insider sources and words from Jaimie Alexander suggest a reprisal in Thor: Love and Thunder.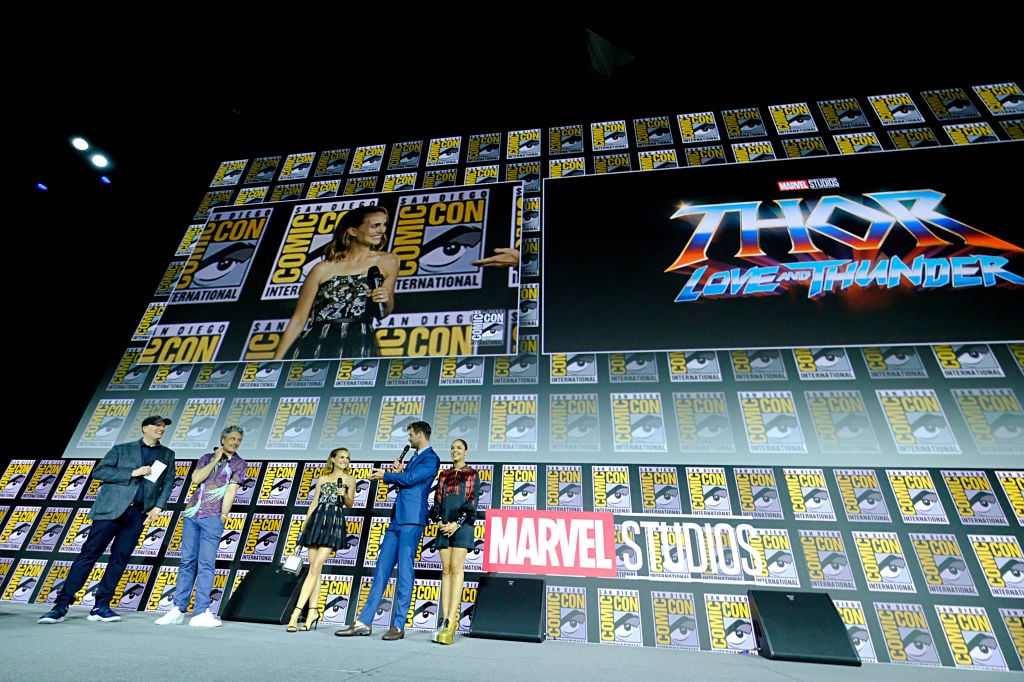 According to sources close to We Got This Covered — the same ones who knew Moon Knight was coming to the MCU and that Black Mask would be gay in Birds of Prey — reported that Alexander will reprise Lady Sif in Love and Thunder. Sif will reportedly help Jane Foster and Valkyrie defend New Asgard from threats bound to emerge. However, how does Jaimie Alexander feel about coming back? Is the actress on board?
Jaimie Alexander on returning as Lady Sif for 'Thor: Love and Thunder'
As CinemaBlend notes, Jaimie Alexander made her interest in returning to the franchise known when discussions surrounding Valkyrie's love interest surfaced on social media. 
Alexander responded to a thread on Twitter regarding Valkyrie's queen; as the King of Asgard, Valkyrie will need a queen — one equally powerful, intelligent, and strong-willed. Alexander raised her hand as an option, for who would be better for the role than Sif?
While fans were upset that Lady Sif could not appear in Ragnarok, they should be thankful that scheduling conflicts prevented her return, as she likely would have died side-by-side the Warriors Three (when Hela took them out in a matter of seconds). It's likely due to scheduling conflicts that the character is still alive; however, if she returns, what purpose will she serve to the narrative? In the comics, she married Thor. 
Lady Sif and Thor are lovers in Norse mythology; what does the MCU have in store? 
Though Lady Sif could come on as Valkyrie's love interest, fans have always complained about the lack of chemistry between Chris Hemsworth's Thor and Natalie Portman's Jane. Meaning, the MCU could decide to pair Thor with an actress he boasted solid chemistry with early on: Alexander. 
Lady Sif and Thor wind up married in the comic books, and some fans argue (in reddit discussions), that a romantic dynamic between the two was alluded to in Dark World, yet never given a chance to develop due to the subsequent scheduling issues. 
Considering Lady Sif has such a prominent role in Norse Mythology, many agree that her character should have received prominent focus in the MCU — a narrative journey and character dynamics that reflect her value. Since Lady Sif has yet to receive such cinematic justification — and Alexander is willing to return — the MCU does have a chance to right this wrong. However, whether the writers will diverge from the comics (making Sif Valkyrie's Queen) or follow the comics in hope of ensuring better chemistry between the leads remains unknown. The MCU could just give her an arc that doesn't involve any romantic links…