Will 'NCIS' Star Sean Murray Reprise His Role in 'Hocus Pocus 2?'
Today, Sean Murray is well known for playing Agent Timothy McGee in the hit crime procedural NCIS. He has been a mainstay in the primetime series since its early days. He joined the show in episode 7, and though he was not supposed to stick around, he boasted solid chemistry with the other cast members. And, the showrunners quickly saw the potential for his character in the longterm.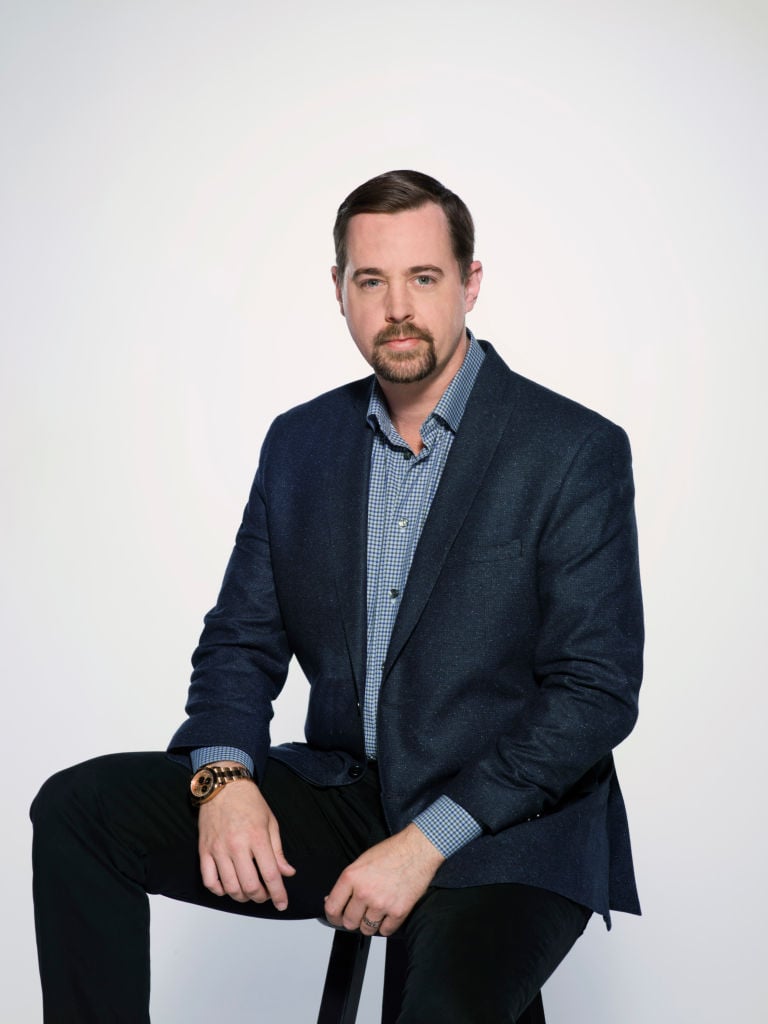 Today, Sean Murray plays Gibbs' (Mark Harmon) second in command. And, while many NCIS actors have since come and gone — Sasha Alexander, Michael Weatherly, Pauley Perrette, Cote de Pablo — Murray remains steadfast in his commitment to the procedural, sticking by Harmon's side. Yet, before NCIS turned Murray into a household name, he appeared in a handful of other productions. Most notably, he portrayed the boy-turned-cat Thackery Binx in Hocus Pocus. So, will Murray return to play Thackery Binx in the upcoming sequel?
RELATED: Will the 'Hocus Pocus' Sequel Be a Musical?
Remembering the original Hocus Pocus and Thackery Binx
Though Hocus Pocus initially opened to critical condemnation and didn't soar too high in box office sales, it became a Halloween cult classic over time. And now, you can't escape the story of the Sanderson Sisters when All Hallows Eve comes knocking…ABC family won't let you. Bette Midler, Sarah Jessica Parker, and Kathy Najimy played the kooky sister witches with a hunger for young blood, and a desire to stay youthful and beautiful forever.
As for Binx (Sean Murray), the seventeenth-century witches turned the boy into a cat when he challenged them. He explained that there were "not enough children in the world to make thee young and beautiful," and it didn't go over too well. Winifred Sanders (Midler) didn't love his comment and took to a little spellcasting as her sisters mumbled some incoherent words (haunting and comedic gibberish) in the background. 
Binx (with all his nine lives) then became the cat who helped siblings Max and Thora return the witches to once they came when they accidentally resurrected them…centuries later. 
What 'NCIS' star Sean Murray had to say about 'Hocus Pocus' and his potential involvement in a sequel
As for Hocus Pocus 2, the Disney+ original will be directed by Adam Shankman; he is well-known for his work on Hairspray, Rock of Ages, and What Men Want. According to Variety, the original Hocus Cast is not yet formally attached to the sequel, but Disney is hopeful that they will return. 
RELATED: Do the Original 'Hocus Pocus' Cast Members Wish to Return for the Sequel?
And, considering Bette Midler, Sarah Jessica Parker, and Kathy Najimy have all once said that they would be willing to return to the sequel, as it was so much fun, Hocus Pocus 2 with the original cast may be in the cards. Meaning, a space for Binx may also exist. When asked about the matter a few years back, Murray told ENews:
If they wanted me to be involved with it in some sort of way, I would probably say yes...Hocus Pocus has a great following and was a great part of when I was a kid…I have kids come to me and their parents grew up on it and now their kids grow up on it. It's like a cult favorite.
In short, Murray seems like a shoo-in if those behind the movie request his presence. So, here's to hoping we get to see most of the original cast take to their brooms (and their tails) once more.