Will Smith Chris Rock Slap: Ron Howard Expects Academy 'Will Be Very, Very Thoughtful' in Review
Producers Ron Howard and Brian Grazer weighed in on the Will Smith, Chris Rock incident at the Oscars. Howard trusts the Academy will investigate thoroughly.
The days following the Oscars saw many in Hollywood commenting on the slap. Walking up to the stage where Chris Rock was presenting, Will Smith slapped him in the face. Rock had made a joke about Jada Pinkett Smith's shaved head, which she has publicly discussed as a result of having alopecia, and Will said he was defending her. Some celebrities shared their thoughts on Twitter immediately, including the Academy of Motion Picture Arts and Sciences. Ron Howard and Brian Grazer had a TV show to promote where they were asked about the Oscar incident.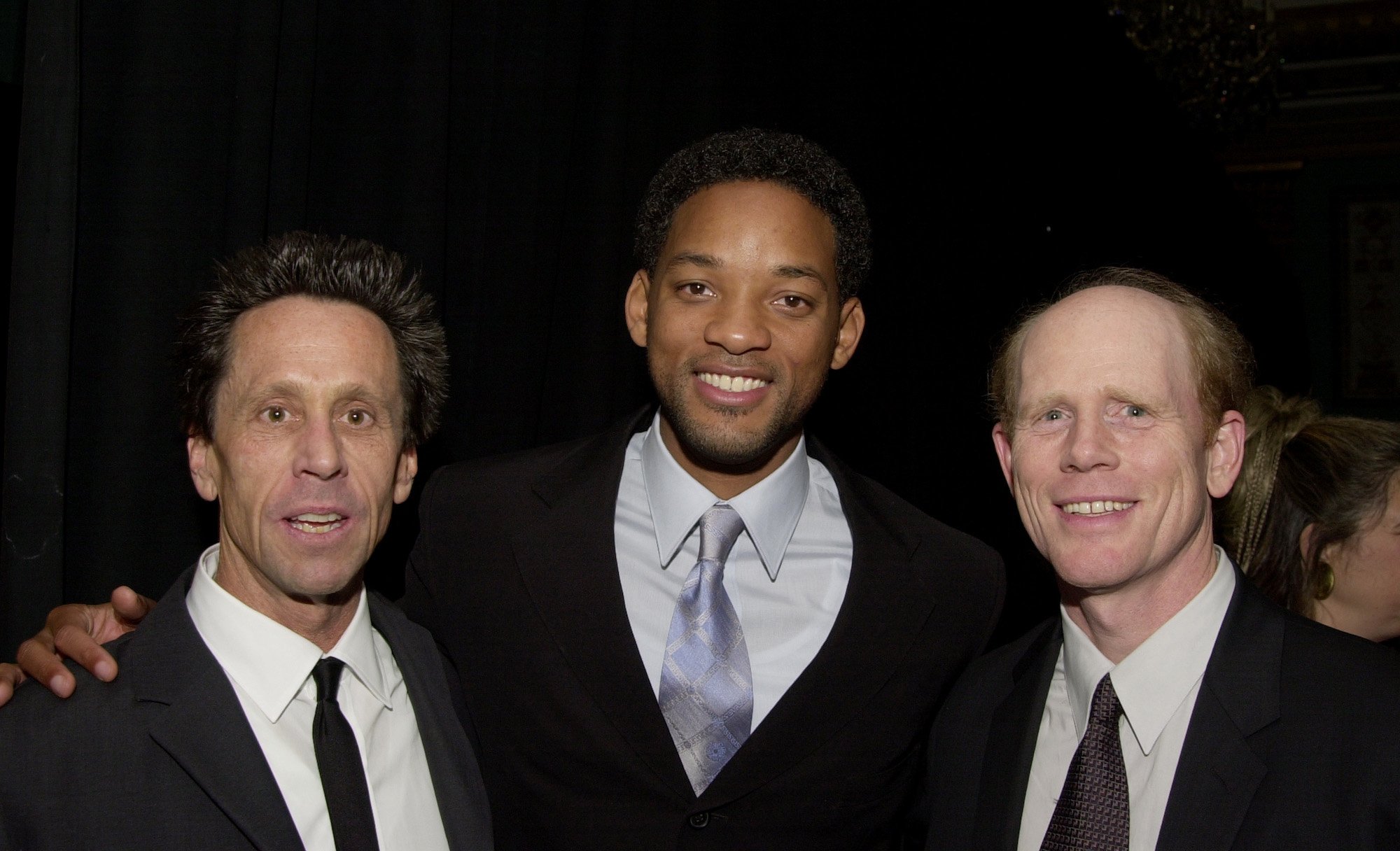 Howard and Grazer are executive producers of the FX drama Under the Banner of Heaven. At a Television Critics Association Zoom panel, the producers addressed the Oscar slap. Under the Banner of Heaven premieres on Hulu on April 28
Ron Howard knows both Will Smith and Chris Rock 
Taking the question first, Howard reacted to the slap as a colleague of both Smith and Rock's. Smith and Howard both appeared in Howard's daughter, Bryce Dallas Howard's documentary Dads. In the above photo, Howard, Smith and Grazer met at the 2002 ShoWest Awards. Howard and Rock were both voices in the animated film Osmosis Jones, though more likely knew each other socially in Hollywood since voice actors record alone. 
"I found it very upsetting," Howard said. "I wasn't there, I was watching it on television. These are people I'm very friendly with and I was shocked. I wouldn't have expected this kind of behavior."
Ron Howard trusts the Academy's investigation 
On March 27, the Academy of Motion Picture Arts and Sciences tweeted they condemn violence. Later they announced they would be opening a formal review of the Smith/Rock incident. The review could lead to the Academy rescinding Smith's Oscar win for Best Actor for King Richard, due to violating the Academy's code of conduct. Though most prognosticators agree that consequence is unlikely, Howard trusts his organization to give the incident the weight it requires.
"And I'm not on the Academy Board so I can't speak for their process, but I do know them and they will be very, very thoughtful," Howard said. "I will be curious to see what sort of decisions they make."
Brain Grazer calls the Will Smith slap 'unfortunate'
Grazer is Howard's partner in Imagine Entertainment, for both film and television productions. Grazer has also produced the Academy Awards telecast. From his vantage point, Will Smith's actions detracted from the night's winners. 
"Actually I produced the Oscars one year," Grazer said. "It's a celebration to the artists, to the nominees and ultimately to the people that win but really to the nominees. It's a celebration for them. It should be really just only focused on that so it's unfortunate it detracted from that."