Will Smith Tried to Date 'Fresh Prince of Bel-Air' Co-Star Karyn Parsons
Will Smith is revealing a lot of secrets in his new autobiography. One is that he tried to date his 'Fresh Prince of Bel-Air' co-star Karyn Parsons. Looking back, Smith says he's glad she said no.
It's a Big Willie Style holiday season this year. Will Smith has King Richard coming to theaters. He just published his autobiography, Will and he's going on a speaking tour to tell more stories about his life and career. YouTube is also airing his docuseries Best Shape of My Life. When Smith wrote about his TV show The Fresh Prince of Bel-Air, he revealed he tried to date co-star Karyn Parsons.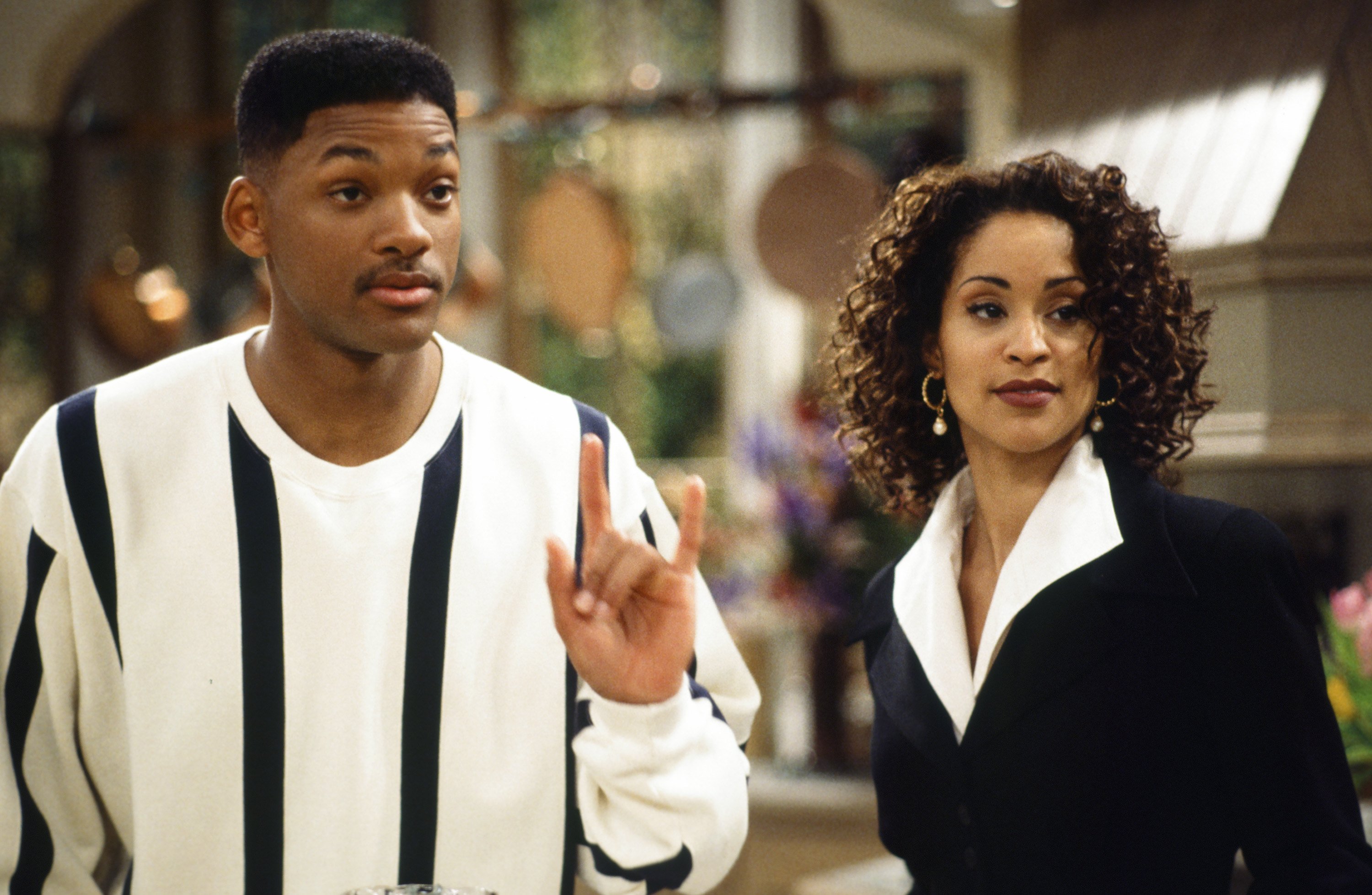 This is news to Fresh Prince of Bel-Air fans. Had there been a romance between any of the cast members on the set, it would have made news in the '90s. Smith goes on to explain that Parsons shot him down. 
Karyn Parsons was 2 years younger than Will Smith on 'The Fresh Prince of Bel-Air'
In The Fresh Prince of Bel-Air, Philadelphia teen Will (Smith) moves in with his Aunt Vivian (Janet Hubert) and Uncle Phil (James Avery) in Bel Air, California. The culture clash is hilarious, as is his relationship with cousins Carlton (Alfonso Ribeiro), Hilary (Parsons) and Ashley (Tatyana Ali). As the elder Banks daughter, Parsons was only two years younger than Smith, so he got animated hearts coming out of his ears. 
"I tried to explain we were not really cousins so it would be fine if we dated," Smith wrote, according to Entertainment Weekly. "'I swear it won't mess up our working relationship.'"
Will Smith is glad 'Fresh Prince of Bel-Air' co-star Karyn Parsons turned him down 
On the show, Will would mock Hilary's spoiled ways and her ditzy shopping obsessions. In real life, Smith was swooning. According to Smith's book, Parsons insisted they keep their relationship professional. Given The Fresh Prince of Bel-Air lasted six seasons, and there was plenty of other drama on the set between Hubert and Smith, it's probably best they did not add an on set romance. 
"She knew better that — good call, K.P." EW says Smith wrote. "[Parsons] was smart enough to tell me 'hell no.'"
Parsons was committed to her career. Smith wrote she "beat out a slew of Hollywood big hitters to win her role." During Fresh Prince Parsons appeared in movies like Class Act and Major Payne. After the show, she was on short-lived series like Lush Life and The Job. After 2002, Parsons stepped back from acting and founded Sweet Blackberry. She also wrote children's books like Flying Free: How Bassie Coleman's Dreams Took Flight and How High the Moon. Parsons appeared in the HBO Max Fresh Prince of Bel-Air reunion.
Smith would marry Sheree Zampino in 1992. They have one son together, Trey. However, they divorced by 1995.
A potential 'Fresh Prince of Bel-Air' guest star won his heart
Jada Pinkett Smith auditioned for the role of Will's girlfriend on Fresh Prince of Bel-Air in 1994. The role ultimately went to Nia Long. Oprah Daily cites Pinkett's petite height as the reason she did not land the part. 
Pinkett made an impression on Smith, though. They began dating in 1995 when he was going through his divorce, and ultimately married. They have two children, Jaden and Willow, together and remain married to this day.