Will The Original 'High School Musical' Cast Duet With The 'HSMTMTS' Cast? 'Disney's Family Singalong' is the Perfect Chance
The current state of the world can be very anxiety-inducing with the coronavirus (COVID-19) pandemic. It's hard to focus, especially on the good and fun things in the world and it can even be harder to find them at times. But what's one thing you can always count on to bring a smile to your face? Disney, and more specifically, Disney music. Luckily, ABC is hosting a singalong special with some big stars involved. Some of the celebrities that will be singing on your TV includes the main, original cast of High School Musical. This would be the perfect chance for the High School Musical movie and series' worlds to collide; will they?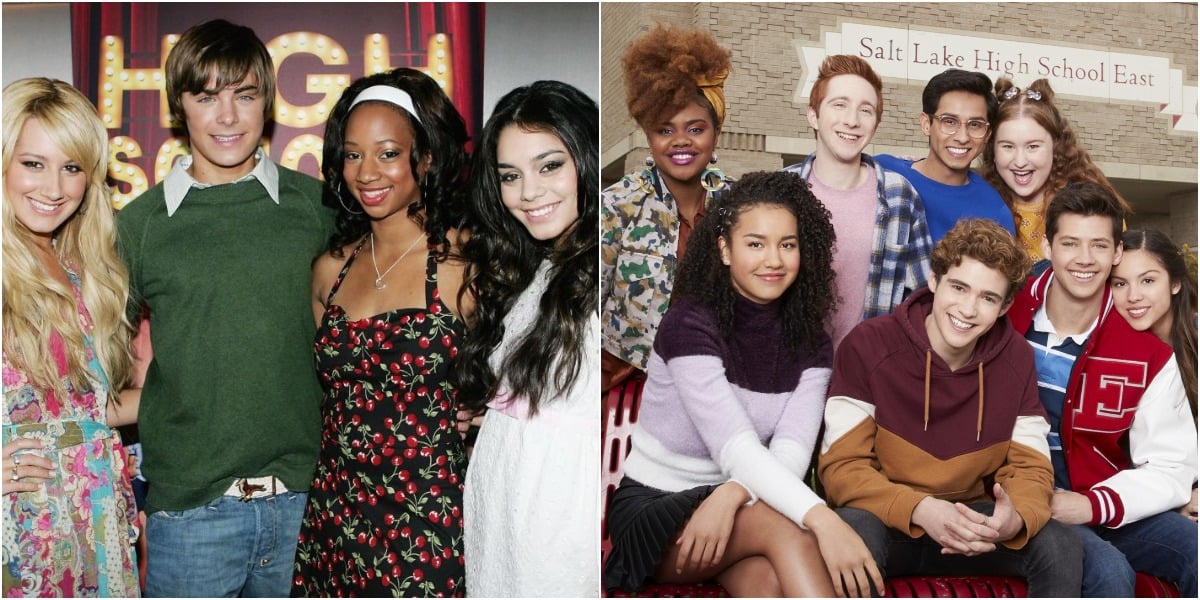 ABC is hosting a massive singalong special with major stars
Disney and Ryan Seacrest made the announcement about the TV special on April 13; it will air on ABC on April 16 at 8 pm ET/7 pm CT. D23.com reports that it'll last one hour and will presumably be like a massive Zoom call where all the different celebrities sing with you. 
In the announcement video, major names like Christina Aguilera, Ariana Grande, Demi Lovato, and Josh Groban are just a few that will perform Thursday. Kristin Chenoweth will host a vocal warmup for those at home (aka everyone), Elle Fanning will present, Seacrest will host, and the Broadway cast of Aladdin will perform "Friend Like Me."  
The original 'High School Musical' cast is reuniting, including Zac Efron
Probably the biggest surprise that came from this announcement was that not only would the main cast from High School Musical perform, but it'll include Zac Efron. There have been various "reunions" with the stars of the 2006 musical, but Efron doesn't usually pop up, at least not often. So, Disney's Family Singalong will be one of the first times the whole cast of High School Musical comes together to sing songs from the iconic Disney Channel Original Movie. 
In addition to Efron, Vanessa Hudgens, Ashley Tisdale, Corbin Bleu, Monique Coleman and Lucas Grabeel are a part of this HSM section. Kenny Ortega, the director and choreographer for the movies, told Deadline that Efron was a last-minute addition. 
"We couldn't reach Zac until late but when we did, he immediately jumped in, of course," Ortega said. "Everyone we reached out to was quick — and you'll see it in their spirit and the way they come together from their homes. They recognize this is an opportunity to strengthen spirits for those joining us for the broadcast."
Will the original 'HSM' cast unite with the 'High School Musical: The Musical: The Series' cast?
Disney+'s recent hit show High School Musical: The Musial: The Series was a treat for fans of the original movie and new ones. The show honors the original movie so well and also forges its own path to become a favorite show for fans. Grabeel made an appearance in an episode and Bleu interviewed the new cast for Entertainment Tonight. However, there hasn't been a proper duet or unification of both the movie and series. Until now. 
Deadline reports that the performance of "We're All In This Together" will feature the original HSM cast along with Raven-Symoné, and cast members from The Descendants, Zombies, and High School Musical: The Musical: The Series.
"It's a really nice fun coming together of a lot of young people that are banding together under the lyrics of this song for the show," Ortego told Deadline. 
Could there be more of an interaction between the Disney+ series cast and the original cast? Possibly, but we'll have to wait until Thursday to truly find out. But, for fans of both, it'll be a very special singalong with both casts.
What's the rest of the song lineup?
The rest of the Disney's Family Singalong lineup can be found below, via Teen Vogue:
"A Dream Is A Wish Your Heart Makes" — Demi Lovato and Michael Bublé
"A Spoonful of Sugar" — Little Big Town
"Be Our Guest" — Derek Hough and Hayley Erbert, with a special appearance by Julianne Hough
"Can You Feel the Love Tonight" — Christina Aguilera
"Colors of the Wind" — Tori Kelly
"Do You Want to Build a Snowman" — Thomas Rhett
"Friend Like Me" — James Monroe Iglehart with Broadway Company of Disney's Aladdin
"Gaston" — Josh Gad, Luke Evans and Alan Menken
"How Far I'll Go" — Auliʻi Cravalho
"I Won't Say I'm In Love" — Ariana Grande
"I Wan'na Be Like You" — Darren Criss
"I'll Make A Man Out Of You" — Donny Osmond
"It's a Small World" — John Stamos
"Let It Go" — Amber Riley
"The Bare Necessities" — Erin Andrews, Bobby Bones, Carrie Ann Inaba, and Marcus Scribner
"Under The Sea" — Jordan Fisher
"You've Got a Friend In Me" — Josh Groban
It's only an hour-long, but keep your eyes out. There could be some more surprises throughout.