Winona Ryder and Keanu Reeves Explained Why Their Awkward 'Destination Wedding' Sex Scene Is so Unsexy
Winona Ryder and Keanu Reeves shared one of the most bizarre sex scenes ever in the movie Destination Wedding. The characters' intimate interaction was definitely awkward to watch unfold, creating what one interviewer called "an unsexy sex scene."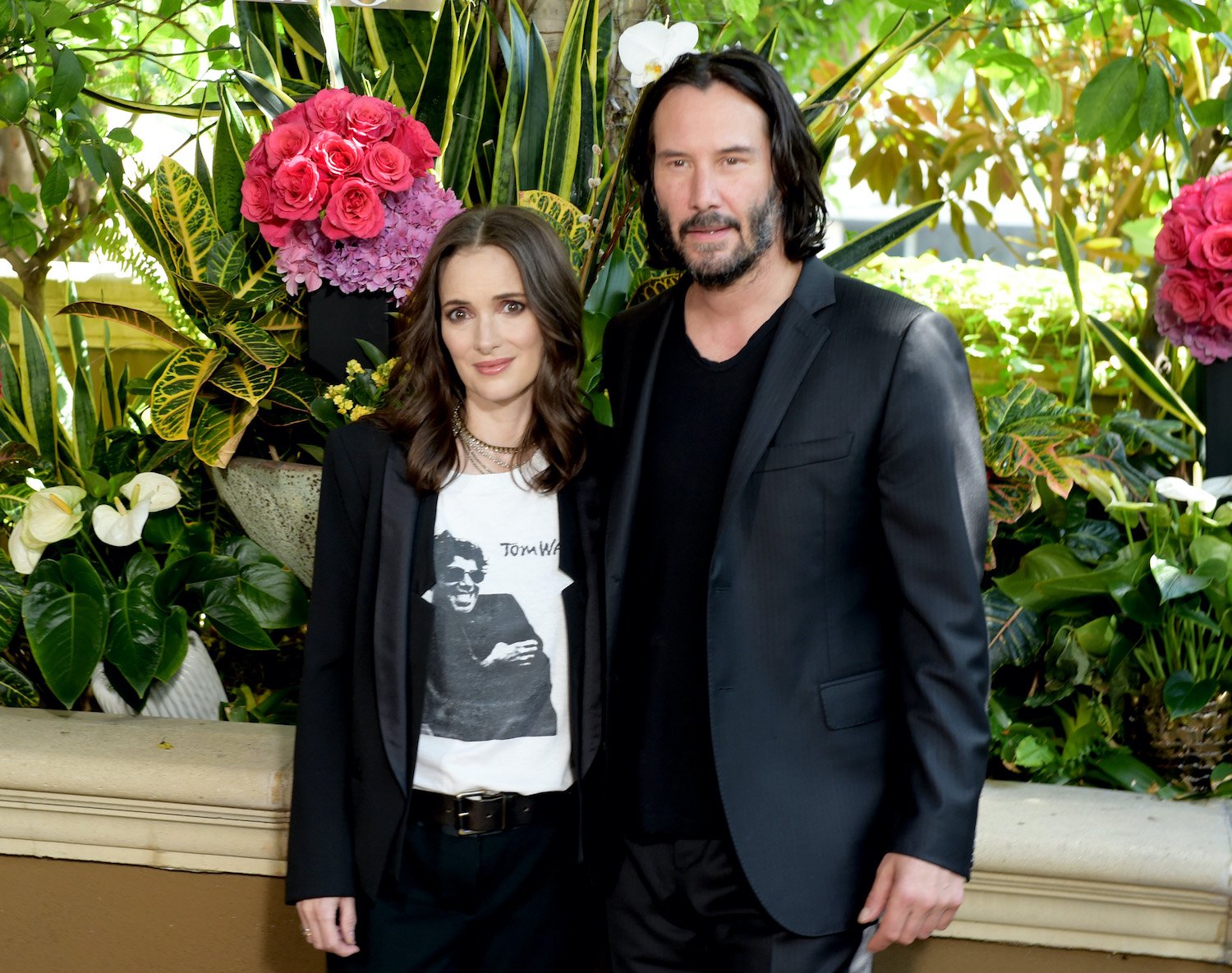 Keanu Reeves and Winona Ryder shared an 'unsexy sex scene'
During a 2018 interview with Access, Reeves and Ryder were asked about the bizarre scene. "You're both very, very attractive, yet I have to say you give the most unsexy sex scene I've ever seen," the interviewer noted. "That's a real achievement. Was that as awkward as it appeared?"
The interviewer was referencing the moment Reeves and Ryders' characters encounter a mountain lion, run and tumble down a hill, have an awkward kiss, which is followed by awkward sex that involves plenty of bizarre chatter between them. At one point, Ryder's character tells Reeves' character, "you look like you're going to throw up" and moans "no," because she's "a very negative person."
It's not particularly romantic, for sure.
Keanu Reeves and Winona Ryder explained their 'Destination Wedding' sex scene
Reeves gave a quick summary of the scene, noting, "We run away, we fall down, and we end up sprawled together in the grass and because of this kind of flush of death, we get this flush of life."
"And, you know, we start to go for it," he continued.
Ryder and Reeves recreated the way their characters really couldn't connect in the traditional way people are used to in rom-coms.
"They're not necessarily giving themselves completely over to losing themselves," Reeves explained. "They're both still kind of self-conscious. So, as we're going at this wonderful, beautiful miracle, we talk."
"But we do both get to go to a happy place," he noted.
Ryder called the movie 'anti-romantic'
During a 2018 interview with Today, Ryder explained how their comedy was slightly different.
"I would almost call it an anti-romantic comedy, but it's just so unusual because as actors all of the romantic comedy scripts are just sort of like, the tropes," Ryder explained. "And this one was just completely different. It's sort of like for grown-ups."
Reeves was sure to add that there is "romance — with comedy. It's not love at first sight, but it is opposites attract."
Ryder convinced Reeves to do the movie
Ryder had signed on to play the role in Destination Wedding and really wanted Reeves as her co-star. She sent the script to him and he didn't hesitate with coming on board.
"I knew it couldn't work unless it was sort of the perfect people and he was the first person I thought of," Ryder explained. "Once I kind of got him in my head, I couldn't imagine doing it without him."
"I mean I definitely think there was some stuff that neither of us had done which is always nice to be doing something new," she added.
Reeves explained his side of the story and how he was "excited" that Ryder sent him the script. "That's kinda what you wrote. You were like, 'I like this script, would you check it out,'" he said. "I think I read it that night and then I think I contacted you two days later and was like, 'let's go do this.'"