Winona Ryder Joked She and Keanu Reeves 'Meet-Cute All the Time' After Hearing the Rom-Com Term for the First Time
Winona Ryder and Keanu Reeves make a great on-screen couple and their friendship off-screen is pretty adorable, too. In an interview promoting their movie Destination Wedding, Ryder was caught off guard when she heard the rom-com term "meet-cute" for the first time, but said she and Reeves have them all the time in real life.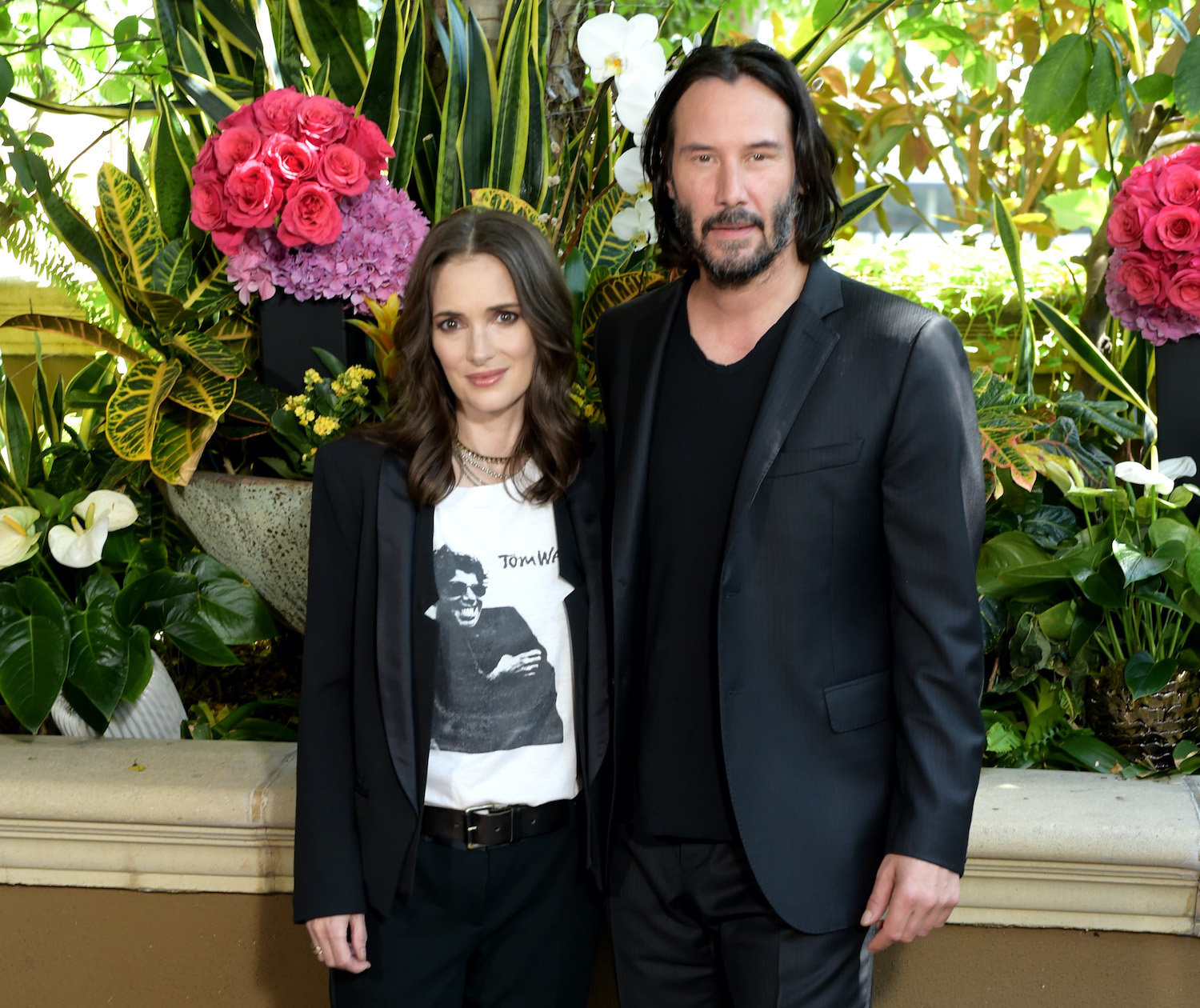 Winona Ryder and Keanu Reeves starred in an 'anti-romantic comedy'
When asked to describe the movie, Ryder shared with Today how Destination Wedding was a different spin on traditional romantic comedies.
"I would almost call it an anti-romantic comedy, but it's just so unusual because as actors all of the romantic comedy scripts are just sort of like, the tropes," she explained. "And this one was just completely different. It's sort of like for grown-ups."
"Like a rom-com for grown-ups?," the interview asked.
Reeves interjected, "It's a romance — with comedy."
"It's not love at first sight, but it is opposites attract," he added.
Winona Ryder learned the term meet-cute for the first time
After Ryder fumbled through a description of the movie, the interviewer noted, "And there is a meet-cute."
The term threw Ryder for a loop. "There's a what?," Ryder asked.
The interviewer explained it's "that moment when your two characters meet. That's at the central point of every rom-com."
Ryder and Reeves pondered the new term. "This is the first time hearing of a meet-cute," Ryder shared.
When the interviewer noted, "and you guys have quite the meet-cute," Ryder added, "I meet-cute him all the time," causing Reeves to crack up.
He got in on the fun as well, sharing, "Every time we see each other, it's a meet-cute."
They agreed they were "meet-cuting" each other "right now" during the interview.
Ryder thought Reeves was perfect for 'Destination Wedding'
The actors were asked about their relationship, having known each other and worked together in the past. Ryder said she first got the script and signed on and knew "he was the perfect person to play Frank."
She sent it along to Reeves, as she explained, "I knew it couldn't work unless it was sort of the perfect people and he was the first person I thought of." She didn't know if he'd be available for the project, however.
"Once I kind of got him in my head, I couldn't imagine doing it without him and so, thank god" he could do it.
"I mean I definitely think there was some stuff that neither of us had done which is always nice to be doing something new," Ryder added.
Reeves agreed. "That's kinda what you wrote. You were like, 'I like this script, would you check it out,'" he recalled. "I think I read it that night and then I think I contacted you two days later and was like, 'let's go do this.'"
"I was really excited to get a letter and email from Winona and to get this script and it's a marvelous script and I thought that it was really kind of modern and taking in a new to do this idea of a relationship," Reeves continued.
"The dialogue's cracking and the characters are interesting and for me it was really exciting to get the chance to work with Winona because I don't know if they know how adept you are at comedy," he added.