Wonho on His EP 'Blue Letter': 'Whenever I See WENEE, I See the Color Blue'
Wonho made his solo debut in 2020 with the EP Love Synonym Pt.1: Right for Me. The K-pop idol kicked off 2021 with a second EP titled Love Synonym Pt.2: Right for Us. On Sept. 14, Wonho released his third EP, Blue Letter.
The EP represents a new phase of Wonho's career. With the new mini-album, the singer-songwriter tries to help listeners feel less alone.
After Blue Letter dropped, Showbiz Cheat Sheet emailed Wonho some questions about the EP. In his answers, Wonho discussed his evolving artistry, the significance the color blue has in his life, and his fan base, WENEE.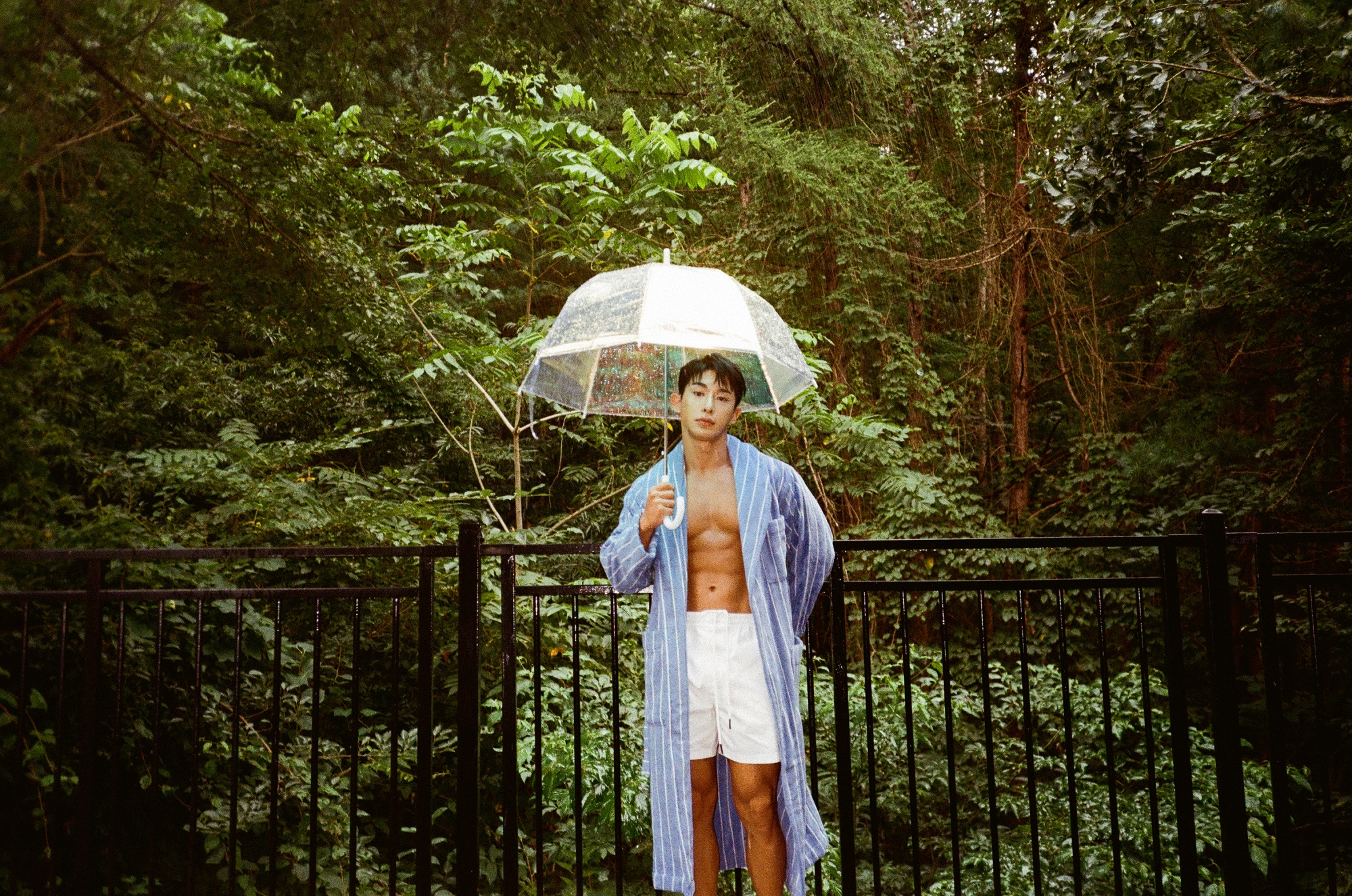 Showbiz Cheat Sheet: Hi Wonho! First off, congratulations on your new EP Blue Letter. How are you feeling now that the album is out?
Wonho: Hello! Thank you! I'm super excited that it's finally out in the world!
Showbiz Cheat Sheet: The last time we spoke, you were about to release your first EP Love Synonym Pt.1: Right for Me. What have you learned over the past year since making your debut as a solo artist?
Wonho: I've learned that I find true pleasure in making music and performing for my fans, WENEE!
Showbiz Cheat Sheet: Earlier this year, I had the chance to attend your virtual #WENEEDLOVE concert. You put on a lot of spectacular performances, but I also found your ability to connect with WENEE virtually to be really touching. Can you share your thoughts on what it was like preparing for and performing in the concert?
Wonho: I truly appreciated every step of the way as the concert meant so much to me and to my fans. It was amazing to be able to connect with WENEEs albeit virtually.
RELATED: Review: Wonho Dazzles During His Virtual #WENEEDLOVE Concert
Showbiz Cheat Sheet: Even though Blue Letter is not directly related to your past EPs Love Synonym Pt.1: Right for Me and Love Synonym Pt.2: Right for Us, all three feature blue album covers. Why is the color blue so significant to you?
Wonho: Whenever I see WENEE, I see the color blue. They say I have synesthesia. But yeah, that's why I use blue a lot, which also has become my "signature color" for that reason.
Showbiz Cheat Sheet: "Blue" is the lead single on Blue Letter. What message did you want to convey with the song?
Wonho: I wanted to give hope to those feeling depressed by saying you are not alone.
Showbiz Cheat Sheet: "Stranger" explores your desire to be able to see your fans in person. How do you make sure to stay in touch with fans due to the isolation of the pandemic?
Wonho: The reason why I have multiple social media channels is because I always want to communicate and stay in touch with WENEEs as closely as I can! I share my daily life on social media so that my fans feel the connection we have even during the pandemic.
RELATED: Wonho Signs With Highline Entertainment to Begin the Next Stage of His K-pop Career as a Solo Artist
Showbiz Cheat Sheet: You were involved in the production and songwriting of each song on Blue Letter. Are there any behind-the-scenes details you can share about working on the album?
Wonho: It's more like a fun anecdote. I actually recorded all the tracks on the album at home — more specifically, in my dressing room. I had to turn on three humidifiers to keep the room moist for my throat!
Showbiz Cheat Sheet: Do you have a favorite song on Blue Letter? If you do, why is it your favorite?
Wonho: My favorite is "No Text No Call." I had written this song before I wrote the other ones on the album, and it actually helped me visualize the overarching concept and theme of the album. It's also the only all-English track!
RELATED: Wonho Kicks off His Solo Career With His Heartfelt New Single 'Losing You'
Showbiz Cheat Sheet: Since making your solo debut, how do you think your artistry has evolved over the course of three albums?
Wonho: I always strive to broaden my horizons as a musician and I'm glad that I keep challenging myself to do so as one can witness through the evolution of my music.
Showbiz Cheat Sheet: Do you have any future plans or things you would like to try next with your music?
Wonho: Unfortunately, I cannot tell you what I'm planning for the future at the moment. But what I can tell you with confidence is that I'm always working on something exciting for my fans, so please keep an eye on me!