The Writer Behind 'Hamilton' Actually Appears in the Original Cast of This Broadway Musical
Broadway fans don't have to feel "helpless" any longer. A live version of Hamilton is now available for streaming on Disney+. Although the cast for this stage production features actors like Christopher Jackson and Daveed Diggs, it also features the writer behind the musical as one of the starring roles.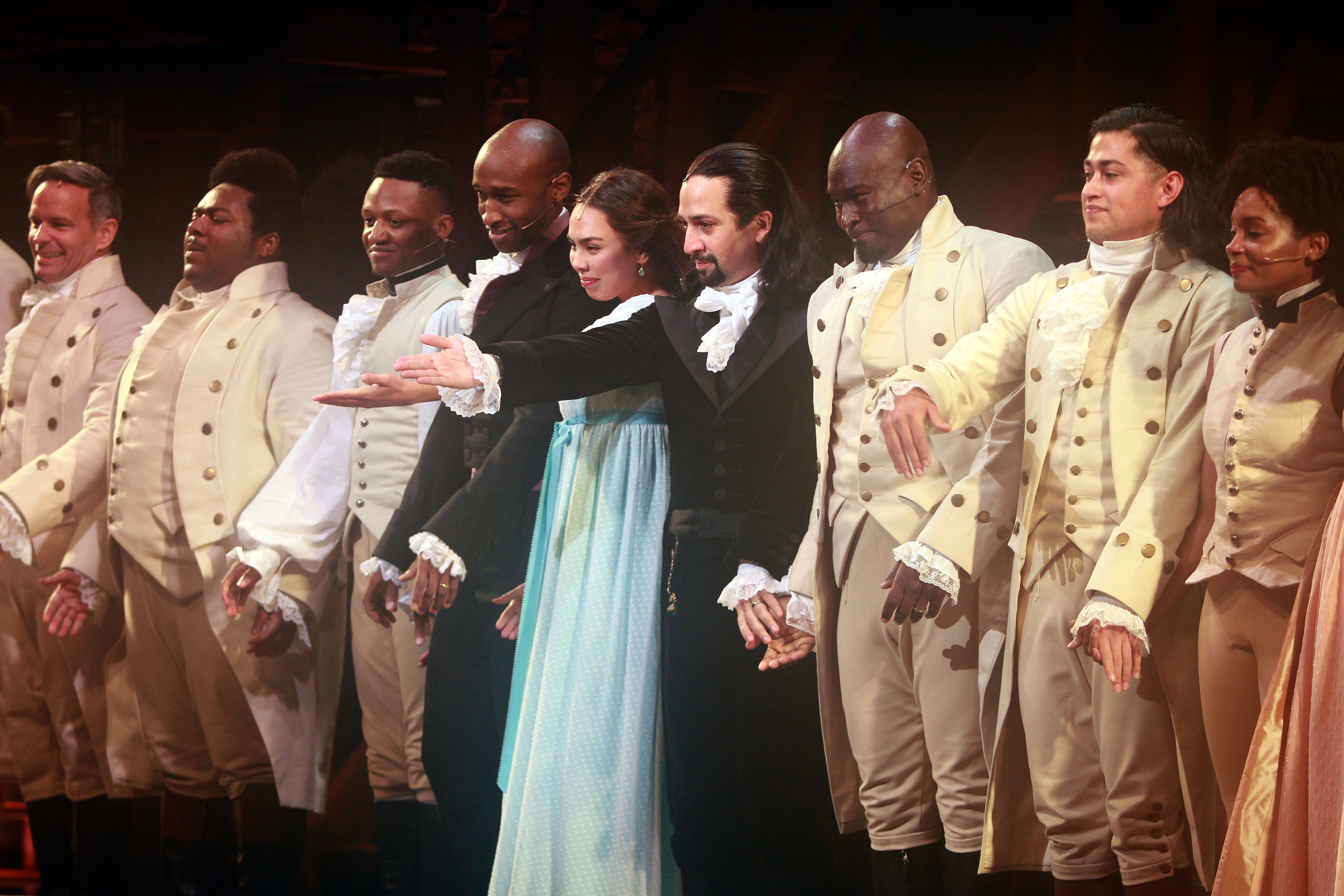 Lin-Manuel Miranda is the mastermind behind the Tony-award winning musical, 'Hamilton'
A rap musical about the founding fathers? At first, it may seem a little far-fetched. Thanks to Lin-Manuel Miranda, though, the writer behind this musical, it just makes sense. Hamilton debuted on Broadway during 2015.
This production became a worldwide sensation, earning a handful of Tony Awards and recognition from former president Barack Obama, Prince Harry, Duke of Sussexand, eventually, the Walt Disney Company. 
This wouldn't be the first time Lin-Manuel Miranda had a musical on Broadway. Previously, he had a show titled In the Heights available for theater fans, which will be available as a movie musical later during 2020.
Lin-Manuel Miranda was a member of the show's original cast, as the title character
When this musical premiered on Broadway, it included Lin-Manuel Miranda as one of the actors. In this production, he portrayed the character Alexander Hamilton, a founding father responsible for the national bank, shot during a duel with Aaron Burr. 
The character performs songs like "My Shot," "Alexander Hamilton," and "Aaron Burr, Sir," each of which holding millions of streams on Spotify. Although his fate may be regrettable, his legacy lives on through his wife, Eliza, who tells his story. 
Lin-Manuel Miranda appears in the Disney+ exclusive recording of 'Hamilton' 
Fans can listen to the Hamilton soundtrack, including songs with Lin-Manuel Miranda on streaming platforms like Apple Music and Spotify. As of recently, a recording of the musical joined the Disney+ library. 
This exclusive gives viewers the "best seat in the house," as well as access to interviews and a new trailer. Of course, this is the performance with Lin-Manuel Miranda as the title character, although there's also cast members like Christopher Jackson (the voice of Moana's father,) and Daveed Diggs (cast member in Pixar's Soul.)
"I'm so proud of how beautifully Tommy Kail has brought Hamilton to the screen. He's given everyone who watches this film the best seat in the house," Lin-Manuel Miranda said in a statement, according to Variety. "I'm so grateful to Disney and Disney+ for reimagining and moving up our release to July 4 weekend of this year, in light of the world turning upside down."
Lin-Manuel Miranda's stage production of Hamilton is now available on Disney's streaming platform, as are musicals like The Sound of Music, Annie, and Newsies. To learn more about Disney+ and to subscribe, visit their website.