WWE Star Charlotte Flair Believes She Can Beat Her Father's Record
As the daughter of wrestling legend Ric Flair, Charlotte Flair had many expectations to live up to. But Charlotte has proven she's one of the best in the sport. As one of WWE's top female wrestlers, Charlotte's the main attraction on Monday Night RAW's weekly TV show. Throughout her nine years with the promotion, Charlotte has been part of plenty of history-making moments. If her success continues, she may beat one of the biggest records in wrestling.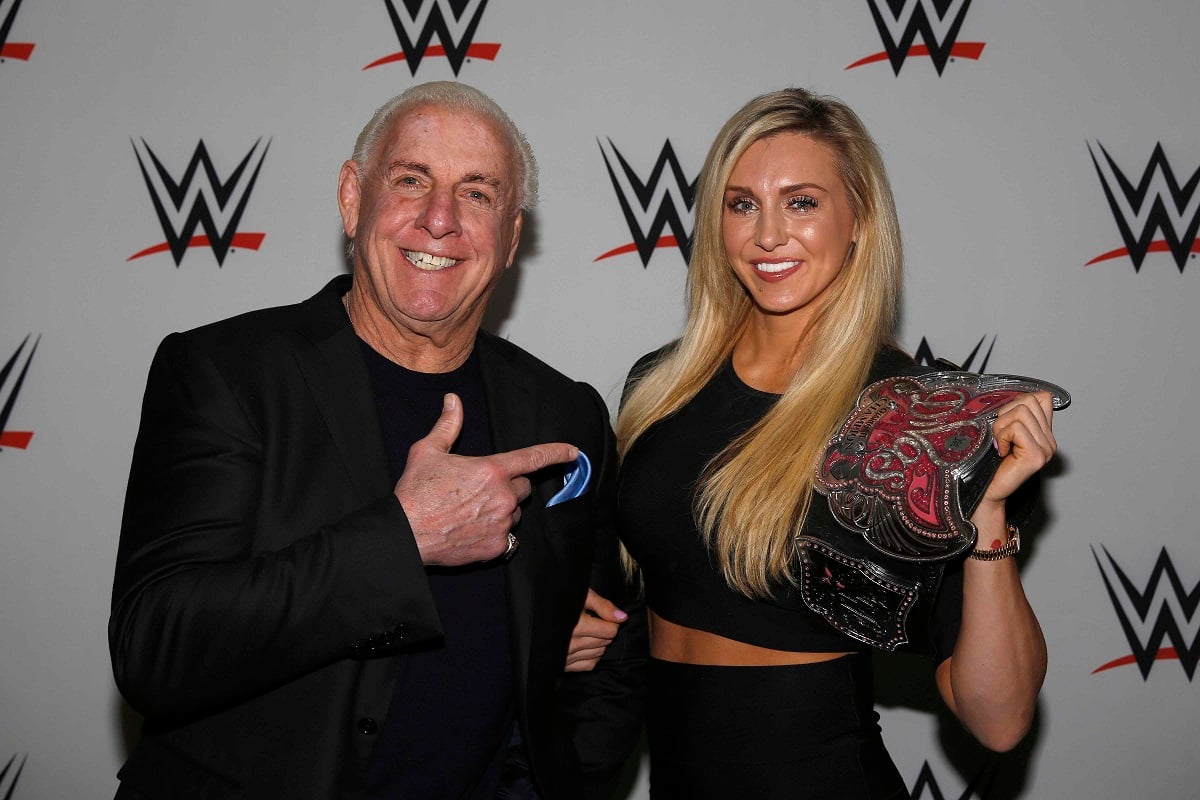 Charlotte Flair on track to beat father Ric Flair's championship record
Like her iconic dad, Charlotte's main-evented numerous WWE events and won multiple championships. Currently, Charlotte's a 12-time Women's Champion, although fans believe the number should be 14, including her NXT title reigns. WWE thinks highly of Charlotte and views her as the face of the women's division.
If WWE continues with Charlotte's push, she's on track to beat her father's championship record. Ric holds the honor of being a 16-time World Champion. So far, nobody's been able to beat Ric's record. However, fans and wrestling journalists feel Charlotte could be the one to do so. According to Cageside Seats, Charlotte believes she could break her dad's record. "Yes, I'm gonna be a 16-time champion one day…17time! Cena better not beat me before," she explained.
John Cena's came close to beating Ric Flair's record
As Charlotte mentioned, she faces stiff competition in the journey to beating Ric's record. John Cena is currently tied with Ric for 16 championship reigns. With Cena being WWE's top star, many fans felt he'd be chosen to break the historical record.
RELATED: What is John Cena's 2020 Net Worth?
Cena's came close to surpassing Ric's record. His most recent shot came in August 2021 during the Summerslam PPV. Cena challenged Roman Reigns for the Universal Championship, and despite his best efforts, he came up short in winning the title. Although there are Cena fans who'd love to see him surpass the 16-time record, with Cena now working a limited schedule, it appears it may not happen.
Wrestling fans criticize Charlotte Flair's championship reigns
With Cena out of contention, Charlotte is the next logical choice to surpass her father's record. Although Charlotte's already having a historic career, critics believe she's only getting these opportunities because of Ric. After her recent championship win at SummerSlam, detractors immediately blasted WWE's decision.
In a Twitter thread, fans showed their dislike of Charlotte's recent championship reign. "Charlotte, you don't need a title. all your reigns are meaningless,' wrote one critic. "What is with this obsession of constantly giving Charlotte a title run. I don't get it," another commenter chimed in. Despite the criticism of Charlotte's multiple championship reigns, she's one of WWE's greatest talents. As the current RAW Women's Champion, she is ready to defend her title against all challengers.