'Yellowjackets': Jasmin Savoy Brown Shares Her Heartbreaking Van Theory
Jasmin Savoy Brown explains why she thinks Van dies in 'Yellowjackets' and how.
Yellowjackets fans have been coming up with theories since the premiere. Surprisingly, some of the stars of the Showtime show have been doing the same. Jasmin Savoy Brown, who plays teen Taissa, revealed her heartbreaking theory about Van.
[Warning: This article contains spoilers for Yellowjackets Season 1.]
Van and Taissa are in love and stranded on 'Yellowjackets'
Season 1 starts with the Yellowjackets soccer team stranded in the wilderness after their private jet crashes. Luckily, Van and Taissa survive, and it turns out they have a romantic relationship.
At first, they keep their relationship a secret from the other survivors. But eventually, they reveal their relationship.
It's unclear what happened between then and when they were rescued. The future shows Taissa (Tawny Cypress) married to Simone (Rukiya Bernard). They also have a kid together. Adult Taissa hasn't mentioned Van, which makes her fate a mystery to the audience.
Jasmin Savoy Brown thinks Van dies by drowning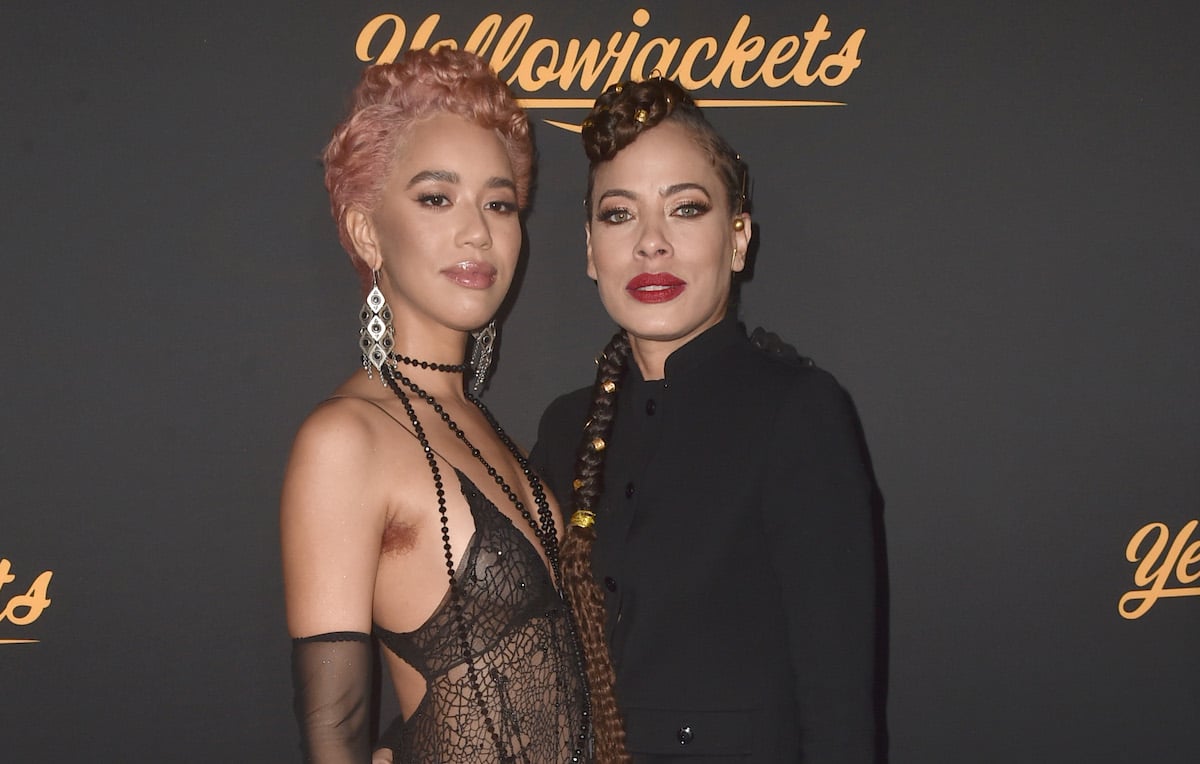 Some of the stars of the show are also fans of it. Brown and Liv Hewson (who is non-binary and uses they/them pronouns) were guests on the Dyking Out podcast. They talked about theories.
"I'm theorizing with everyone on Reddit, and I have all kinds of theories because we don't actually know," Brown revealed. "Oh, it's so fun."
"I think all of us, to varying degrees, dip our toes in a little bit. Like some of us check in on the audience more than others. But we'll text each other funny sh*t," Hewson said. 
However, Hewson said they don't come up with theories because the writers won't confirm or deny them. Brown did reveal one of her theories. 
"Van's gonna die, but not until like right before, I mean right before the girls get rescued," she said. "And it'll be like drowning because that's the opposite of the fire survival. Survive all these fires and then, like I don't know, drowns. How sad would that be?"
Hewson didn't count out their co-star's theory. "I can see it. We're talking like helicopter blades audibly [laughs]," they said. 
'Yellowjackets' Season 1 ended with big turns for Taissa and Van
The Showtime show will return for another season. Season 2 will reportedly premiere at the end of 2022, according to Vulture.
Season 1 ended with Van becoming a follower of Lottie's (Courtney Eaton) cult. That's because she said she saw something during her near-death experience of getting mauled by a wolf then burned alive.
Taissa said she didn't believe in that but decided to be more supportive when Van said this could hurt their relationship. The season ended, showing an adult Taissa made an altar in her home, so she might become a believer.