'Yellowstone' Announces Major Cast Shake-Up Amid Season 4 Delay
The Yellowstone Season 4 premiere date still remains a mystery. But the Paramount Network finally gave fans a hint about when the western would return in a recent one-minute video teaser.
The Dutton family will be back sometime "this fall." In the meantime, Taylor Sheridan's popular series has announced a major cast shake-up.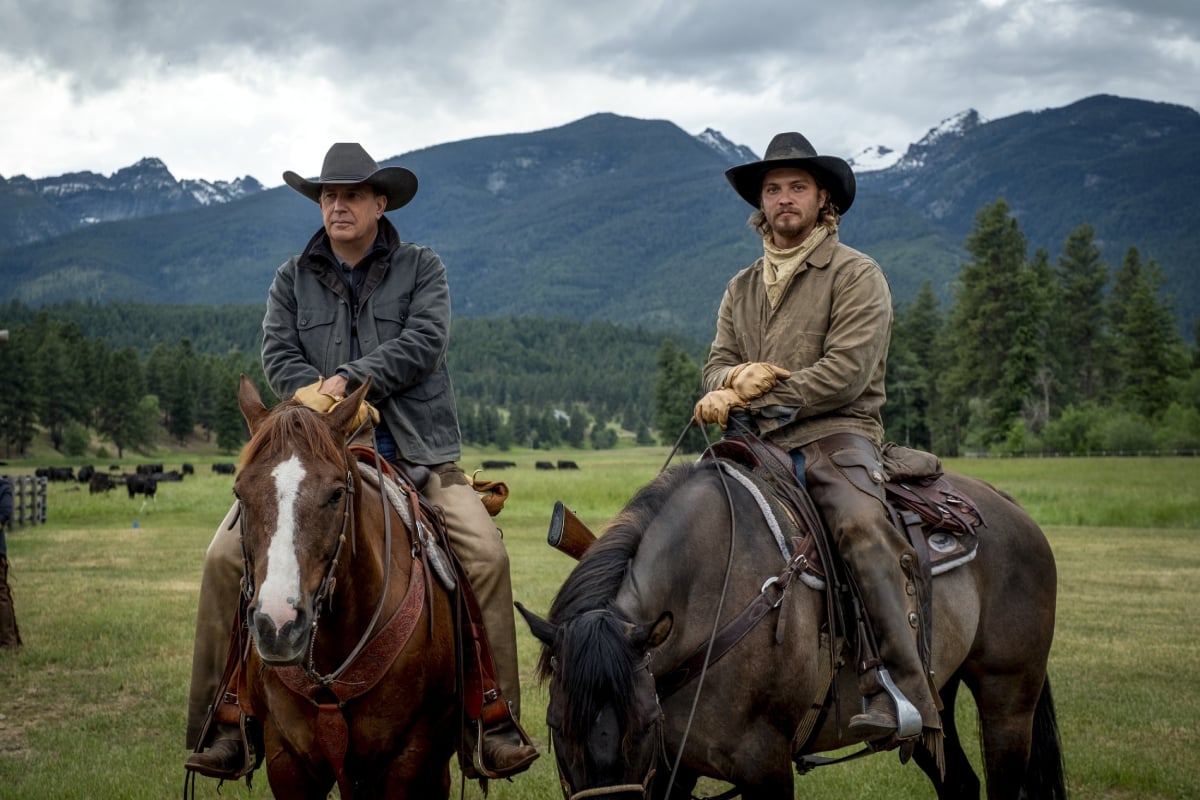 John Dutton is alive in season 4 of 'Yellowstone'
The explosive season 3 finale of Yellowstone saw an ambush against the Dutton family that left John (Kevin Costner), Beth (Kelly Reilly), and Kayce (Luke Grimes) fighting for their lives. Kayce was in his office when a team of gunmen attacked. At the same time, Beth was packing up her office when her assistant picked up a package that exploded.
Then there was Dutton patriarch John, who was left on the side of the road after being shot by an unknown gunman while helping a woman change a flat tire. It's still not clear who lived and who died. But, the season 4 teaser does show that John is still alive when Rip Wheeler (Cole Hauser) finds him.
One character has been promoted to series regular
During season 3, fans found out that Jamie Dutton (Wes Bentley) was not John's biological son. The truth was that Jamie's real father had killed his mother, which sent him to prison for decades. John adopted Jamie and never told him the truth about his family.
Now, Jamie's real dad — Garrett Randall (Will Patton) — is out of prison and back in his son's life. He only made a couple of brief appearances in season 3. But when he talked to his son, he told him he had to "kill the king" to take over the Dutton family ranch.
According to Pop Culture, Patton has signed for season 4 as a series regular. This means fans will see a whole lot more of Garrett Randall moving forward.
RELATED: 'Yellowstone': Cole Hauser Teases the Season 4 Premiere — 'Everybody's in Danger in Montana'
'Yellowstone' announces major cast shakeup
In addition to Patton joining the Yellowstone cast as a series regular, fans will also meet four new characters in season 4. The show has announced a major cast shakeup, revealing that John's battle with Market Equities over his land has only just begun.
RELATED: 'Yellowstone' Season 4: Did Cole Hauser and Kelly Reilly Just Accidentally Confirm Beth Dutton Survived the Season 3 Finale?
Season 4 will see the debut of Jacki Weaver as Caroline Warner, the CEO of Market Equities. She has signed on for a recurring role, which means fans won't see her in every episode. But, her presence will definitely be made known this season.
The Duttons will gain another enemy
During the first three seasons of Yellowstone, the Dutton family has fought to keep their ranch from private companies, the state of Montana, and the Broken Rock Reservation. They definitely have a number of enemies, and they're about to get one more.
Piper Perabo will be joining the cast as Summer Higgins, a political activist and protester from Portland who wants to defund the police and argues against harmful farming and killing of animals. Could she possibly be interested in the dinosaur bones found in season 1? Fans will have to wait and see.
Two more new characters are coming to 'Yellowstone'
Nashville vet Kathryn Kelly will be joining the cast of Yellowstone as a vet tech named Emily. According to Cinema Blend, the recurring character forms a bond with a cowboy on the Dutton ranch.
Finally, Those Who Wish Me Dead star Finn Little has been added to the cast for season 4 as a series regular. The young actor will play the role of Carter, a teenage boy who the Dutton family takes in.
RELATED: 'Yellowstone' Season 4: Luke Grimes Hints There Could Be More Trouble Ahead For Kayce and Monica
Rumor has it, the young character has a similar back story to ranch foreman Rip, who came to the Yellowstone ranch as an orphan. But fans will have to wait and see when the western returns "this fall."
Yellowstone seasons 1 through 3 are available on Peacock.