'Yellowstone': How Did Rip Wheeler End Up at the Dutton Ranch?
Yellowstone ranch hand Rip Wheeler (Cole Hauser) has been John Dutton's (Kevin Costner) secret weapon in the first three seasons. Even though he's not a Dutton, there's been no one willing to do more than Rip when it comes to saving the precious Yellowstone Ranch. How did Rip end up at the ranch, and why is he so loyal to the Duttons?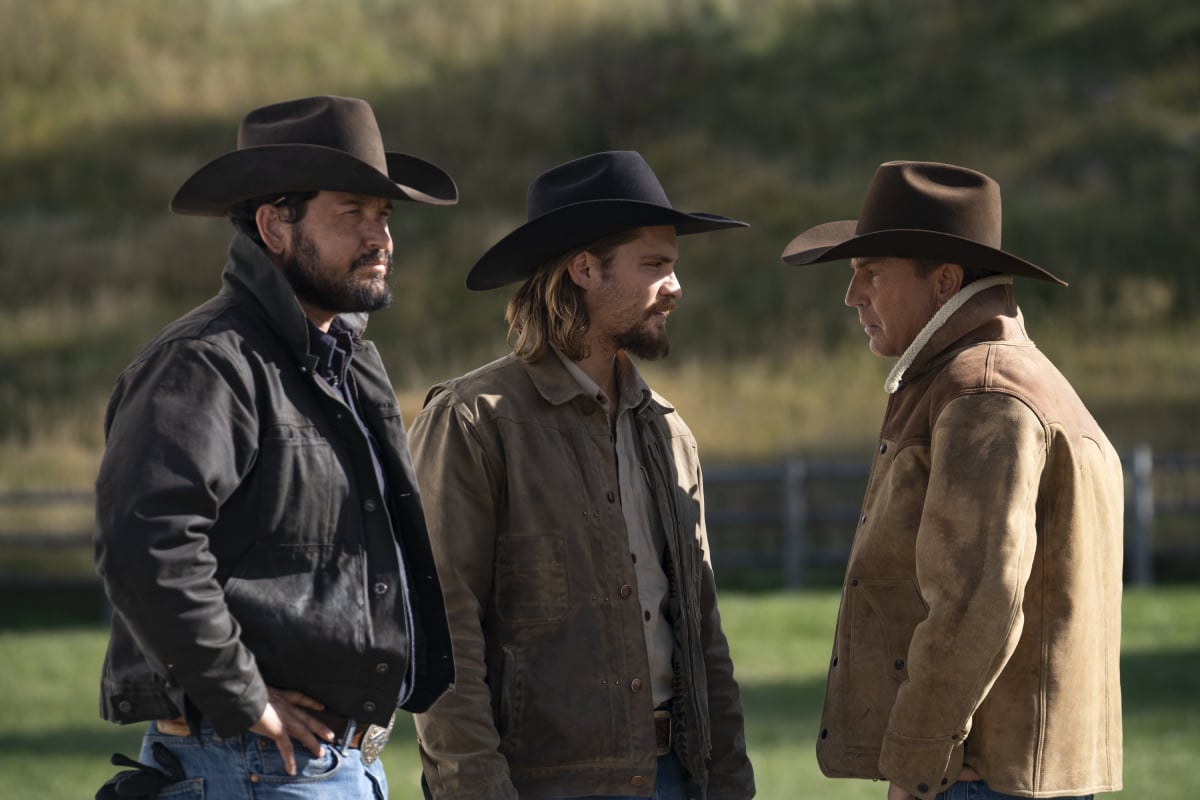 'Yellowstone' season 1 flashed back to Rip Wheeler's tragic backstory
Season 1, Episode 8 of Yellowstone "The Unravelling, Part One," opened with a flashback to 1997. A teenage boy has been knocked unconscious with his face bloodied. When he wakes up, he finds his younger brother dead on the floor. And sees his father viciously beating his mother to death.
This young teen is Rip Wheeler (Kyle Red Silverstein), who grew up near Miles City, Montana, on a pig farm. His dad had returned to the farm to kill his ex-wife and sons — but Rip was able to save himself. He got out alive by cracking his father's skull open with a frying pan and killing him.
The sheriff called John Dutton when he found the boy
After killing his father, Rip was found sleeping in a hayloft. This prompted the sheriff to call the commissioner of the Montana Livestock Association — John Dutton — to take a look. John had heard about what happened at the farm, and Rip confirmed it was true.
The locals branded Rip a "monster" and blamed him for what happened. But when John talked with the teenager, he didn't feel the same way. The Dutton patriarch decided Rip deserved a second chance. So, he offered to take him in and give him a job at the Yellowstone Ranch.
Beth and Rip's romance on 'Yellowstone' has been a slow burn
When John offered to take Rip in, he warned him there would be a heavy price to pay and a lot of "pain" would be involved. In response, the boy said he'd already dealt with a lot of pain and he was used to it. So, Rip accepted John's offer and moved to the Dutton Ranch.
Right away, Rip met the boss' daughter, Beth Dutton (Kylie Rogers), and there's an immediate attraction between the two. This sparked a teenage romance that has continued into adulthood, but it's been off more than it's been on.
It's a slow burn, but they are always drawn back to each other in some way. As Entertainment Weekly notes, both Rip and Beth have done some dirty deeds and have a lot of secrets. But this has become "a sort of love language between them."
The ranch hand has the brand
Rip is a man of few words, but he's a deadly force on the Dutton Ranch. He bought into John's ranch mentality of winner-take-all as soon as he arrived, and he's been loyal ever since. He's got the Yellowstone brand on his chest, and he does whatever it takes to protect the Duttons and their land.
By the end of season 3, Rip was ready to marry into the family when he and Beth (Kelly Reilly) got engaged. He even went to his mother's grave to get her ring to give to his fiancée. But thanks to the explosive events of the finale, fans think Rip will be out for revenge in season 4.
'Yellowstone' fans love Rip Wheeler
He may not be an official Dutton, but Rip is one of the most popular characters on Yellowstone. Fans absolutely love him, and they make that very clear on the show's Instagram page.
"Rip gets s–t done," one fan wrote. "Certainly the epitome of loyalty to those he calls family and devotion to the woman he loves. As much as I love the banter between Rip and Beth, I love the dynamic between Rip and Jimmy. There is something so heartwarming, but heartbreaking as well."
Another added, "My favorite of all. Everyone needs a little (or a lot) of Rip in their life!!!" A third wrote, "All Women Dream of a Man like RIP. Someone to Protect Us and Love Us like he Loves Beth.🤩💗."
Yellowstone seasons 1 through 3 are available on Peacock. Season 4 is expected to premiere in November on the Paramount Network.