'Yellowstone': Kayce and John Dutton's Complicated Relationship Explained
Yellowstone is an epic family drama filled with complex relationships. One of those is between Dutton family patriarch John (Kevin Costner) and his son Kayce (Luke Grimes). When the series began, Kayce was reluctant to get too involved in the ranch and the lifestyle that came with it.
But it was also revealed that Kayce had the Dutton Yellowstone brand on his chest, which is considered a sign of loyalty. Here's Kayce and John Dutton's complicated relationship explained.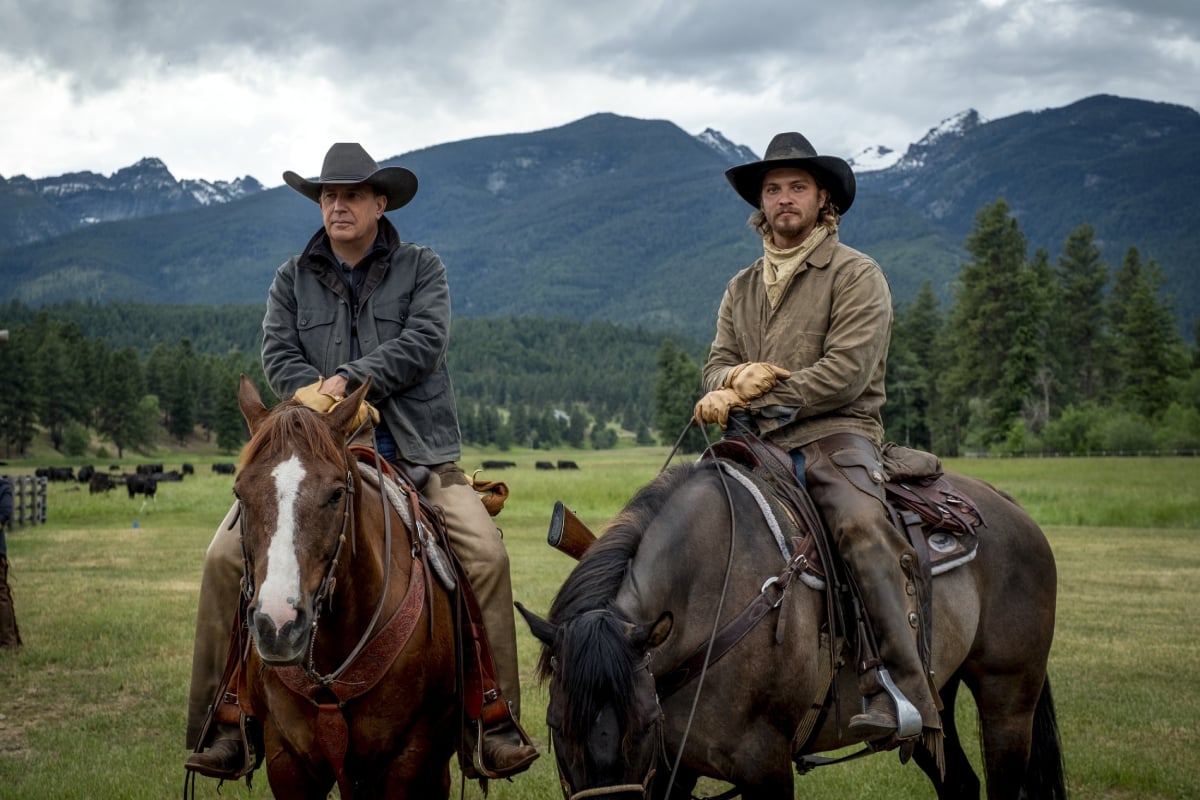 John and Kayce Dutton were estranged at the beginning of 'Yellowstone'
When the Paramount series began, John and Kayce were estranged. John's actions had resulted in his son leaving the family ranch. The ex-Navy SEAL opted, instead, to live on the Broken Rock Reservation with his wife Monica (Kelsey Asbille) and their son Tate (Brecken Merrill).
In the season 1 episode "The Remembering" John revealed a Dutton family secret to Monica. He told her that he forced Kayce to get the Yellowstone brand because he had "disobeyed" him in the past.
The cause of John and Kayce's rift revealed
Halfway through season 1, the cause of the rift between father and son was revealed. It happened when Monica asked John why Kayce "hates" him so much. The patriarch explained that when Kayce got Monica pregnant and chose to keep the baby — against John's orders — he forced his son to take the brand.
"He disobeyed me one too many times. … He told me he got some girl he barely knew pregnant and he was gonna marry her," John told Monica, with her suddenly realizing he was talking about her. "I told him to take you to the clinic and not let you leave until you had an abortion, but he wouldn't do it."
John also revealed that Kayce's brand was not at the hands of his father or other cowboys. Instead, he branded himself.
Why do 'Yellowstone' cowboys get branded?
John's confession to Monica came after she stumbled across ranch hands conducting a branding ceremony. Kayce is one of many who have the brand, but some have it for different reasons than others.
"Why do they do it?" Monica asked. "The brand, why do the cowboys do that?"
RELATED: 'Yellowstone': Why Do They Brand the Cowboys?
John responds, "They don't all do it, just the ones who got a second chance. I guess it's a way they can prove they can be trusted."
As ComicBook.com points out, John was explaining to his daughter-in-law that many of the branded ranch hands are criminals. They are trusted to protect the Dutton ranch while "carrying out various misdeeds."
The brand is a mark of loyalty
The Yellowstone brand is a unique mark that resembles a large Y. It's usually found on people's chests, and it represents that they belong to the Yellowstone Ranch, as well as the Dutton family. For many new ranch-hands, the branding is an oath. A mark of loyalty and property.
To get the brand, the Y-shaped iron is heated over a flame. Then, it's placed on the person's chest.
Fans have some theories about the 'Yellowstone' brand
The meaning of the Yellowstone brand appears to be different things to different people, and fans have their theories about it. One Reddit user wrote, "The brand isn't something you earn, it's something you live up to…"
Another commented that the brand was a "second chance," and that "this ranch will have your back. We're a family here."
RELATED: 'Yellowstone': Cole Hauser Teases the Season 4 Premiere — 'Everybody's in Danger in Montana'
In addition to Kayce, others on the Dutton ranch with the brand include Jimmy Hurdstrom (Jefferson White), Rip Wheeler (Cole Hauser), Walker (Ryan Bingham), Colby (Denim Richards), Ryan (Ian Bohen), Lloyd (Forrie Smith), and Teeter (Jennifer Landon).
Yellowstone season 4 is reportedly coming to Paramount Network in 2021. Seasons 1 through 3 are available on Peacock.