'Yellowstone': Kelly Reilly Opens Up About Beth Keeping THAT Secret from Rip — 'One Would Say She Should Tell Him'
ARTICLE HIGHLIGHTS
Yellowstone season 4 has highlighted Beth Dutton's maternal instincts.
Kelly Reilly says there is "something beautiful and poetic" in Beth and Rip taking Carter into their home.
Now that Beth and Rip are seemingly forming a family — when will she tell him THAT secret?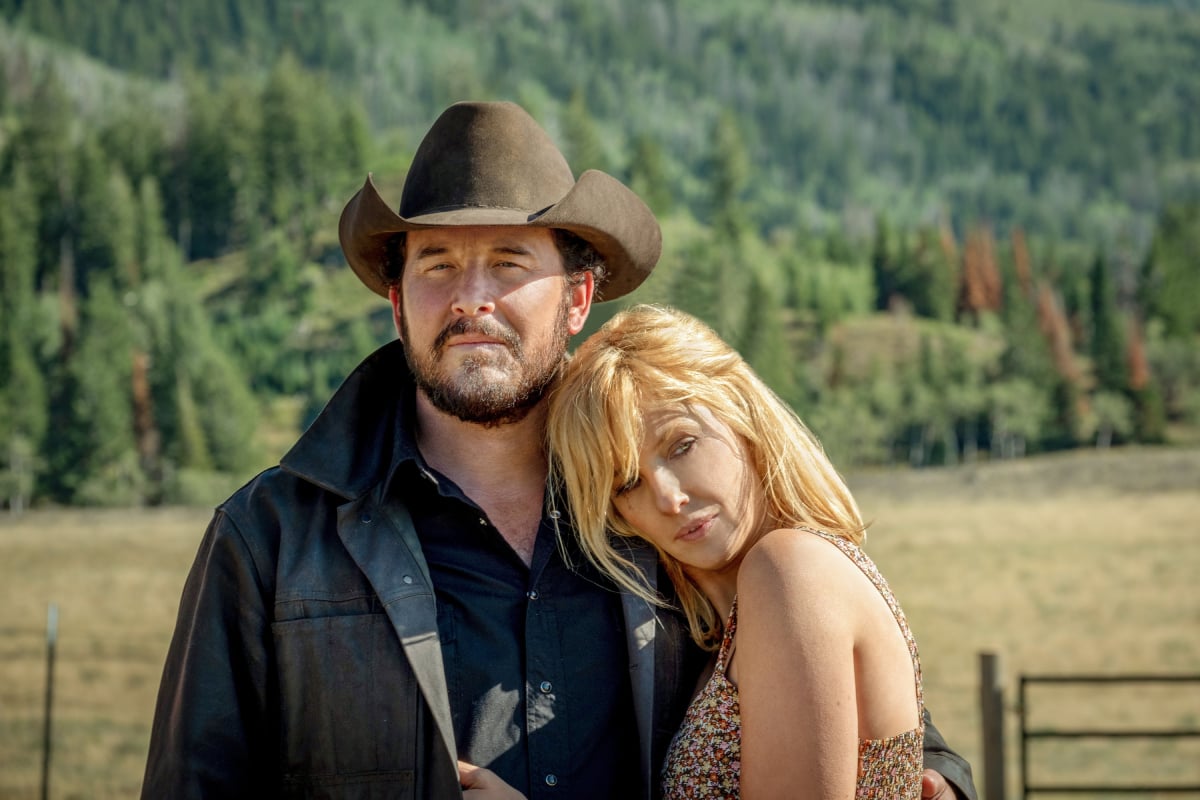 Yellowstone star Kelly Reilly can finally open up about her character, Beth Dutton. Now that fans know she made it out of season 3 alive, Reilly says that Beth is trying to move on and form a family with Rip Wheeler (Cole Hauser). However, she's keeping a big secret from her longtime love. And Reilly admits that "one would say she should tell him."
Did Beth Dutton's maternal instincts come out in 'Yellowstone' season 4?
The season 4 premiere saw teenage boy Carter (Finn Little) arrive at the Dutton's Yellowstone Ranch. Beth met Carter at the hospital, where he was left orphaned after his father died due to drug addiction. Beth sees the similarities between Carter and Rip, who also showed up at the Yellowstone when he was an orphaned teen.
Beth is trying to build a family with Rip and Carter. But Reilly says fans aren't necessarily seeing her maternal instincts come out in her relationship with the teen. Instead, she believes Beth is being compassionate.
"I don't think she's going, "Oh, this is my child for us to go live happily ever after with." She's just thinking that here's this kid who is just like her man, who has nothing, and if she doesn't help him, he has no life," Reilly told TV Line.  "And just in the fact that John Dutton helped Rip when he was a kid on the ranch and she fell in love with him then, there's something poetic and beautiful in that."
Kelly Reilly loves seeing Beth happy
Adding Carter to their family hasn't been any easy transition, and it's just the beginning of Beth's attempt at domestic bliss. Her first shopping trip with the boy ended with her calling it a "pour-the-bottle-in-a-bucket kinda day." And Reilly says it's only going to get worse.
"She's playing it cool, but she really wants it to work out. We've had a little window into seeing her potential for real happiness. I'm not saying that domestic bliss is necessarily real happiness, but it's a tonic to the life that she's had. And it's really lovely to see Beth happy," Reilly said.
"Does it last for very long? Because Taylor Sheridan has other plans for Beth, it's questionable. But she does want it to work out. She sees that for Rip, it would be wonderful for him to have a kid in his life that is similar to him [at that age].
The 'Yellowstone' star says Beth should probably tell Rip THAT secret
In a recent episode, Beth told Rip that one day he would resent her because she can't have his children. This seems to hint that at some point, Beth is going to finally tell Rip that secret she's been keeping from him for years. He knows she can't have kids, but he doesn't know why. And Reilly says it's probably time Rip knows the truth.
"Well, she has a secret, doesn't she, that Rip doesn't know about. He knows that she can't have children, but he doesn't know why," Reilly noted. "Rip also doesn't know she was pregnant with his child. So she's thinking a day might come when he might find out or she will tell him. One would say she should tell him."
Will Rip Wheeler ever find out?
Reilly also pointed out that even though Rip should know the truth, Beth's fear of potentially losing him from that is too great. She says that her character holds herself responsible for not being able to have kids, even though it wasn't her fault.
The actor says that she can't imagine Beth's life without Rip. And doing anything to damage that relationship would destroy her.
"He is her anchor, her rock. He is her home. That would untether her to a point of… [At a loss] I don't know who she would become without that," Reilly said. "Now that she's had that love and allowed herself to fully move into it, and we see how devoted she is and how much she adores him, to lose him would probably cut off the last link to her humanity."
Kelly Reilly isn't sure her 'Yellowstone' character can be a parent
With Carter in the house, Reilly says that Beth is starting to nurture, and cook, and "try out this aspect of herself" she thinks is beautiful. However, that doesn't mean Beth was cut out to be a mom.
"There's something about Carter that pushes her buttons in a way that nothing ever has," she adds. "I don't know that she feels she's actually capable of [parenting him] or if she thinks she'd be any good at it. She's not a Disney character," Reilly said.
New episodes of Yellowstone air Sunday nights on the Paramount Network.