'Yellowstone': Is Lloyd Jimmy's Real Father? Inside the Clue Even the Biggest Fans May Have Missed
Yellowstone fans have had a year to dissect every frame of the first three seasons. Thanks to the delay of season 4 until November, fans have had plenty of time to share numerous theories about who lived and who died in the season 3 cliffhanger.
They've also debated who was behind the attacks. And some claim to have spotted clues about possible story details that casual fans may have missed.
One of those alleged clues concerns Lloyd (Forrie J. Smith) and Jimmy Hurdstrom (Jefferson White). Is it possible that Lloyd is Jimmy's real father?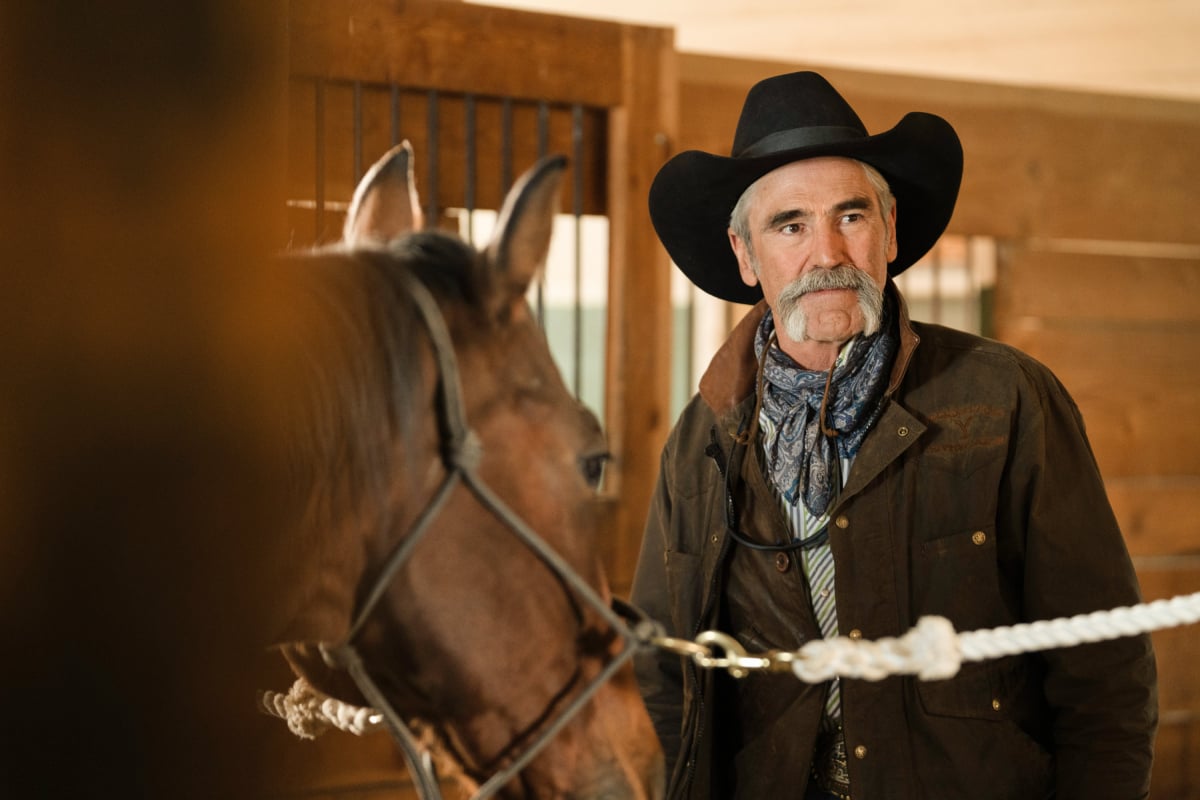 Did Jimmy Hurdstrom make it out of 'Yellowstone' season 3 alive?
It's no secret that the Yellowstone season 3 finale was quite the shocker. The episode ended with the fates of three different Duttons hanging in the balance. At the same time, Jimmy found himself in some serious trouble.
Just before the seemingly coordinated attacks on John (Kevin Costner), Beth (Kelly Reilly), and Kayce Dutton (Luke Grimes), the last image fans saw of Jimmy was the ranch hand laying prone in a corral.
Jimmy made John Dutton a promise
Earlier in the series, Jimmy discovered his love of rodeo and started bronc riding to earn some extra cash. But he ended up with serious injuries after getting bucked off during a competition, and John stepped in to take care of his massive medical bills — with one condition.
John made Jimmy promise he wouldn't go back to rodeo and severely injure himself again. At first, he listened. But after getting some encouragement from his girlfriend, Jimmy got back on a horse in the season 3 finale. Which quickly proceeded to buck him off.
Will 'Yellowstone' reveal that Lloyd is Jimmy's real father in season 4?
When Jimmy arrived at the Yellowstone ranch in season 1, old-timer Lloyd took him under his wing. He's been a bit of a father figure and mentor to Jimmy, who has a background of thievery and cooking meth.
According to a fan on Reddit, there could be a big twist coming in season 4. While discussing Jimmy's fate at the end of season 3, the fan shared that they believe Sheridan's western will reveal that Lloyd is actually Jimmy's real father.
'Yellowstone' fans have been debating this theory
The fan wrote: "I think there is too much to learn about Jimmy for him to die. It's clear his father is Lloyd, and they need to explore that more. Though I think they could explore that with Jimmy's death. I suspect he'll be wheelchair-bound, and the loyalty to the brand will be demonstrated to go both ways."
But not everyone is convinced. One fan believes that the reason Lloyd looks out for Jimmy is because he's "the youngest and most inexperienced branded man in the bunkhouse."
"In general, Lloyd just seems to have a soft spot for the new additions to the Bunk House," they theorized.
In response to the pushback on the Yellowstone Reddit thread, the original poster doubled down and told fans to rewatch the series.
"You gotta go back and watch their interactions! That's my theory!! I think there's a line where they say 'could be someone's son on the ranch,'" the fan explained.
Could the 'Yellowstone' character be headed to Texas?
Yellowstone creator Taylor Sheridan currently has six projects in the works, including two Yellowstone spinoffs. One of those has the working title of 6666, and is inspired by the real-life Four Sixes Ranch in Texas.
Sheridan has not shared any details about his 6666 spinoff. But according to the Paramount Network's series description, the Four Sixes ranch is where "world-class cowboys are born and made." It's also the location of some of the finest cattle and quarter horses in the world.
"Still operating as it did two centuries before, and encompassing an entire county, the 6666 is where the rule of law and the laws of nature merge in a place where the most dangerous thing one does is the next thing," the 6666 series description reads.
Some fans have theorized that Jimmy will survive the season 3 Yellowstone finale, and then head south to Texas to star in the spinoff.
Yellowstone season 4 will premiere Sunday, Nov. 7 on the Paramount Network. A premiere date for 6666 has not yet been announced.