'Yellowstone': Rip and Beth's 9 Most Romantic Moments
Yellowstone fans cannot get enough of Rip Wheeler (Cole Hauser) and Beth Dutton's (Kelly Reilly) romance. The undeniable chemistry between two of the Western's most popular characters has made them one of TV's hottest couples. While fans wait for season 4 and the next chapter of their love story, here are Rip and Beth's nine most romantic moments.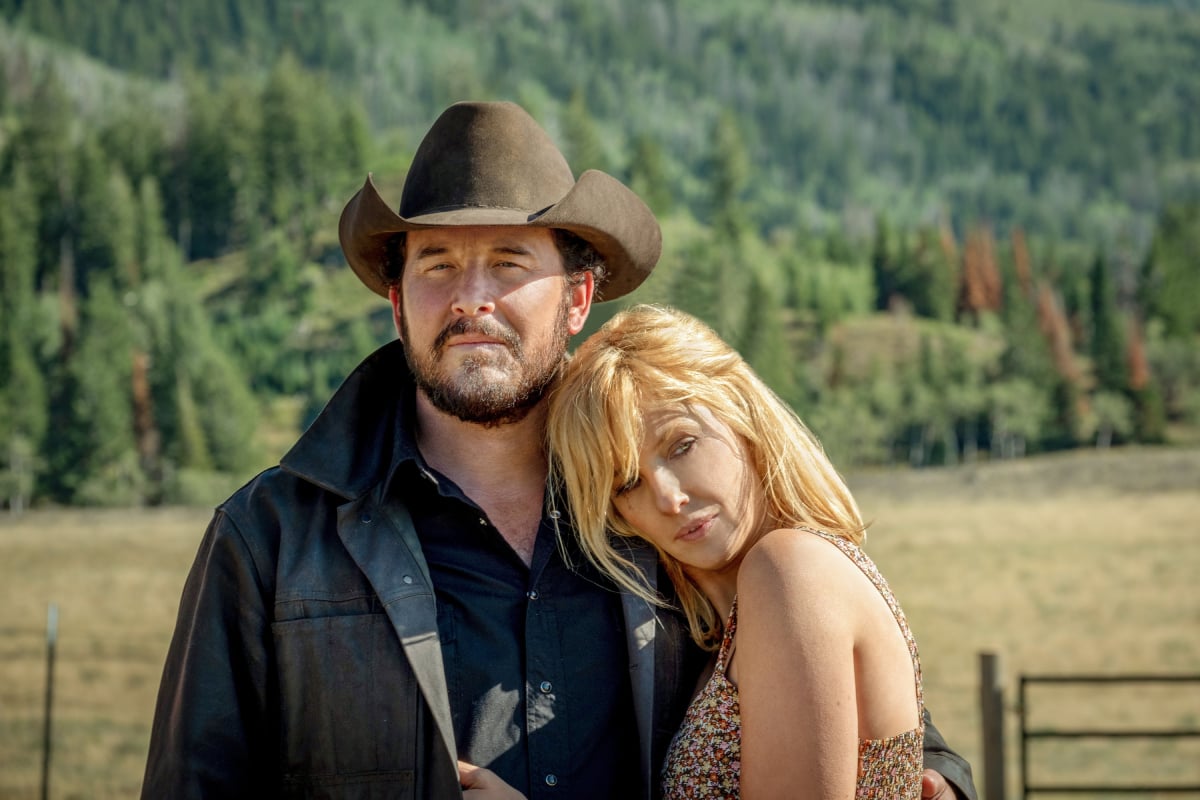 9. A morbid first date during 'Yellowstone' season 1
In the season 1 episode titled "Kill the Messenger," the two finally had their first "real" date. Rip suggested they go to a music festival.
Instead, the duo sat in Rip's truck and drank whiskey from the bottle while watching a pack of wolves eat a deer carcass in a field.
"I've done some morbid s**t on the first date, but this takes the cake, Rip," Beth says with a laugh.
8. Cheating death
As the date continued, it was clear that they had been in a similar situation before. But as Beth tells Rip, "the statute of limitations on our first date ran out years ago."
Rip then tells Beth that he's gotten older, but she hasn't aged at all. He says, "You might just cheat death yet."
Beth immediately took that comment as a challenge. She jumped out of the truck and started running toward the wolves.
Rip goes after her, and when he catches up to Beth he gets on to her for putting herself in harm's way. It's at this moment that Beth tells Rip in her own way that she loves him.
"It's only the things I love that die, Rip, never me," Beth says. "Come to think of it, I'm surprised you're still standing."
7. Almost like a music festival
During one of Rip and Beth's dates, they're sitting at the bar having a drink before a night of dancing and live music. She tells him it's "almost like a music festival" before he tells her "you look good in neon."
6. A true 'Yellowstone' romance means sipping whiskey and staring at the stars
As Rip and Beth sat on a rooftop during Season 2, Episode 7 "Resurrection Day," Yellowstone fans knew that Rip was going to tell Beth that he loved her. But things don't go exactly as he had planned.
"I'm off it being a crutch, but I'll sip whiskey and stare at the stars with you, Rip," Beth says, as Rip stares at her without saying a word.
"Don't say it. It doesn't mean anything on a roof, under stars, like a bunch of f**king hippies. You tell me… Tell me when it saves me."
5. Taking things to the next level
RELATED: 'Yellowstone' Season 4: Kelly Reilly and Cole Hauser Don't See Eye-to-Eye on Beth and Rip's Future
In the season 3 premiere, Beth has a rare moment of vulnerability when she calls Rip her "new boyfriend" at the local convenience store. Then, the relationship heated up back at the ranch when things got steamy between the two.
4. Calling Rip 'baby'
In one of the most tender moments between Rip and Beth, she calls him "baby" for the first time. He loved it so much that he asked Beth to repeat herself. Then, he asked her what she would like to be called.
3. Slow dancing under the barn spotlight
With a shotgun in his hand, Rip is looking to quiet what he thinks is a coyote, when he realizes the animal sounds are coming from Beth. She tells him that they can do anything they want since everyone else is away.
Rip tells her, "Baby, you've been doing whatever you want your whole damn life." Then he flicks on the lights, puts on some music, and slow dances with Beth in the barn under the spotlight.
2. Calling Beth 'wife'
In response, Beth tells Rip that she wants him to call her "wife." Then, she immediately gets embarrassed, tells Rip that she "takes it back," and runs off. Later, Beth explains herself.
"You know why I always run away? Because there's only so much that I can give you, Rip. I can't have children. You need to know that. Being with me is the end of you," Beth says.
He tells her that he doesn't want kids "running around the ranch. He adds, "you're all I need."
1. The 'Yellowstone' couple gets engaged
Fans waited for three seasons before they finally got what they wanted from Beth and Rip — an engagement. But as John Dutton (Kevin Costner) tells Beth, she is the one who will have to do the asking.