'Yellowstone': Season 3 Recap Ahead of the Season 4 Premiere
Yellowstone season 1 introduced fans to the Dutton family and their enemies. While season 2 saw patriarch John Dutton (Kevin Costner) team up with those enemies to take out a new threat.
In season 3, Yellowstone really came into its own and found its footing, as the Duttons faced yet another foe interested in taking their land. The season ended with a massive cliffhanger that left three Duttons in serious danger and fighting for their lives.
As the premiere of Yellowstone season 4 approaches, it's time to look back on the episodes that came before to get a quick reminder. Here is everything you need to know about Yellowstone season 3.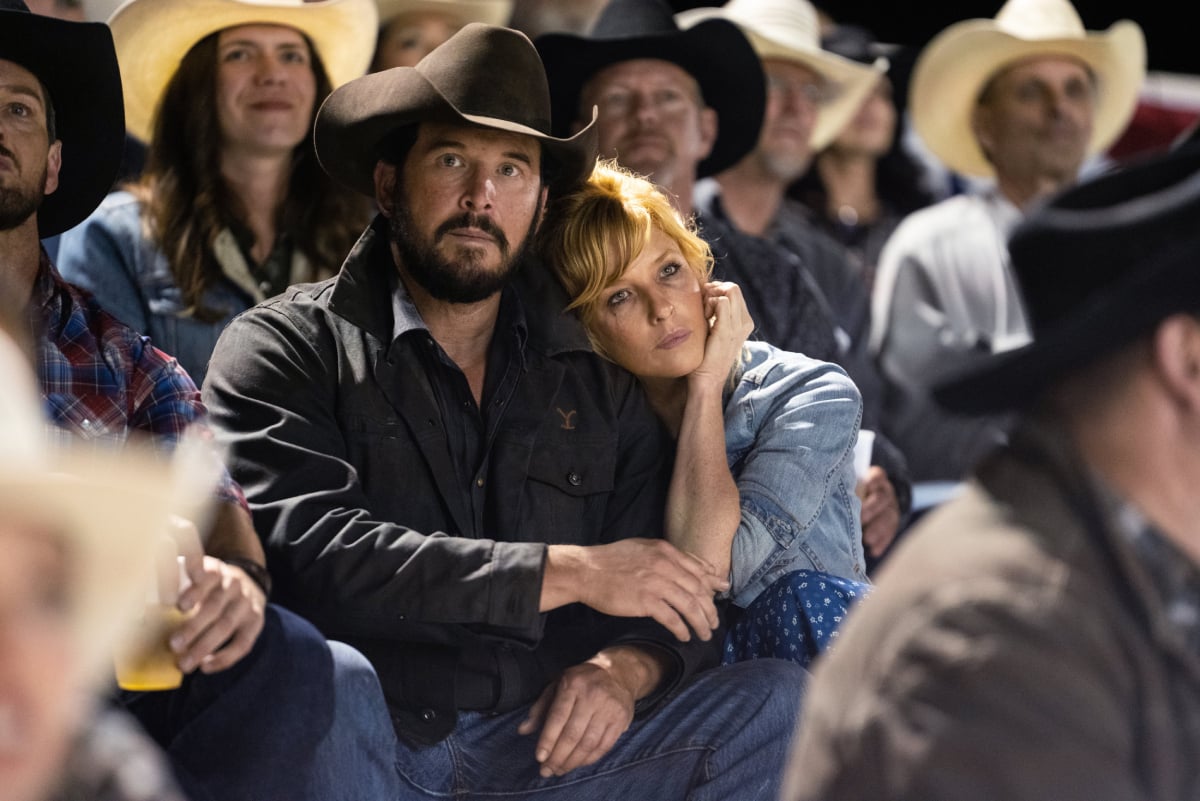 Tate struggles with trauma from his kidnapping at the beginning of 'Yellowstone' season 3
Yellowstone season 2 ended with the rescue of Kayce (Luke Grimes) and Monica's (Kelsey Asbille) son Tate after he was kidnapped. As season 3 begins, Monica and Tate are still living on the ranch with Kayce, and it's become a more permanent situation.
To help Tate recover from his trauma, Monica sends Tate out to camp on the ranch with John. This also gives Kayce and Monica the chance to repair their broken marriage.
At the same time, Jamie is back to work as the attorney for the Dutton Ranch, and he works his legal magic to protect his family from facing the consequences of killing the Beck Brothers and their men.
Kayce takes over as Livestock Commissioner
Amid the fallout of the Beck Brothers attack, John agrees to give up his role of Livestock Commissioner, which is an office that "protects" the ranch. The job eventually goes to Kayce, who absolutely excels in the role.
Meanwhile, the Duttons discover that a new enemy is in town — Market Equities. This investment group bought up Jenkins' place and wants to buy the Dutton Ranch. They also want to put an airport on the property. A man named Roarke (Josh Holloway) is in town to figure out how to make that happen.
John Dutton turns down a massive offer to buy his ranch in 'Yellowstone' season 3
Roarke and Market Equities want to make John Dutton and the other ranchers in the area insanely rich by buying up their property. They put together an offer of $500 million for the Dutton Ranch, which John declines.
He made a promise to his father to keep the land in the family and protect the legacy, and that's what he is determined to do. Despite the fact that the land will continue to appreciate until he can no longer afford it.
However, both Beth (Kelly Reilly) and Jamie (Wes Bentley) believe their dad should take the money and sell it. Despite her opinion, Beth continues to support her father and starts shorting Market Equities stock to fight them.
Jamie Dutton finds out the truth about his parents
Around this time, the governor suddenly taps Jamie to become Montana's Attorney General. This is when Jamie discovers that he's not a biological Dutton. Instead, John and his late wife Evelyn adopted Jamie when he was a baby after his dad killed his mother.
Jamie is able to track down his real father — who is now out of prison — who tells him the only way to take over the Dutton empire is to "kill the king."
As for his siblings, Kayce continues to excel as Livestock Commissioner and the ranchers want him to run for Governor. While Beth and Rip (Cole Hauser) have decided to take their relationship to the next level and get engaged. But Beth has yet to tell Rip the reason she can't have children.
'Yellowstone' season 3 ended with a massive cliffhanger
The Yellowstone season 3 finale ended with what appeared to be a coordinated attack on the Dutton family. John was shot on the side of the road while helping a woman change a flat tire.
Kayce was heading for cover behind his desk after gunmen stormed his office. And Beth was packing up her office when her assistant opened a package that exploded. The season ended with fans wondering who was behind the attacks, and uncertainty about who would make it out of season 3 alive.
Fans will find out who lives and who dies when Yellowstone season 4 premieres on the Paramount Network on Sunday, Nov. 7. Seasons 1 through 3 are available exclusively on Peacock.