Did the 'Yellowstone' Season 4 Trailer Just Confirm That It Was Actually Jamie Behind the Attacks?
Yellowstone has finally dropped the official trailer for season 4 and it promises that "everybody pays" in the highly-anticipated, action-packed upcoming season. One of the biggest questions fans have going into the premiere is: who was behind the attacks on the Duttons in the season 3 finale?
The new 65-second clip may have just given them their answer. Did the trailer just confirm that Jamie was the culprit?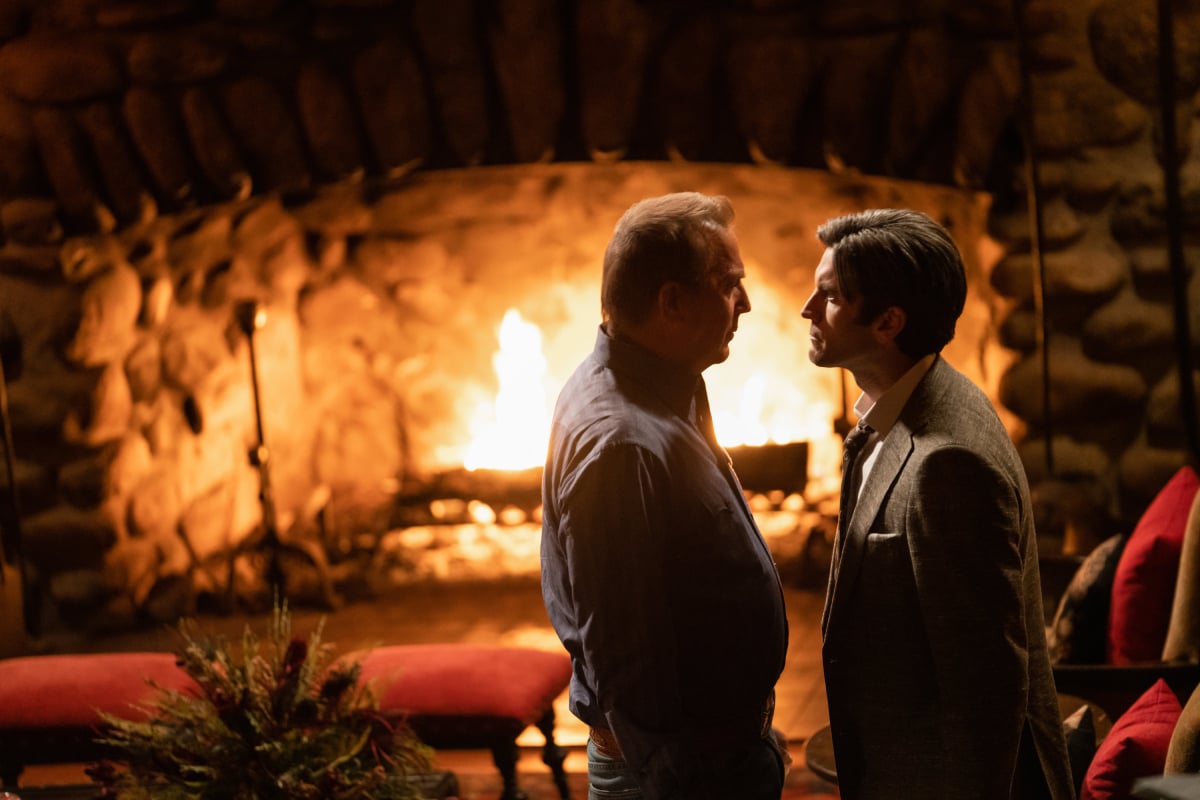 Who made it out of 'Yellowstone' season 3 alive?
As fans know, the explosive season 3 finale ended with the fates of John Dutton (Kevin Costner), Beth Dutton (Kelly Reilly), and Kayce Dutton (Luke Grimes) up in the air. John was on the side of the road helping a woman change a tire when an unknown man drove up and shot him.
At the same time, Beth was in her office at Schwartz & Meyer when a package exploded. And Kayce was in his Livestock Commissioner office when armed men stormed in, forcing him to take cover behind his desk.
Jamie Dutton's reaction is 'Oh my God'
The season 4 trailer begins with a quick reminder of the attacks on the Dutton family. Then, it gives fans their first good look at new footage. There's a lot going on, and a ton of details to unpack. But one thing fans definitely noticed was the focus on Jamie Dutton (Wes Bentley).
The first image fans see of Jamie in the trailer is a close-up of the new Montana Attorney General sitting in his office. He looks and acts a bit surprised, but simply says "oh my God." The implication is that he just found out about the attacks on his family. Of course, this could be very misleading. There's no guarantee that's what he was reacting to.
Did the 'Yellowstone' season 4 trailer just confirm Jamie was behind the attacks?
What really had Yellowstone fans thinking the trailer was pointing the finger at Jamie was the exchange with his biological father, Garrett Randall (Will Patton). In season 3, Garrett told Jamie that he should be running the Dutton Ranch. And the only way to take over an empire is to "kill the king."
Now, in the trailer, Garrett says, "Fair. Moral. Those are words men invented to scare and shame other men from taking back what they've stolen." But "what about right or wrong?" Jamie asks, with his hand shaking as he holds a gun. "There's no such thing," Garrett says.
This shocking exchange — plus the fact that Yellowstone has promoted Patton to a series regular in season 4 — has many fans believing that Jamie is the one to blame for the attacks on his family in the season 3 finale.
Fans are expecting all three Duttons to survive
The trailer teased a lot for the upcoming season, but it didn't give any indication as to who lives and who dies. Rip Wheeler (Cole Hauser) can be heard telling John "Don't you die on me now, not like this." But there was no confirmation that John made it out of season 3 alive. The same can be said for Beth and Kayce.
However, fans are pretty certain that Costner isn't going anywhere. No one believes he's been written out of the number one drama on cable TV. Still, the trailer is keeping his fate a mystery. There are also no images of Beth and Kayce in the new season 4 footage. Despite the growing consensus among fans that all three Duttons survived, Yellowstone isn't giving up any spoilers.
'Yellowstone' fans are going crazy over the season 4 trailer
The fan reaction to the new trailer was swift, with many writing general comments like "OMG" and "Can't wait!" But some did go into a little more detail.
"John CANNOT die. Beth can't. Casey can't. Rip won't. The only one expendable is Jamie the sissy pants Judas," one fan wrote. Another added, "Two MORE months 😭😭😭 we need this like NOW! America needs happy and watching Rip kill everyone will make me happy."
One fan chimed in to share her theory on what she believes will happen next. But she wasn't convinced that Jamie was behind the attacks.
"I hope we get to see Wes Bentley go bad because he's so good at playing a villain," the fan shared. "But I do think he will wind up saving the ranch after the shock and anger wears off. I think he's going to wind up killing his bio dad in the end because deep down he's a Dutton and he always wanted John's approval."
Season 4 of Yellowstone premieres Sunday, November 7 on the Paramount Network. Catch up on seasons 1 through 3 on Peacock.