'Yellowstone' Star Gil Birmingham Says Season 4 Will 'Change Your Life' (Exclusive)
ARTICLE HIGHLIGHTS
Gil Birmingham says Chief Rainwater is 'strategizing' in season 4 of Yellowstone.
There's a close relationship between the Broken Rock Reservation and the Duttons.
Birmingham praises Taylor Sheridan while also promising that season 4 of Yellowstone will "change your life."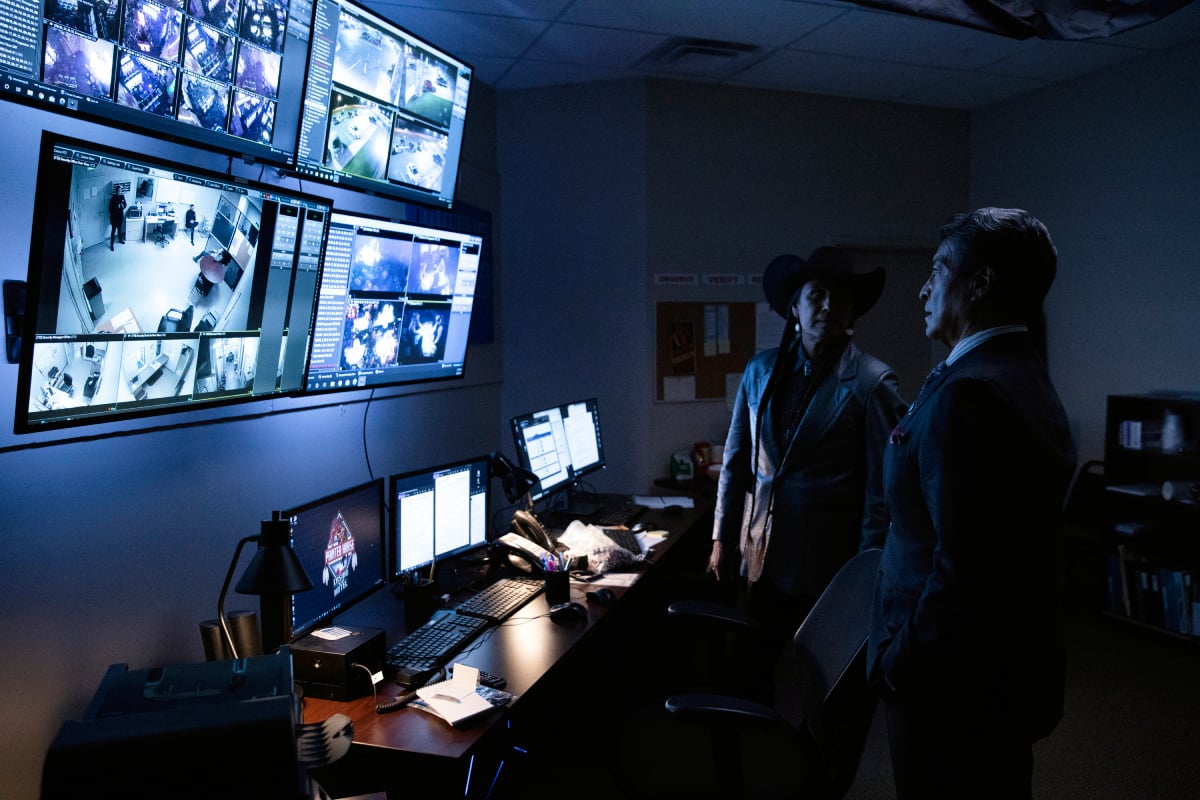 Yellowstone fans, the wait is over. The Paramount Network aired the season 3 finale back in August 2020. Now, nearly 15 months later, the season 4 premiere is finally here. According to star Gil Birmingham (Chief Thomas Rainwater), season 4 of Yellowstone is absolutely worth the wait. In fact, he promises it will "change your life."
Who survived the 'Yellowstone' season 3 finale?
The first question that Yellowstone fans want answered in the season 4 premiere is: who survived the season 3 finale? Three Duttons were under attack in the final moments — John (Kevin Costner), Beth (Kelly Reilly), and Kayce (Luke Grimes). And there was no guarantee any of them would make it out alive.
John was on the side of the road helping a woman and her child change a flat tire when an unknown man drove up and shot him, leaving him for dead. Meanwhile, Beth was cleaning out her office when her assistant opened a suspicious package and a bomb exploded. And Kayce was in the Livestock Commissioner's office when a group of armed men stormed in spraying bullets, forcing him to take cover behind his desk.
Chief Rainwater is 'strategizing' in season 4
The last time fans saw Chief Rainwater, he had left an important meeting with the Montana governor, Attorney General Jamie Dutton (Wes Bentley), John Dutton, and Market Equities over the Dutton land. Birmingham says that Chief Rainwater will not be backing down in season 4 because his tribe has a rightful claim — no matter if John Dutton survived or not.
"Rainwater's educated enough to know that the contemporary world will just really lead to annihilation and upset people," Birmingham told Showbiz Cheat Sheet exclusively. "He is strategizing, he uses the system. He learned the system and he's going to use it to benefit his people."
Gil Birmingham promises 'Yellowstone' season 4 will 'change your life'
Birmingham wouldn't share any secrets about Yellowstone season 4. But when we asked him to describe it in one word, he made a big promise.
"It'll change your life," Birmingham declared, before asking "Is that a word or phrase?"
The actor also noted that fans will enjoy the addition of new recurring character Caroline Warner — the CEO of Market Equities — played by Jacki Weaver.
"Oh, she's diabolical. Oh, she's fantastic. I mean, it's just so, so exciting to just sit there and watch her work. She's fantastic," Birmingham said.
There's a close relationship between the Broken Rock Reservation and the Duttons
When we asked Birmingham about John and Chief Rainwater's relationship going into season 4, his answer assumed "John's still around." But, that wasn't a confirmation that the Dutton patriarch made it out of season 3 alive.
"Well, we're assuming John's still around," Birmingham noted. "Rainwater stays on his path. You know, engaged with the family at some level or another. I mean, there's a complicated relationship because we have Kayce Dutton, you know, he's married to Monica. So, we have relatives on both sides. So there's a closer relationship to the family and the reservation with the Duttons than just proximity."
Gil Birmingham praises 'Yellowstone' creator Taylor Sheridan for highlighting Native American issues
During season 3, Yellowstone aired two episodes that highlighted the issue of murdered and missing indigenous women — "All For Nothing" and "I Killed a Man Today." Birmingham called the episodes "powerful stuff." And as an advocate for Native American rights, the actor praised Sheridan for highlighting the issue.
"It's such heart-wrenching stuff because we know that's a real portrayal of what's happening nowadays, and that was just one incident," Birmingham said.
"There are thousands of murdered and missing indigenous women over the years. Taylor did that in another movie he did, Wind River, as well. And those are probably the more profound episodes that I've been involved with since the start of the show."
Fans can stream seasons 1-3 exclusively on Peacock.
Yellowstone airs Sunday nights on the Paramount Network.