Is 'Yellowstone' Star Kevin Costner's Real-Life Ranch Worth More Than the Dutton Ranch?
ARTICLE HIGHLIGHTS
The Dutton ranch on Yellowstone is the size of Rhode Island.
Los Angeles Rams and Denver Nuggets owner Stan Kroenke's $725 million ranch gives fans a good idea what John's property value could be in Yellowstone.
When not shooting Yellowstone, Kevin Costner lives on a sprawling Colorado ranch that fans can actually stay at.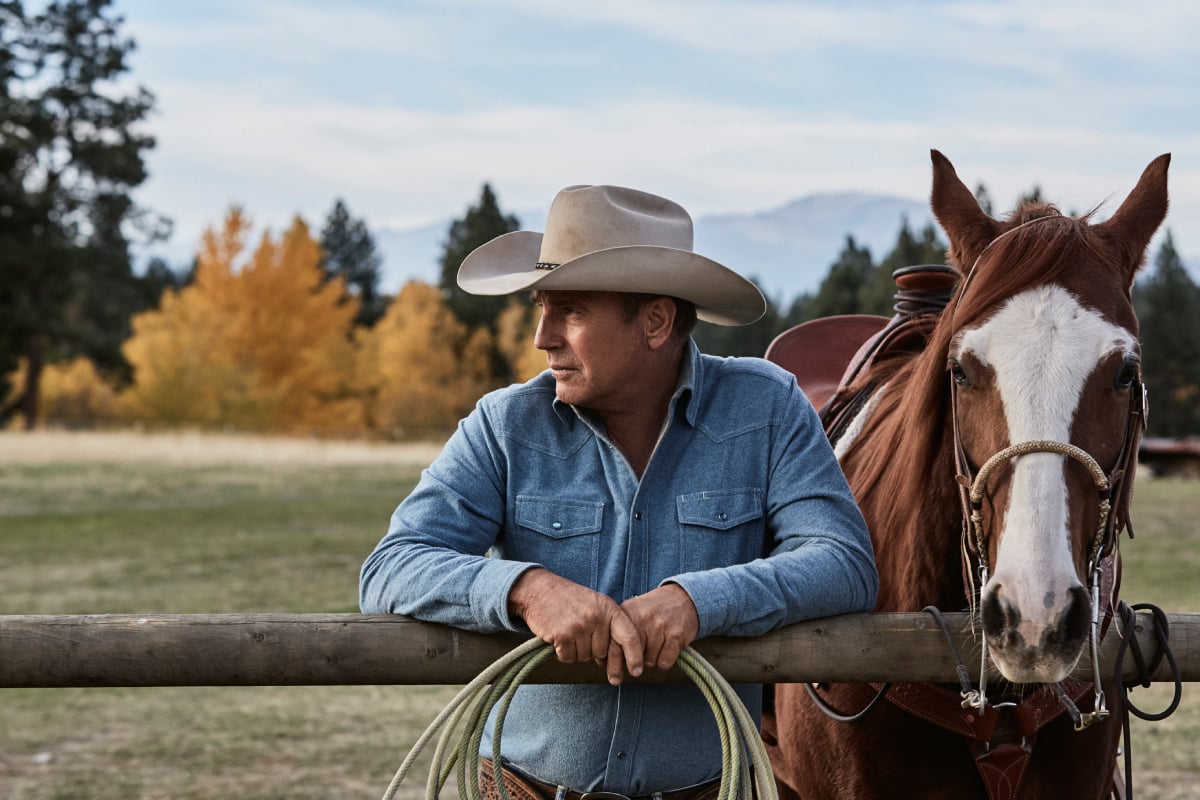 Yellowstone tells the story of John Dutton, a sixth-generation Montana rancher who owns the largest ranch in the United States. After a lengthy career on the big screen — where he often played a cowboy — Oscar winner Kevin Costner has transitioned to being the star and executive producer of the neo-western.
When he's not playing a cowboy on TV or in the movies, Costner spends time with his family on his own ranch in Colorado. But which ranch is worth more? John Dutton's or Kevin Costner's?
The Dutton ranch on 'Yellowstone' is 'the size of 'Rhode Island'
The Duttons are a Montana ranching dynasty who have lived on their property since the 19th century. Their fictional ranch shares a boundary with a local Native American tribe. There's also another border with Yellowstone National Park.
It hasn't been made clear exactly how big the Dutton's Yellowstone ranch is. But, there have been a few clues. During season 1, Jamie Dutton (Wes Bentley) made the comment that the ranch was 200,000 acres larger than when he first took over as the attorney.
There was also a scene where Chief Thomas Rainwater (Gil Birmingham) from the Broken Rock Reservation tells John that he owns "a ranch the size of Rhode Island." That may have been an exaggeration. But if the Dutton Ranch is anywhere near the size of that state, that means it's getting close to 776,900 acres.
How much is the Dutton ranch worth?
John's land is vast and it's worth millions. But, since the exact size has never been explicitly stated, it's impossible to know how much it's worth. The Dutton patriarch does have some real-life counterparts that can help with an estimate.
According to Bustle, Los Angeles Rams and Denver Nuggets owner Stan Kroenke bought the 525,000-acre Texas Waggoner Ranch in 2015 for approximately $725 million. That ranch is actually one of the biggest in the United States. And it gives fans a good idea what John's property value could be in Yellowstone.
Is 'Yellowstone' star Kevin Costner's real-life Colorado ranch worth more?
Costner's real-life Dunbar Ranch near Aspen, Colorado, isn't worth as much as John Dutton's. But the property is still quite impressive. Costner owns 160 acres just outside of the mountain town, and it's only accessible through a set of gates.
According to Variety, the estate includes a main house, a lake house, a river house, two lakes (fish included), a private ice rink, dog sledding, and a tubing track.
"It's just beautiful, with three lakes and a river running through it," Costner says. "My whole family spends some of our best times there."
Kevin Costner's ranch is available for rent
Costner also has a home in Santa Barbara, California, and he films in Montana a few months out of the year. That means his Dunbar Ranch is vacant quite often, and fans can rent it out for the sum of $36,000 per night.
According to Travel & Leisure, activities on the property during the summer months include horseback riding, hiking, and fishing. There's even a Field of Dreams-style baseball diamond on with an automated pitching machine, sound system, and stadium lighting for fans to enjoy. And, Costner's Robin Hood Prince of Thieves fans can take archery lessons.
The main house at the Dunbar Ranch features six bedrooms and six bathrooms. In the master suite, there is a disguised trap door that leads to a flight of stone steps that end at an enormous hidden jacuzzi that straddles the Continental Divide. The spectacular views from the property include Independence Pass and Aspen Mountain.
As for why it's called the Dunbar Ranch, Costner named it after his character in Dances With Wolves, John Dunbar.
New episodes of Yellowstone air Sunday nights on The Paramount Network.